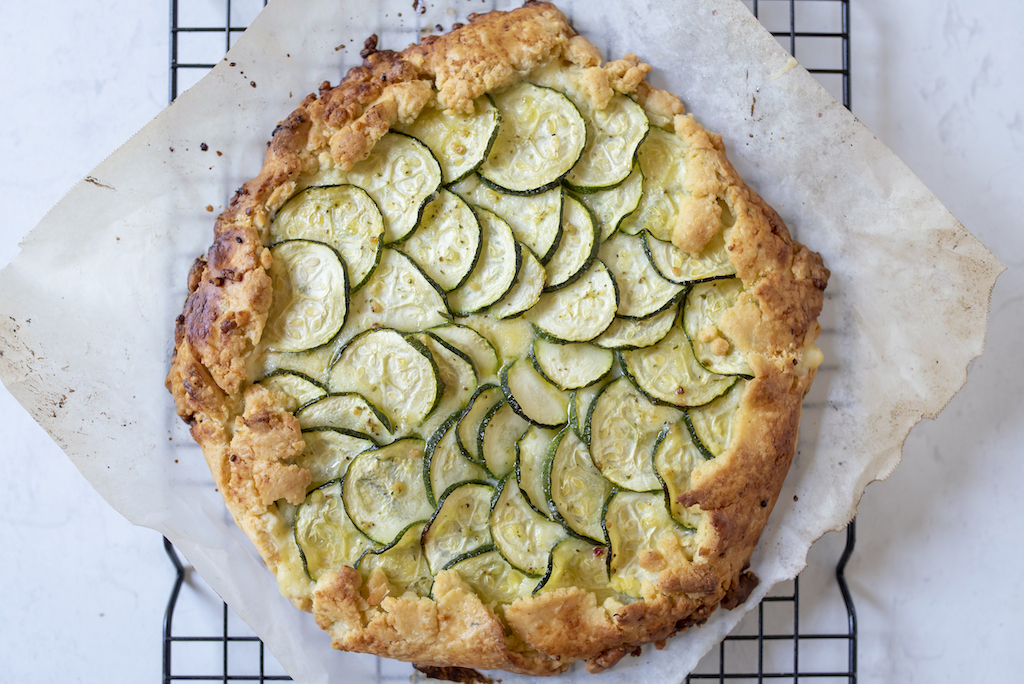 Recipe: Vicki Ravlich-Horan | Photography: Brydie Thompson
Simplicity is the key to this striking tart where zucchini is the hero.
½ cup Parmesan, finely grated
1½ cups plain flour
pinch salt
150g butter, chilled
2–2½ tbsp water
200g mascarpone
2–3 medium sized zucchini
1 tbsp extra virgin olive oil
salt & pepper
egg or milk for brushing the pastry
Make the pastry by placing the Parmesan, flour and salt in a food processor. Chop the butter into small cubes and add to the flour. Pulse until the butter is broken up and the mixture looks like course breadcrumbs. Then with the motor running add the water, 1 tbsp at a time, until the pastry comes together into a ball. Wrap and chill in the fridge for at least 30 minutes.
Slice the zucchini into thin circles then toss with the olive oil and a generous pinch of salt and pepper.
Roll the pastry out into a rough circle, 1–2 cms bigger in diameter than a large dinner plate. Place the rolled out pastry onto a lined oven tray and scribe a circle (using a large dinner plate as your template).
Spread the mascarpone over the circle. Then layer the zucchini slices in tightly overlapping circles, starting at the edges of the circle and working your way to the centre. Once the circle is completely covered in zucchini, fold the rough edges of the pastry over the edges. Brush these edges with either a beaten egg or some milk for a golden crust.
Bake at 200°C for 40–50 minutes or until the pastry is golden brown. Serve warm or cold.