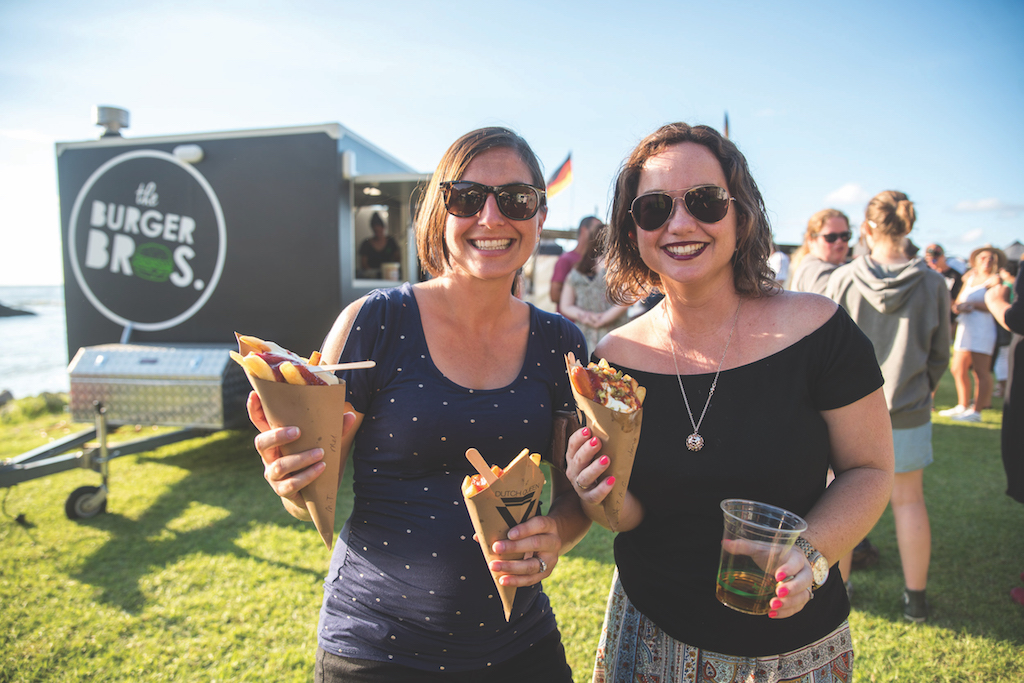 Words: Vicki Ravlich-Horan
Whether it's for a day, weekend or a couple of weeks, Whakatāne is a fantastic spot to play, stay and it turns out, to eat this summer.
Here are our top picks to give you a little taste.
Berry Delicious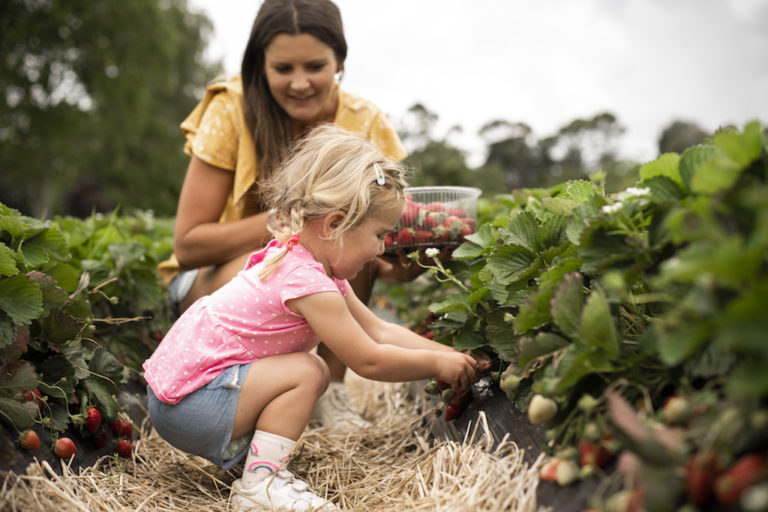 Whakatāne's warm climate makes it a great place to grow berries. A visit to one of the local berry farms is a summer must-do.
Julian's Berry Farm
The kids will have fun at the animal farm, playground and the mini golf course while you enjoy a coffee and fresh berry baking in the alfresco, sheltered cafe which overlooks the berry fields.
Pick your own strawberries from October to December, shop for all manner of berry delights along with other local produce, and don't miss one of their famous berry ice creams.
Open 8:30am – 5.30pm daily, 12 Huna Road
Blueberry Corner
Discover the local secret for fresh, quality blueberries, strawberries, raspberries and sensational natural fruit ice creams.
The kids will be entertained watching the action through the viewing windows of blueberries being sorted and packed for domestic and export markets. Or let them blow off steam and work off that ice cream in the playground.
Open from 9.30am to 5pm Tuesday – Sunday, 364 Thornton Road
R & Bee's
A local favourite with some of the sweetest strawberries you'll ever taste. Take home a jar of their delicious honey or some snap-frozen berries for smoothies.
Open 7 days from 9pm to 5pm, 132 Thornton Road, Whakatane
L'Epicerie Café and The Larder Deli
Whakatāne's slice of France has been serving authentic French food, homemade breads and pastries, along with great coffee for nearly a decade. At the Larder you'll find a selection of imported French delicacies. Stay for dinner and try the escargot—there's no need to travel to France to enjoy the famous French dish.
L'Epicerie Café open until 2.30pm 7 days a week, 73 The Strand.
The Larder open until 2:30pm 7 days a week and for dinner Thursday and Friday, 128 Commerce Street.
Mata Beer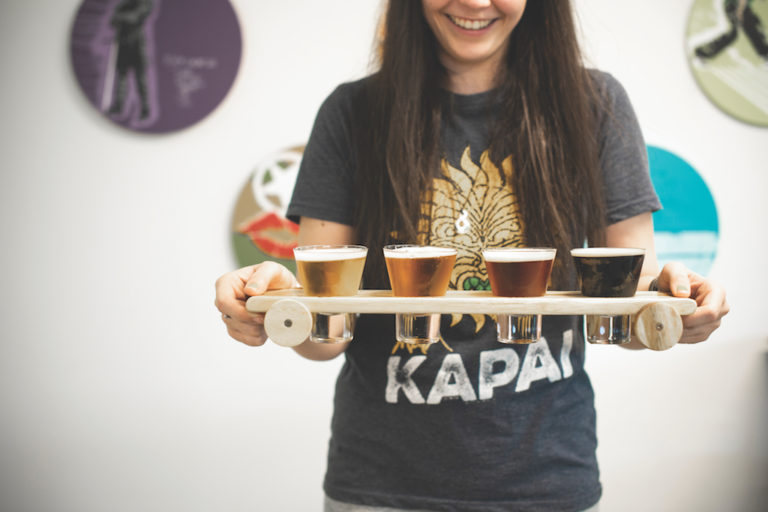 Mata Beer love using unique New Zealand ingredients, from Manuka honey to locally grown berries.  Their brewery and tasting room is open seven days from 12 noon. Drop in to taste one of their award-winning beers or test out one of their seasonal brews like their Merry Berry Cider using berries from Julian's Berry Farm.
The Tasting Room serves a simple menu of dishes like pizza, pies and sharing platters that are the perfect accompaniment to a few bevvies.
Open 7 days from noon, 17 Gateway Crescent, Whakatāne
SEAFOOD FIX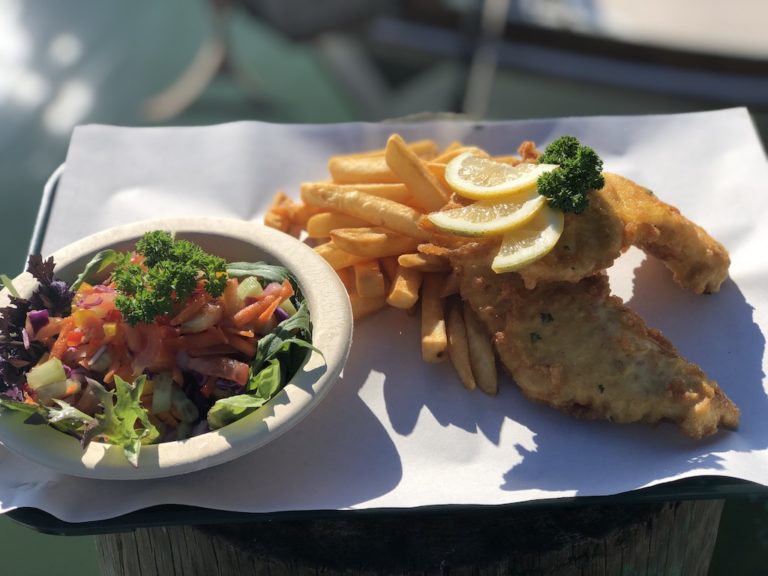 Ohiwa Oyster Farm has been producing oysters since 1968. They also have a range of seafood, burgers and meals, and smoke a variety of fresh fish.
111 Wainui Road, Waiotahi
Gibbo's on The Wharf
If it's location, location, location, Gibbo's gets three ticks. Situated right on the wharf they serve the freshest of seafood and fish 'n' chips. Try their unique crumbed fish, which seals the fish and steams it from the inside.
Open 7 days from 11am to 7pm, 2 The Strand, Whakatāne
ŌHOPE
Just out of town is the gorgeous beachside suburb of Ōhope with some of the best eateries in town.
Fisherman's Wharf
With its stunning waterfront views of Ohiwa Harbour, Fisherman's Wharf is a magical spot for a sumptuous meal. With a focus on local produce and seafood, enjoy a stylish dinner as the sun sets in front of you.
340 Harbour Road, Ohope Beach
Moxi Cafe
A super-stylish container cafe, with fantastic food and excellent coffee. A great spot for brunch in the heart of Ohope!
Open 7 days until 3pm, 23 Pohutukawa Ave, Ohope Beach
Cadera
Perfectly suited to its beach setting, this relaxed restaurant has a menu of Mexican favourites and particularly tasty authentic margaritas.
Open Tuesday – Friday 4pm – 10pm, Saturday and Sunday 11am – 10pm
Port Ōhope General Store and Cafe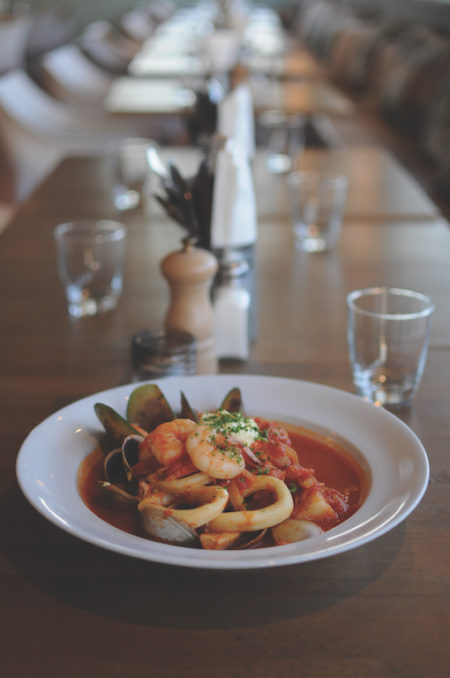 This is where the locals meet and the tourists always return! Metres from the sea you can pick up all your grocery needs for that camping trip or picnic, cool off with a fresh juice, an ice cream or simply sit back and relax and enjoy the views at the cafe.
Living up to their name of general store you can also pick up bait, tackle and ice for that day out on the harbour or if the fish aren't biting end with some fish 'n' chips and a few beers.
If you are after a little adventure or a way to work off all those ice creams and fish 'n' chips, hire a stand up paddle board for some fun on the water.
Open 7 days, 311 Harbour Road
Whakatāne is a district of rich heritage, wonderful coastal and bush resources and an outstanding climate. Pop into the Information Centre (Quay Street, Whakatāne) to discover the great walks and amazing activities on offer, from learning to surf, horse trekking, tours to Whakaari/White Island, golf and so much more.
WHAT'S ON IN WHAKATANE THIS SUMMER
Whakatāne Seafood Festival
One of New Zealand's iconic seafood festivals with thousands of locals and visitors celebrating the local kai moana.
The Whakatāne Seafood Festival showcases the very best of New Zealand's wild caught seafood and fabulous food alongside nautical themed competitions, fishy tales and live entertainment. Soak up the sun, enjoy a wide range of seafood, wine, beer and live entertainment in a breath-taking setting with views of Wairaka, Moutohorā/Whale Island and Whakaari/White Island.
A hundred percent of the profits made from the Whakatāne Seafood Festival are donated to Whakatāne Coastguard.
Saturday 18 January, 1–7pm, The Heads Reserve, Whakatāne
www.whakataneseafoodfestival.nz
Sunshine and a Plate
The Air Chatham's Sunshine and a Plate food festival returns in 2020 to celebrate the abundant food, lifestyle and sunshine in the Whakatāne District. Showcasing the best the region has to offer, the programme has an incredible variety of events that are sure to tempt the taste buds and delight the senses. Tickets sell out quickly, so visit www.sunshineandaplate.nz to book yours now!
All proceeds from Sunshine and a Plate go directly to Hospice Eastern Bay of Plenty — providing excellent, compassionate palliative care for everyone throughout the Eastern Bay of Plenty.
29 February – 8 March 2020
www.sunshineandaplate.nz/
Sunshine Gourmet Markets
A family-friendly gourmet extravaganza set amongst the beautiful Whakatāne Rose gardens has something for everyone. With a range of tantalising speciality food stalls, garden bar, children's area and fantastic entertainment, all you need to do is bring a picnic blanket, your wallet and an appetite!
Entry: Adults $5 (if pre-purchased online) or $10 on the day. Children under 16 – FREE
Saturday 29 February 1–7pm
Whakatāne Rose Gardens, McGarvey Road, Whakatāne
Air Chathams DC3 Scenic Flights
A unique opportunity to step back in time aboard the iconic DC3 for a 45-minute scenic flight along the coast. Begin with sumptuous food and chilled bubbles as you learn the fascinating history of the aircraft, before taking to the skies to enjoy the breath-taking scenery including Whakaari/White Island and Moutohorā/Whale Island.
Tickets for this special glimpse into history sell fast, so secure yours today.
10am Sunday 1 March, Saturday 7 March and Sunday 8 March
5pm Saturday 29 February, Sunday 1 March and Saturday 7 March
Departs from Whakatāne Airport 45 minutes before departure
Leisurely Lunch with Jo Seagar
An exceptional occasion brought to life with a guest appearance from Jo Seagar, the Ladies Lunch is sure to impress. Relax in splendid surroundings while you enjoy a three-course meal with matching wines and listen to outstanding music. Tell your friends at once and book as a group for this not-to-be-missed event.
11.30am – 2pm Wednesday 4 March, Meadow Hill, Awakeri
Gourmet Beach BBQ
Beach. BBQ. Bar. Band. This event ticks all the boxes! Join us for a lavish gourmet BBQ, fantastic selection of beverages, music by the extremely-talented Jinan Dodd and beach bonfire and games.
This is the first time the Gourmet Beach BBQ has been on offer, so make sure you snap up your spot at this festival highlight.
6pm – 10pm Thursday 5 March, Surf & Sand Beachfront Venue, Ōhope
Ginstronomy
Join us for a spectacular evening of gin cocktails and hors d'oeurvres! Ginstronomy encapsulates the era with five courses of bespoke gin-based cocktails and drinks, served with delectable gin-based canapés. Be entertained by our professional bar specialists as they whip up a range of delicious concoctions before your eyes.
Featuring boutique gins from Scapegrace, Karven, Blush and Dancing Sands.
6pm – 10pm Friday 6 March, Top Shelf Bar
Sundown on the Wharf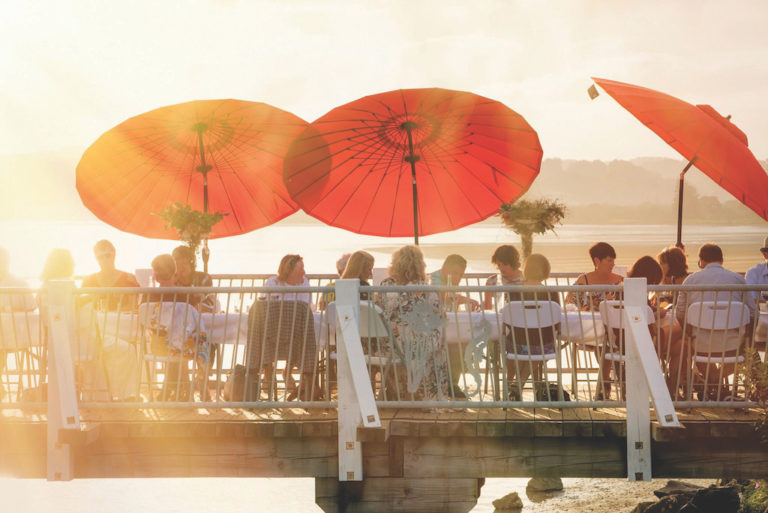 Back by popular demand, the stunning Sunset on the Wharf event is the grand finale of the Sunshine and a Plate festival.
A divine three-course meal by Fisherman's Wharf Cafe will be served while you sit along styled tables on the wharf and watch the sun go down over the harbour. John Hancock from Hancock & Sons will impart some pearls of wisdom as you enjoy a selection of their award-winning wine.
This is a truly stunning experience with very limited numbers.
5pm – 9pm Sunday 8 March, Port Ōhope Wharf
Tickets for all Sunshine and a Plate events available at www.sunshineandaplate.nz