Chef Simon Wright wasn't really looking for a job when he noticed an advertisement for someone to head the kitchen at Clarence Bistro in Tauranga.
The ad caught his eye last October when he was buying a Clarence package online for a staff member at Gather & Roam eatery that he and wife Creghan Molloy-Wright were running in Whangamatā. Simon said to Creghan, "Wouldn't it be nice to work for someone else for a change?" And he followed up on it.
In the meantime, Noel Cimadom, who owns Clarence with wife Kim Smythe, was negotiating with a chef in Mauritius who was interested in the position. So when Simon contacted him, Noel thought, "Well, that throws everything up in the air."
Simon Wright and Creghan Molloy-Wright are the former owners of Auckland's award-winning fine dining restaurant The French Café. They owned it for more than 20 years, with Simon in the kitchen and Creghan at front of house, developing a legendary reputation for their exquisite food and exemplary service. They sold it in 2018 and moved to Whangamatā with their two children to "semi-retire", and started their laid-back (and hugely successful) food truck operation, Gather & Roam.
When Simon investigated the Clarence position, the family was ready for another move and the bigger community of Tauranga and Mt Maunganui beckoned. Simon and Noel met, there was mutual respect and goodwill, Simon took the job, and he and his family relocated to live near the beach at Mt Maunganui. By January, his new dishes were rolling across the pass.
Simon and Noel tell their serendipitous story on a Wednesday afternoon at Clarence, located in Tauranga's former central post office. The handsome Edwardian building was restored by Noel and Kim a few years back to include the elegant bistro, the super-casual Bar Centrale, and boutique hotel suites upstairs. Noel and Kim also own Picnicka in Tauranga, and the Alpino restaurants in Mt Maunganui and Cambridge.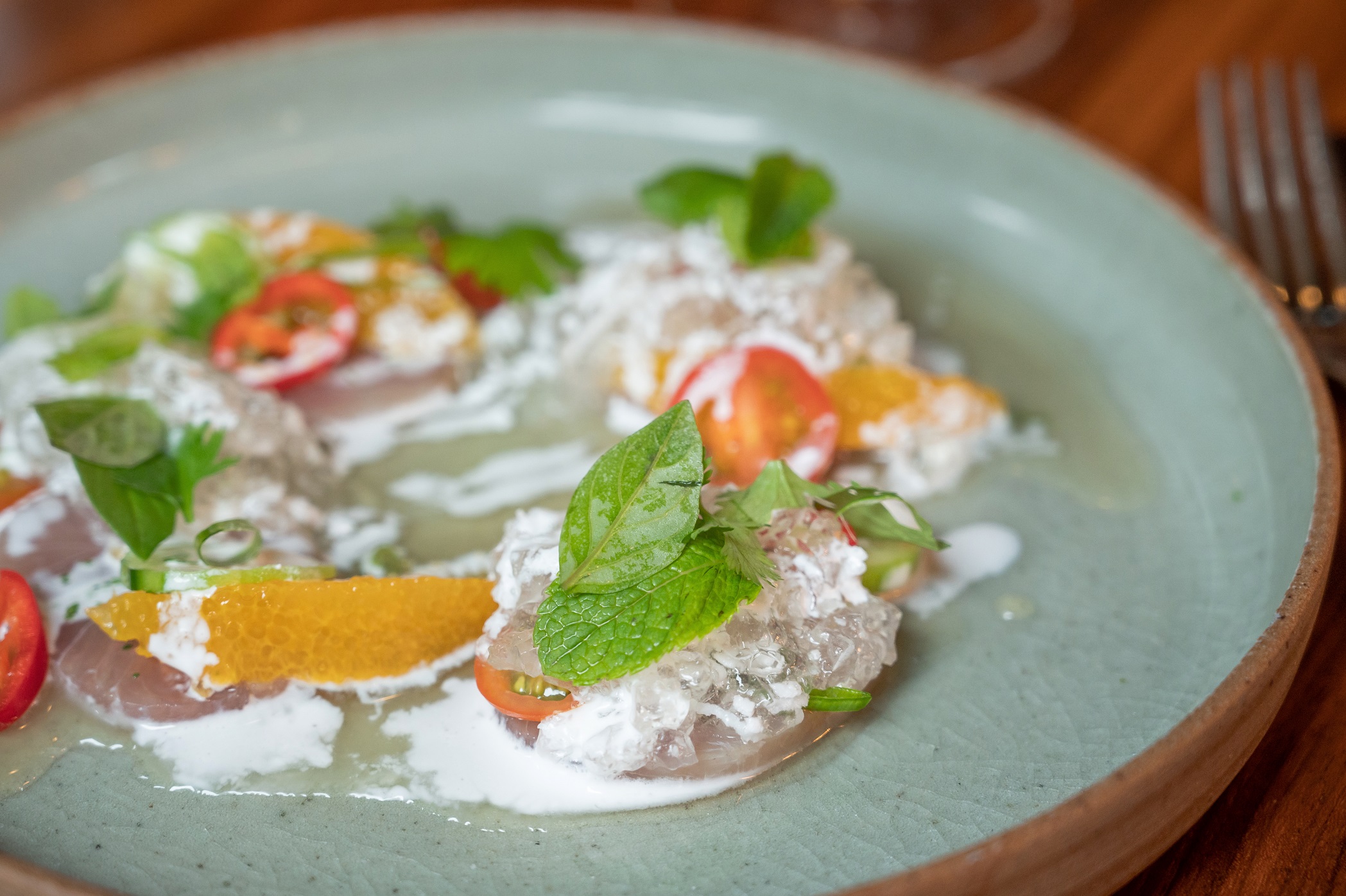 Before Simon came on board, Clarence Bistro had been closed for seven months, a casualty of nationwide hospitality staffing shortages. "We've been waiting a long time for this," Noel says. "No one of Simon's calibre had ever glanced in Tauranga's direction before. I'm hoping we can now draw more good chefs and create a great food environment here."
Simon says that Noel is the first boss he's had in 27 years; he's relishing the change, and also the unique premises that include a lushly landscaped European-style dining terrace. "When you're sitting outside on a summer's day, you could be in the south of France."
Which leads us to the menu that he's developed for Tauranga's first taste of his bistro style: he describes it as contemporary Mediterranean, his take on familiar flavours and classics from the Mediterranean coastline, with a touch of France as well as the influence of the Middle Eastern shores.
The snacks list includes his old-favourite whitebait sandwich, lamb rib with sweet molasses and dukkah, and wholewheat flatbread with salted fig leaf ricotta and fermented chilli butter. The first course line-up has kingfish crudo, crayfish carbonara, beef tartare, and burrata with heirloom tomatoes, peach, fennel pollen and basil.
There are bigger plates of organic chicken, snapper, burnt eggplant with shawarma spice, lamb niçoise, and beef (dry-aged ribeye or sirloin wagyu), all with techniques, twists and flavours devised by capable and confident hands. And using top ingredients, much of it from produce growers and suppliers in Katikati and Whangamatā who Simon previously used at Gather & Roam.
"It's a cosmopolitan dining style that people enjoy," Simon says. "I don't want to do French Café food, but I want it to be special, with different techniques and authentic ingredients. With energy that people keep coming back for, not just as a one-off."
In the adjoining Bar Centrale, his food is more informal, centred on antipasto, great pizza and pasta, and there is an excellent wine list – and cocktails, beer and other beverages – available in both the bar and bistro.
Simon says it will take a while for his new team to find its groove and balance, and the menus will be tweaked and changed regularly. "You have to find a happy rhythm and then you get consistency."
He recalls that it wasn't until he had his own place, The French Café, that he got the full measure of hospitality, the breadth of the work and skills involved. "Before that I was just a chef with a heap of recipes."
Simon is originally from London. He trained in his home city, in kitchens led by luminaries such as Marco Pierre White. He came to New Zealand at age 23, later went to Australia, returned to Auckland and met wife Creghan in the 1990s when they were on the opening team of Mount Coast Eatery in Ponsonby.
They've worked together solidly for more than two decades, and Creghan is now taking a break from hospitality while the family settles into their new home. While Simon is missing her at Clarence, he says there are benefits in working for someone else, pretty much as he envisaged when he saw the job advertisement.
He jokes: "It's awesome. When the dish-washer didn't turn up, I could pass the problem onto Noel."  Who apparently dealt with it by stepping in and doing dishes himself.
Simon says he and Noel have a common interest in doing the very best they can. Is he nervous? "Of course. You have to be nervous, that's what gives you your edge. This industry is a humbling mistress."
Words Denise Irvine, Images Brydie Thompson
Clarence Bistro
51 Willow St
Tauranga