The Coromandel had a battering this summer. And this is after some pretty tough years with no overseas tourists! We were lucky to sneak a few days on the peninsula when the sun shone, and we were reminded why this is a favourite spot for so many Kiwis to recharge.
While there we met up with some of the artisan producers who call the peninsula home and are adding real flavour to this region. Check out our map for more great foodie stops.
Omahu Valley Citrus
British couple Caroline and Simon Marriott arrived in New Zealand just over 20 years ago with their young family. They bought 30 acres in Omahu Valley just south of Thames.
After some consultation the couple planted a portion of the property in citrus, a variety of Yen Ben lemons, Bearss limes, Seville oranges and grapefruit.
Fast forward a few years, when the trees began to bear fruit, Caroline enthusiastically took these to the Thames market only to be underwhelmed by the sales and left with the question of what they were to do with the growing number of fruit their orchard would produce.
Someone suggested making marmalade, something Caroline had no experience with, but she didn't let that stop her! In fact, after some trial, and the family will say much error, Caroline began producing award winning marmalade – winning both medals in the World's Original Marmalade Competition along with many local awards.
The self-confessed "enthusiastic gardener" and once novice marmalade maker recently sold the business which makes over 20 products with stockists across the country. Caroline and Simon are both excited for their next adventure and to see how the new owners will grow Omahu Citrus.
Jess Jones grew up in Coromandel town and happily admits she loves mussels. Buying Blackbeards Smokehouse, a much loved brand of smoked mussels, was a great decision. The business was based in Whitianga, which saw Jess commuting over the hill before she could build a purpose built factory and shop in Kopu, Thames where she lives.
This handy spots means both streams of traffic, those heading over to the east coast via the Kopu Hikuai Road (when open!) and those heading up the Thames Coast Road can stop in for freshly smoked Coromandel mussels.
While mussels are the core product and these all come from local mussel farms, Blackbeards also produces smoked fish, dips made from the mussels and fish, pies and chowder.
Look out for the smoked mussels in selected supermarkets and food stores.
Situated on a picturesque peninsula between Cooks Beach and Hahei, Cathedral Cove Macadamias is home to 1,000 40-year-old organically grown macadamia trees. Jillian and Doug Johnston bought the property a few years ago and currently control the whole process from growing to processing and sell their macadamias. This is no mean feat as these nuts are hard ones to crack!
Demand for macadamias continues to grow, as these tasty nuts, be them raw, roasted or covered in chocolate also make a delicious nut butter and sought after oil. For this reason the Johnston's prioritise stocking local eateries like the Pour House in Hahei, Hot Water Beach Café and, as we discovered, Little Lato Gelato.
The remainder is sold directly through their website or via their orchard shop which is open seven days a week in the summer months. Here you will also find their orchard honey as well as unexpected treasures like the spent shells which apparently make great kindling, and I suspect would be perfect in a smoker.
Kyle Dunkle is a Californian who found his way to the Coromandel originally on a working holiday, cheffing at Luke's Kitchen before returning in 2016 on a permanent basis.
As a chef at Luke's, he fell in love with the woodfired oven and its potential to do more than cook pizzas. This culminated in a woodfired chilli sauce range which marries Kyle's fascination with the wood fired oven and his love of BBQ sauce.
These sauces were originally made at Luke's Kitchen before he outgrew the space available in this already busy kitchen. The range has two main sauces – BBQ and chilli, and each of these comes in varying heat levels. Kyle says his goal is to make a sauce people will use and "finding that balance between flavours and heat is key".
As you drive into one of Coromandel's true hidden gems, Opito Bay, you might notice a series of greenhouses on your left. This not a local market garden but HQ of award winning Opito Bay Salt.
Inside these greenhouses the power of the sun is used to turn the crystal clear water from Opito Bay into pure, natural sea salt that is quite literally a taste of the Coromandel.
Read more about Opito Bay Salt in our Winter edition, out in June. In the meantime you can buy their range of salts, from the original natural sea salt to their award winning flavours like rosemary or smoked chilli salt, via their website or great food stores.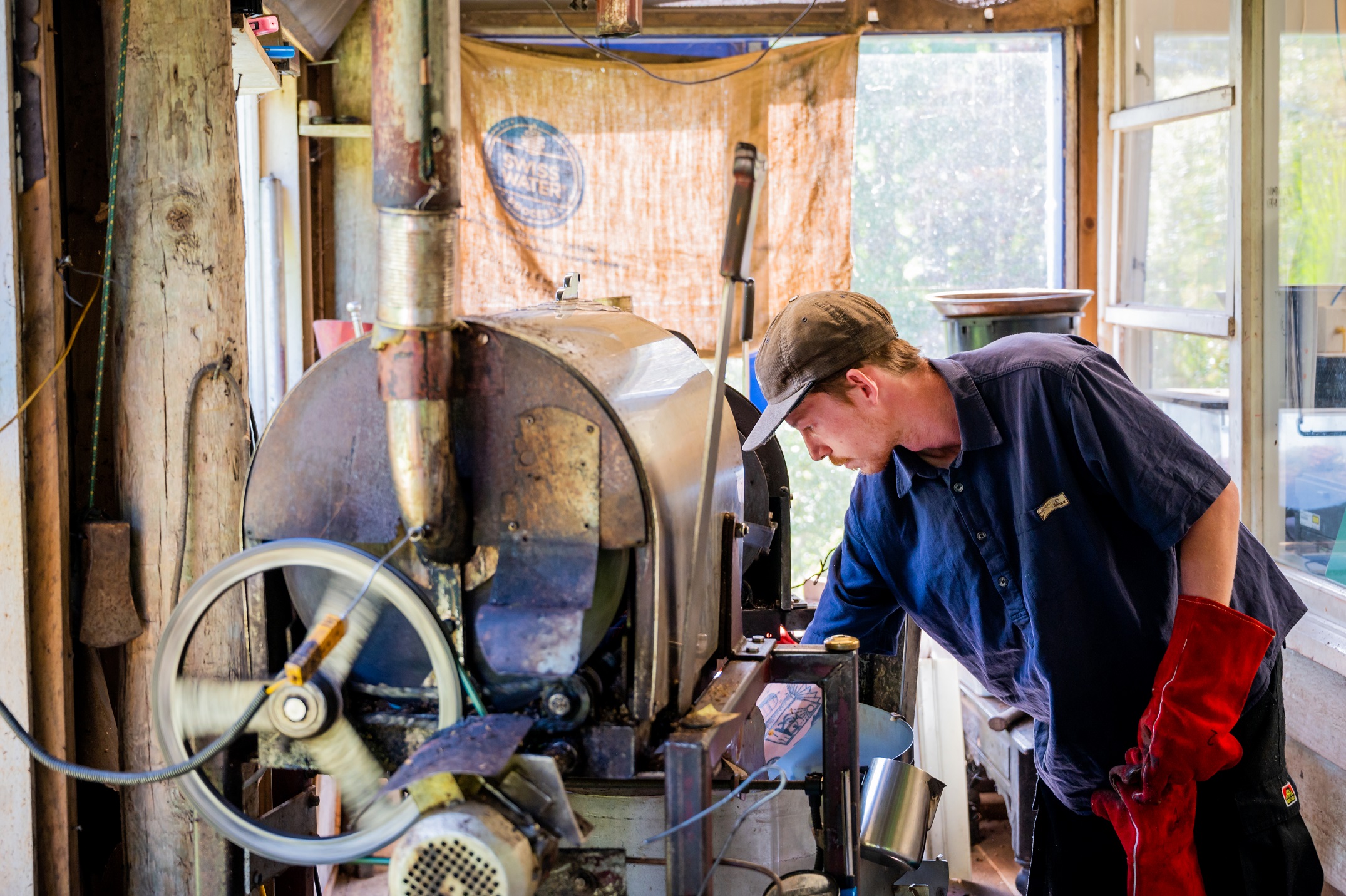 Hidden down an inconspicuous track, just out of Kuaotunu is a Coromandel treasure. Coffee LaLa's roastery sits beautifully among the bush in an old pottery studio. In true Coromandel style the roaster is a rustic, number eight wire affair that relies on skill over technology to roast their beans.
Owners Mark Tugendhaft and Nedilka Radojkovich began roasting coffee 21 years ago, winning two awards that first year, which have continued to roll in.
Coromandel's newest craft brewers opened their cellar door in late January. Here, locals and visitors alike can come and fill their flagons on a Friday or Saturday afternoon with one of the three main brews (Party Wave Pale Ale, Sea Legs Hazy Pale, or Big Boucher – a big clear IPA) along with an ever-changing range of seasonal brews.
You can also find Salt District Brews at a number of local spots like Craft Haus and Port Road Project.
Drive
The Coromandel is known to offer the off the beaten track holiday, and so what better adventure to test the fully electric Lexus UX 300e than on the long windy roads in the Coromandel.
Like many new to electric cars, our biggest concern was charging: how, when and where were all questions we grappled with before setting off. The UX 300e has a range of up to 340kms, but Mike from Lexus Tauranga pointed out it takes just as long for the car to charge from 0–20% as it does 20–80%. The aim, therefore, is to regularly stop and top up the charge rather than running it to absolute empty as I would my petrol car.
Here are our tips:
Download the Charge Net app and plan your trip. This means planning where you will stop for a recharge of the car and a refuel for you.
We found that the car would recharge at the fast charge stations in the same time it took us to grab a coffee and something to eat.
In Thames that was the cute Hi Stranger Café on Pollen Street. Handily, in Whangamatā it was our favourite spot, Port Road Project.
Check with your accommodation beforehand that you can charge the car. We stayed at Tatahi Lodge in Hahei only to find the cord didn't reach our unit. Luckily a solution was found, with us backing up to the owner's kitchen and plugging in for the night.
With the Kopu Hikuai Road closed, we were forced to traverse the Tapu-Coroglen Road, but I must say it was a very comfortable ride in the Lexus. And once I mastered knowing when the car was on or off (these electric cars are silent), it was smooth sailing, or should that be driving?
Providence Pantry – 22 Belmont Road, Paeroa
The Cheese Barn – 4 Wainui Road, Thames
Coromandel Distilling Co. – 715 Pollen Street & 110 Kirkwood Street, Thames
Coromandel Oyster Co – 1611 Manaia Road, Coromandel
Blackbeard Smokehouse – 1 Kopu Road, Kopu
Cathedral Cove Macadamias – 355 Lees Road, Hahei
Hot Water Brewing – 1043 Tairua Whitianga Road, Whitianga
Little Lato Gelato, 46 Hahei Beach Road, Hahei
Salt District Brewing – 101B Winifred Ave, Whangamatā
Rudi's – 621 Beach Road, Whangamatā Marina
Pop up caravan open until ANZAC Day making handcrafted sourdough breads and pastries.
La Grignette Artisanal Bakery – 1/15 Rosemont Road, Waihi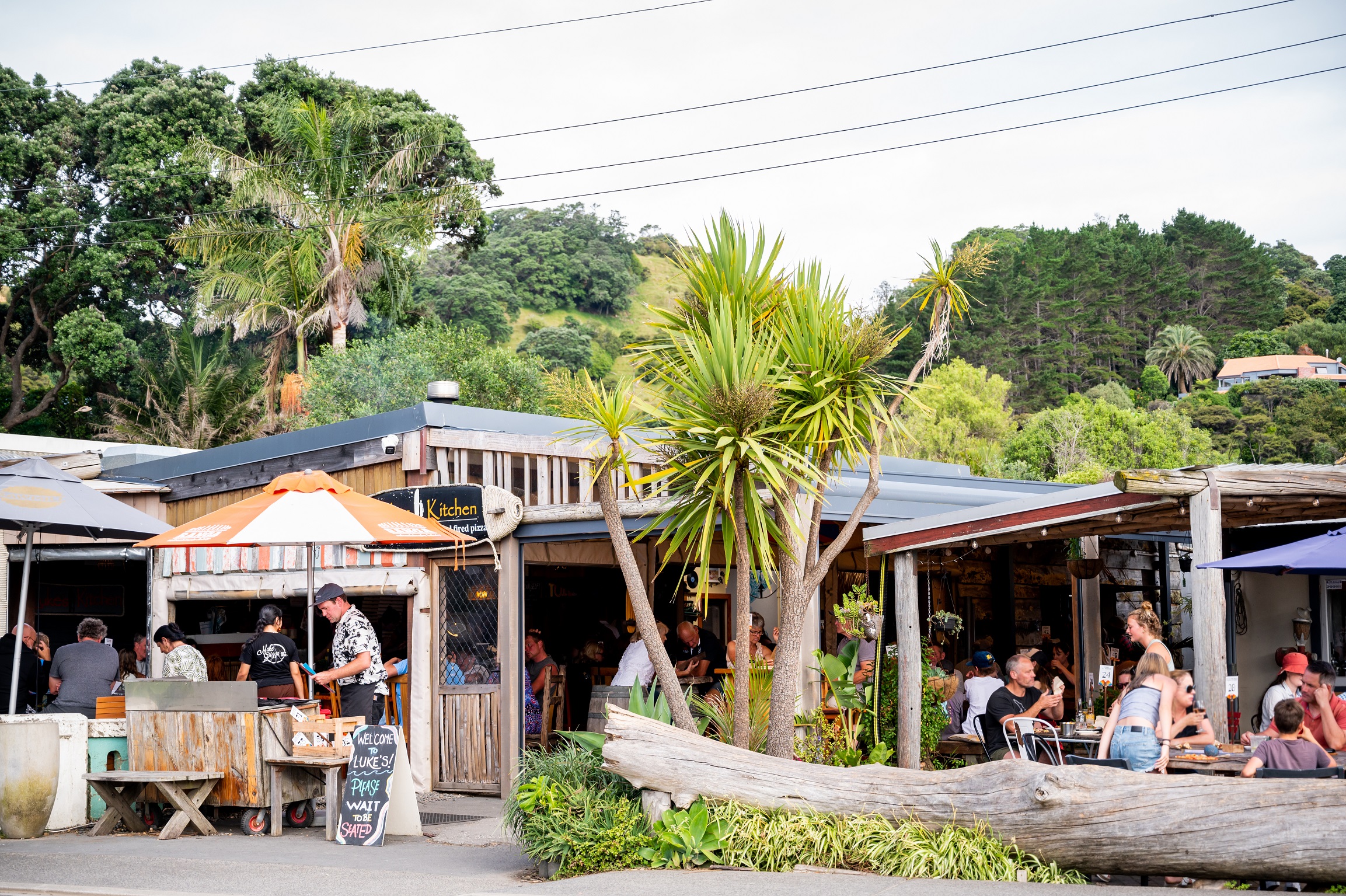 Eateries
Waiomu Café – 622 Thames Coast Road, Waiomu
The Refinery – 5 Willoughby Street, Paeroa
Peppertree Restaurant – 31 Kapanga Road, Coromandel
Luke's Kitchen – 20 Black Jack Road, Kuaotunu
This super busy spot is also a great place to discover some local brews like Blue Fridge.
The Pour House – 7 Grange Road, Hahei
Also home to the Coromandel Brewing Co.
The Hive – 450 Purangi Road, Cooks Beach
Mercury Bay Estate – 761 Purangi Road, Cooks Beach
Best pizza on the peninsula, plus outstanding wines all with a phenomenal view.
Colenso Café – 895 SH25, Whenuakite
Tairua Beach Club – 128 Paku Drive, Tairua
Port Road Project – 719 Port Road, Whangamatā
Falls Retreat – 25 Waitawheta Road, Waikino, Waihi
A must stop whenever you are in the area, or perhaps plan your trip around a stay in one of their cabins.
ChargeNet Stations
505 Mackay Street, Thames
55 Woollams Avenue, Coromandel
4 Lee Street, Whitianga
6 Tokoroa Road, Tairua
100 Heatherington Rd, Whangamatā
Words Vicki Ravlich-Horan, Images Brydie Thompson