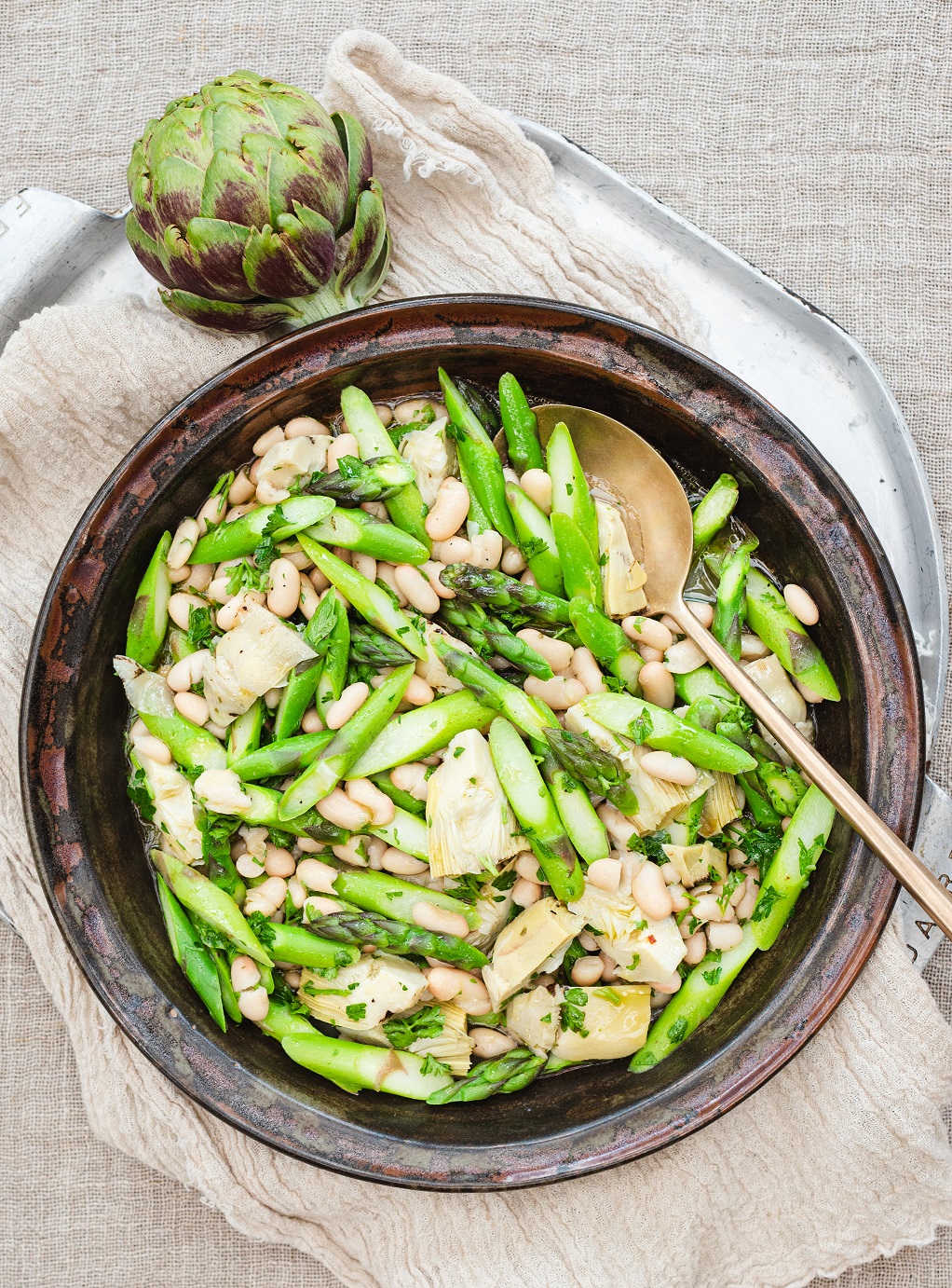 Recipe extracted from The Homemade Table: Seasonal Recipes, Preserves and Sourdough by Nicola Galloway
This is a spring riff on the ubiquitous bean salad that I make throughout the warmer months. In summer, use red onions and grilled red capsicum instead of asparagus and artichokes. Serves 4 as a side
400g can cannellini beans or 1½ cups home-cooked beans, drained
2 tbsp olive oil
1 tbsp sherry vinegar or white wine vinegar
1 tsp honey
3 tbsp lemon juice
large handful of parsley, chopped
300g jar marinated artichoke hearts, drained
250g (1 bunch) fresh asparagus, or use pickled (page 211)
salt and pepper
You can cook dried cannellini beans for this salad to replace the canned beans – see the footnote below.
In a serving bowl combine the drained beans with the oil, vinegar, honey, lemon juice, parsley, artichokes and fresh or pickled asparagus. If using fresh asparagus, thinly slice on an angle and blanch for 2 minutes in boiling water, drain and refresh in cold water and add to the salad (it can also be eaten raw if your asparagus is super fresh).
Check seasoning, adding salt, pepper and extra lemon juice if needed.
Delicious served alongside Slow-cooked Pork Shoulder (page 99).
Cooking Dried cannellini Beans
Use ½ cup dried cannellini beans to replace the canned beans.
Soak the beans overnight in cold water. Drain and rinse well, then place in a large saucepan and cover with fresh water. Add a bay leaf and a generous drizzle of olive oil. Simmer for 40–50 minutes until the beans are meltingly soft. Remove from the heat, add ½ teaspoon salt and cool in the cooking liquid. Drain before using. Find more information about cooking legumes on page 360.
Recipes extracted from The Homemade Table: Seasonal Recipes, Preserves and Sourdough by Nicola Galloway,
Published by Potton & Burton, RRP: $59.99. Photography by Nicola Galloway.