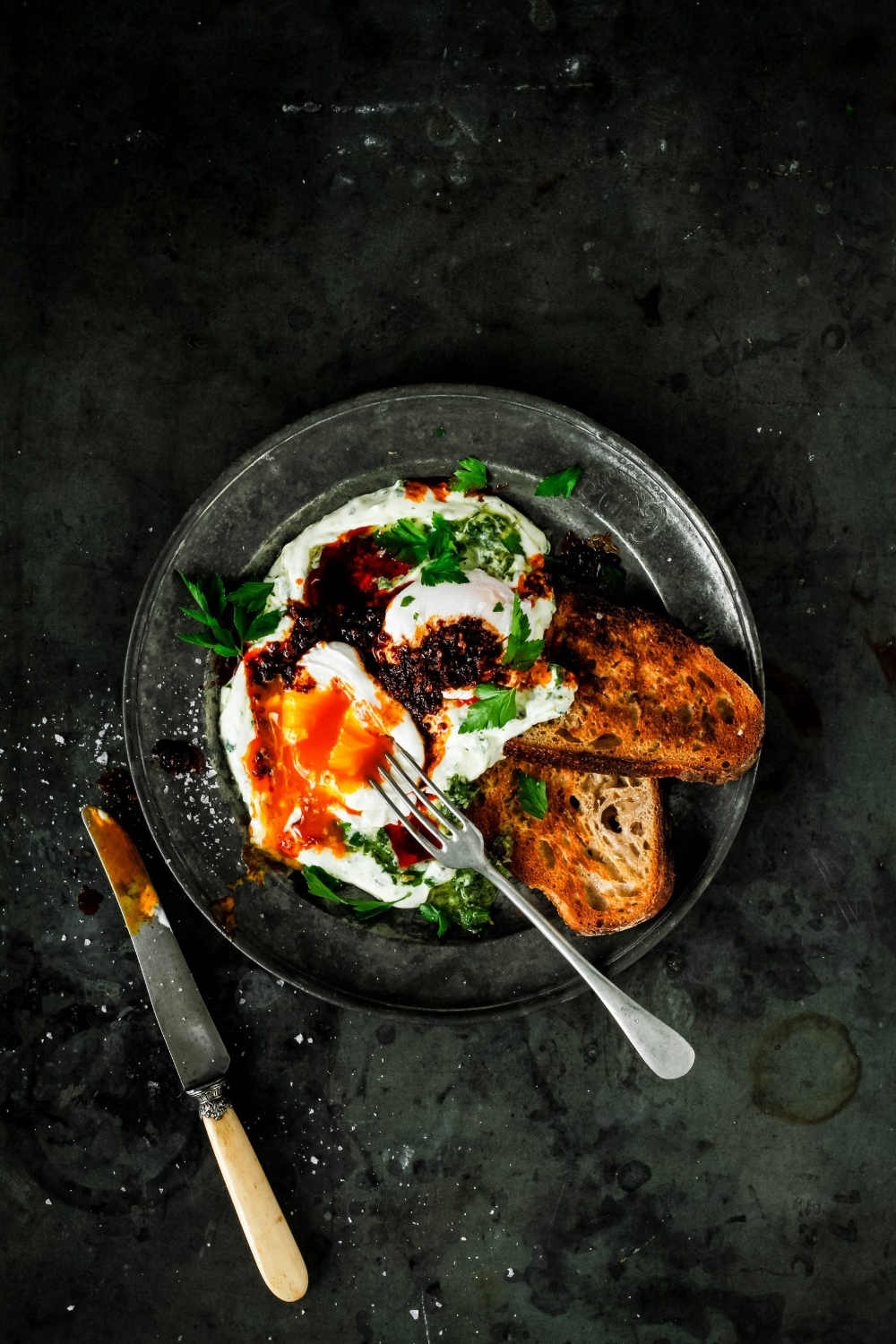 Recipes and Images Fiona Hugues
I especially love this fast simple dish when you're a little dusty from the night before and need something to line your stomach and give yourself a wee pep up. Cooling herb yoghurt topped with saucy eggs and a jazzy melted nduja butter situation with lots of toast to mop up the goodness is a cracker remedy for anything. You can find jars of nduja at specialty food stores. It's a spicy, spreadable pork sausage with lots of chilli from the region of Calabria in Southern Italy.
2 large free-range eggs, poached
1 tbsp sauce printemps (see below)
⅔ cup Greek yoghurt
1½ tbsp nduja paste (from specialty food stores)
2 tbsp butter
sourdough toast to serve
flatleaf parsley to serve
To poach my eggs, I add a little white vinegar to my barely boiling pot of water, make a whirlpool with a spoon and drop my eggs in. A couple of minutes and they're done. Scoop out with a slotted spoon.
Stir the sauce printemps into the yoghurt and smear onto the side of a serving platter.
In a small sauce pan over medium heat, melt the butter and add the nduja. Break up with a wooden spoon and sizzle for a minute to create a chunky, oily sauce.
Lay the poached eggs onto the yoghurt sauce, pour over the sizzling nduja butter, and season. Add some flatleaf parsley if feeling virtuous. Devour straight away.
SAUCE PRINTEMPS
This is my go to zesty sauce printemps (spring sauce), which pretty much is a french persillade or herb sauce that usually features parsley. My version isn't exactly a traditional persillade, as I like to add other herbs and/or lemon zest, which chefs would say makes it more of a gremolata. Sometimes I use vinegar which purists would say makes it a chimichurri, but whatever the damn way you make it, I don't care, it tastes bloody good – do add whatever you like that takes your fancy and do to it whatever makes it your own. Spoon it over everything. It's particularly magnificent on top of dairy and ramps up your meaty ragout pasta to outstanding.
large handful of fresh parsley, finely chopped or use your favourite soft springtime herb
garlic clove, crushed
½ cup olive oil approx.
juice and zest of a large lemon
flaked salt
fresh ground pepper
Combine all ingredients in a small bowl, taste and adjust seasoning. Add a touch of honey if your parsley is a little bitter and feel free to add more oil or lemon to suit. Best made and eaten on the day but will keep covered in the fridge overnight.