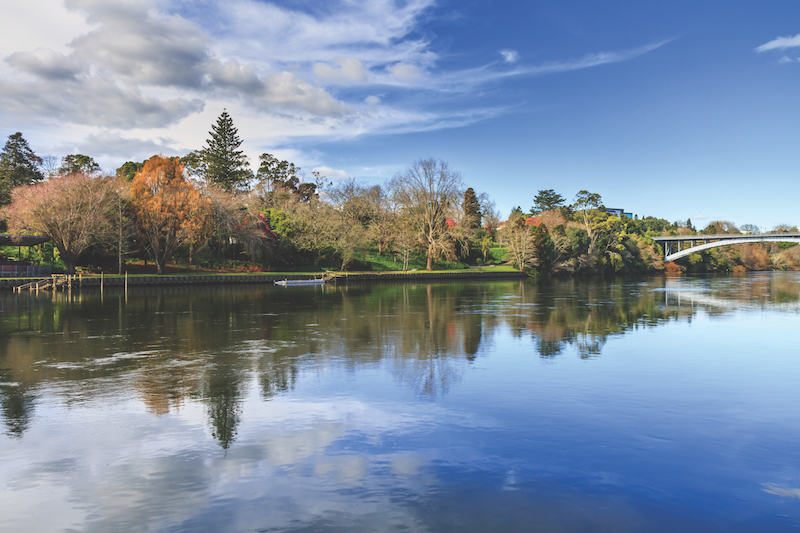 Words VICKI RAVLICH-HORAN
Clean running water at the turn of a tap is something we all take for granted. In the Waikato, with the mighty Waikato River running through our region, we may even be a little blasé about it. But water is not an infinite resource: if we waste it, we won't have it literally 'on tap' when we need it.
That's why carefully managing our water and ensuring we have the water reserves we need is so crucial. It's something we all need to work on together, especially with the 'new normal' of warmer summers and less rainfall. 
It's an important message which Hamilton City Council would like everyone in our community to remember.
Where our water comes from
The Waikato River is the sole source of water for Hamilton; however, it also supplies water to 1,956 other entities throughout the region, including councils, farms and businesses. 
In the summer 1,736,640,000 litres of water per day is taken from all the way along the Waikato River and not returned to the river. On average, each person in Hamilton uses approximately 241 litres of water per day. In summer this amount can double.
When you add this to the considerably greater amount that goes through power stations (which is used and returned to the river), it shows just how much we rely on the Waikato River for its precious resource.  
Who looks after the river?
The regulatory authority in charge of the Waikato River is the Waikato Regional Council. It monitors river flows, groundwater and water quality, and sets the rules determining how much water can be taken and the quality of water you return back to the river.  
These rules also control damaging activities—those that can result in contaminants entering groundwater, lakes and rivers. The regional council also encourages and helps landowners, iwi and community groups to carry out catchment restoration and planting to protect waterways. 
Planting waterways is important because plants filter soil and nutrient runoff from surrounding land, so less gets in the water. Also, shading waterways with plants helps to keep water temperatures down and provides better habitat for the plants and animals living in and around them.
How our water is processed
Every second of the day, Hamilton City Council's only water treatment plant converts more than 2,500 glasses of river water into high-quality drinking water. This is then supplied to nearly 60,000 homes and industrial premises across our great river city.  
When our water treatment plant was built in 1971, it was designed to treat 64 million litres per day. Through a number of improvements and upgrades, it can now cope with 106 million litres per day. This is a good example of how demand on our city's resources and the river has dramatically increased in 50 years.
Once in the treatment plant, the water goes through a series of filtration steps, from removing the large particles through to micro-organisms. It's then disinfected using UV reactors and chlorine, before being tested, then pumped to one of our eight reservoirs.  
With a storage capacity of approximately 125 million litres, the reservoirs have a dual role. They provide sufficient water for emergency storage and also assist with the supply of water during periods of high demand. This 'buffering of demand' allows the treatment plant to operate more efficiently and economically, by producing treated water at a steady rate.  
More than 1,000 kilometres of predominantly underground pipes ('mains') make up the city's water reticulation network, carrying water to the reservoirs and from there to each home and business. These thousands of kilometres of pipes need regular maintenance and upgrades, and the risk of leaks is ever present. 
That's why reporting leaks when you see them is so important; it's a great way for you to help the Council not just fix the problem but save precious water from being wasted.
Everyone's effort counts
The Waikato River provides a beautiful and vibrant backdrop to our city and is an essential taonga to Waikato-Tainui, so it's in all of our best interests to protect and care for the 'awa' while treasuring what it gives us.
For more information visit hamilton.govt.nz/water