At a young age, Kris Beehre was told not to play with his food, but now "that's what I do for a living", he says, laughing, as we talk about the rich history of his Ambrosia Restaurant and Bar.
Ambrosia sits among the hustle and bustle of Eat Street in Rotorua. You wouldn't know it, but it's one of the oldest licenced restaurants in New Zealand, opening in 1954 as 'B-B-Que', owned by Charlie Pihira. Kris says there's an original menu hidden somewhere in a filing cabinet. On it a T-bone steak is just 20 cents!
Over its almost 70 years in business, the restaurant site has only had three owners. Herbie and Annette Sewell took over from Charlie in 1984, where they changed the name to 'Herb's Place'. In 2009, Kris and his parents, Mary and Ron Beehre, took over the reins. Kris's mate Mikey came up with the name over a few beers. "In Greek and Roman mythology, it means 'Food of the Gods', I'm told."
Kris is the head chef, Ron takes care of accounts and maintenance and Mary has taken a managerial role. Kris's partner Jess isn't involved in the day-to-day, but she has the "patience of a saint". As for his kids, Avaani is in the kitchen gaining experience and learning a trade, which will perhaps lead to the new generation in charge.
Kris has a thing for culinary history, having worked in London's oldest restaurant, Rules (circa 1798), before moving back to Rotorua when his son was a baby. He wanted to be his own boss, there were a few options at that time in Rotorua, but when he caught wind of the Eat Street plans, he knew Ambrosia was the one.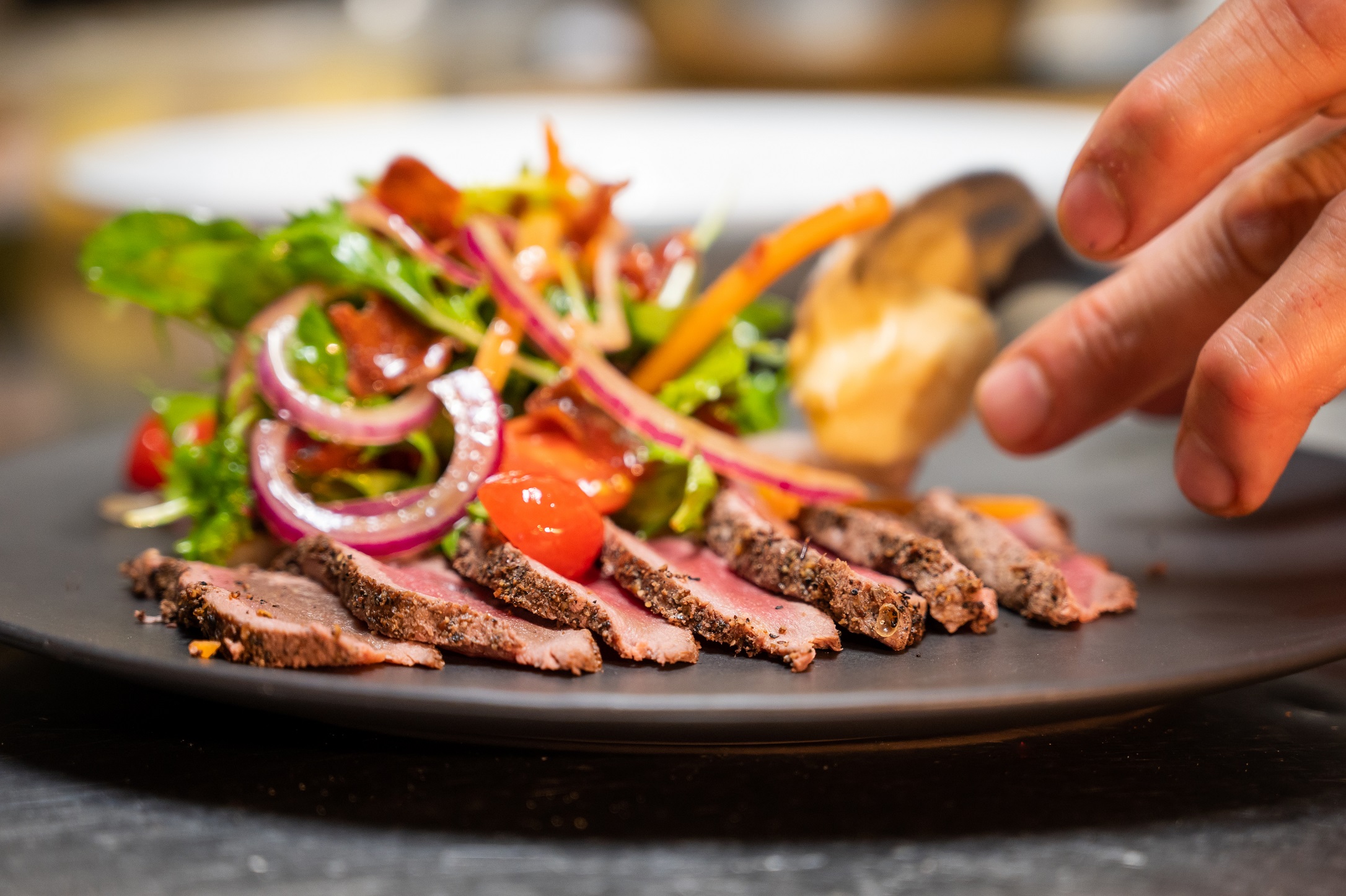 As a youngster in Rotorua, Kris remembers thinking Herb's Place was "really fancy with its French doors"; however, he never ate there until he owned it. It was a bit run-down when he and his parents took over: they replaced the floors, put in bifold windows, and built the deck out front. The covered roof came with the Eat Street development.
Kris has created a family feeling among his staff. He dreamed of having a "relaxed, cool culture" and it has paid off, as four of his small team have been with him for more than five years. I met sous-chef Daniel Gainsford, who has been at Ambrosia for seven years. Daniel is proud that the kitchen team makes everything from scratch, including their breads and pasta. There was the tempting aroma of rewena bread fresh out of the oven, music blasting and lots of laughs.
While Kris is currently head chef, he's had others in the role in in the past, which allows him to focus on the business. "The head chef is like a steel and all the chefs are the knives," he says. "You sharpen your knowledge from the head chef."
The food is Ambrosia's point of difference, the menu shaped by each chef's experience. Currently you'll find a Mediterranean/Turkish influence from chef Unsal Yigit, who has been teaching the team about use of spices. "I think that's the thing with food, you have to be progressive and keep evolving," Kris says.
Ambrosia is a family friendly restaurant. The menu changes twice yearly but there are weekly specials to keep the creative spark alive and the regulars happy. "You can come here and get steak and chips or toss the other side of the coin and get duck sausage roll with potato mousseline and wild cranberry sauce."
Some other choices include the Canterbury lamb rump with caramelised beetroot, balsamic onion and parsnip wafer (which I'm told is very popular); the low 'n' slow Asian style pork belly; and the funky fungi burger. There's a breakfast menu for the weekends, but you'll find tempting options for lunch and dinner seven days a week.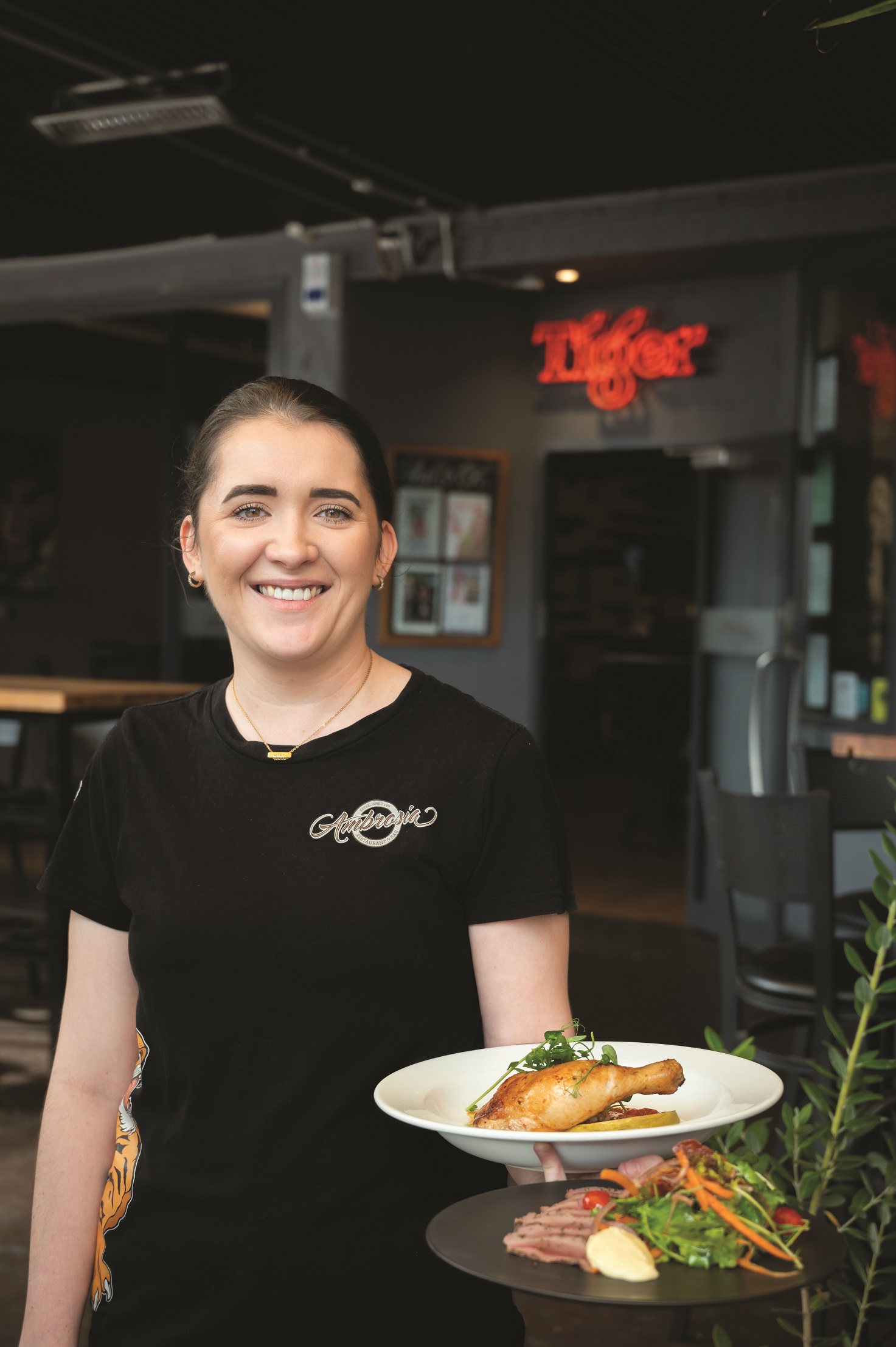 The one thing that hasn't changed since the restaurant opened is, of course, the Ambrosia dessert: Kris's take on it is described as strawberry mousse, marshmallow, Greek yoghurt, mixed berry compote, woven sugar basket and berry coulis. Understandably, it's a customer favourite.
You'll find local ingredients wherever possible on the menu. "If you spend locally, they get to know you and that favour is returned," Kris says. "Look after people who look after you." Ambrosia uses Lux Organics, Rotorua Truffles, Kai Rotorua's kūmara and there are regular visits to the local farmer's market for seasonal inspiration.
Kris is a keen gardener himself, growing pink oyster and shiitake mushrooms, lettuces, herbs and potatoes. When there are extras, you'll find his homegrown produce on your dinner plate.
Kris has won multiple awards over the 14 years of his family's Ambrosia ownership, with the most recent being the Matariki Dish Challenge Champion in 2022. He's been working on this year's entry for over a month. He won't share too much but paua dumplings with marmite consommé is on the cards. "Marmite is a secret weapon." And he's been playing with a venison rack (clearly still ignoring the childhood advice about not playing with his food).
Owning a restaurant for 14 years is no mean feat, says Kris: "It's a rollercoaster of fun and stress. You get pockets of bliss and pockets of despair, but the pockets of bliss keep us going. We're just glad that we're still here after everything that's been thrown at us."
Ambrosia and its predecessors have been feeding the hungry and thirsty in Rotorua since 1954, so it is certainly doing something right!
Ambrosia Restaurant and Bar
1096 Tutanekai Street, Rotorua
https://ambrosiarotorua.co.nz/
Words Harriet Boucher, Images Brydie Thompson