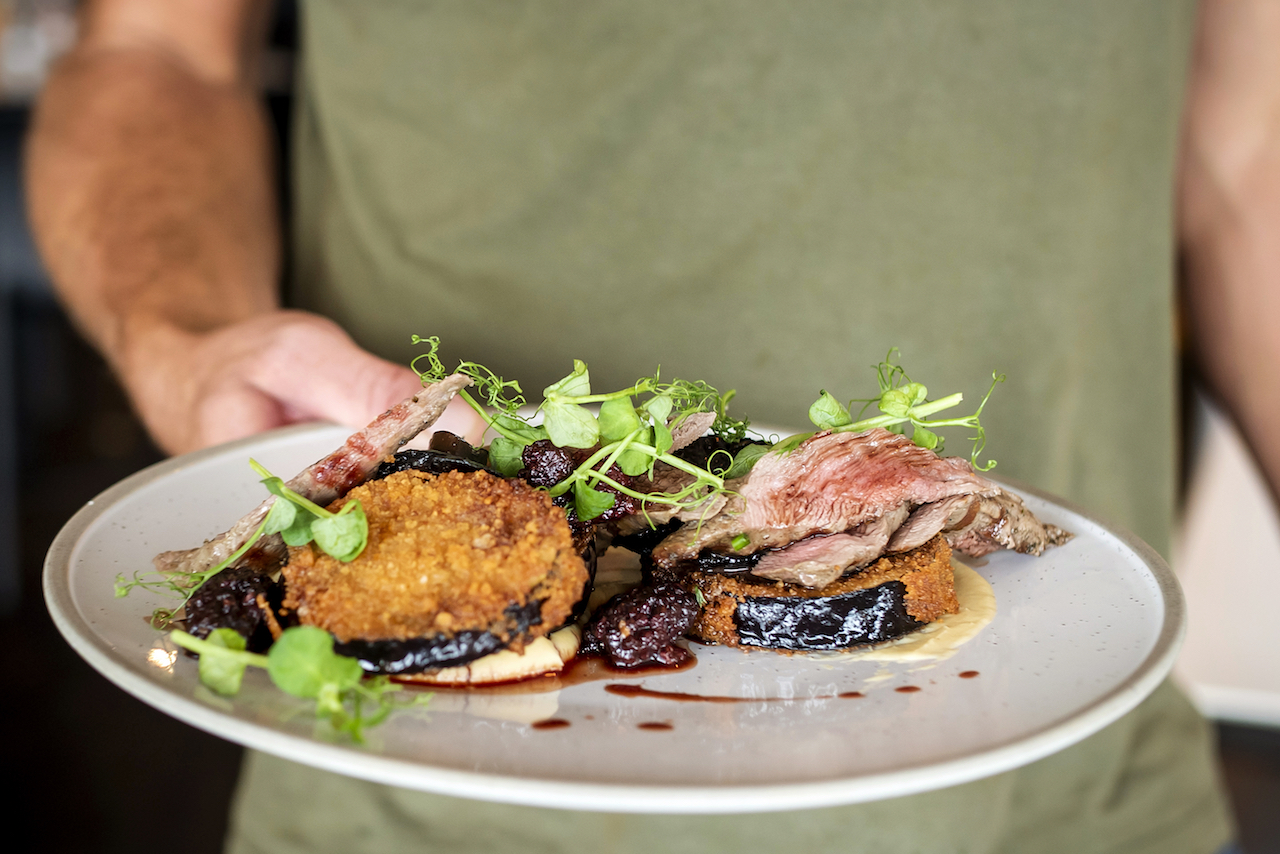 Recipe Andre Da Silveria from Elizabeth Cafe, Images Brydie Thompson 
For Smoked Lamb
600g lamb loin
1 cup grapeseed oil
5 cloves garlic, chopped
4–5 drops liquid smoke (available from Vetro)s
small handful thyme
500–600g portobello mushrooms
For Eggplant Schnitzel
3 eggplants
2–3 cups Panko breadcrumbs
½–1 cup flour
3–5 eggs, whisked
salt & pepper
For Celeriac Puree
1 big celeriac
200g butter
2 tbsp cream
For the Blackberry Jus
400ml beef jus (a heavily reduced beef stock)
handful of frozen blackberries
In a medium bowl mix grapeseed oil, liquid smoke, chopped garlic and thyme together and marinate lamb loin, ideally overnight or for at least 2 hours. Save some of the marinade and drizzle over the mushrooms then bake for about 15–20 minutes at 180°C. To cook the lamb, heat a cast iron pan and pan fry for about 2½ minutes each side for medium rare. Cover with tin foil and rest for 5–10 minutes.
For the schnitzel, place the eggs, flour, and panko in 3 separate bowls, season all ingredients with salt and pepper. Slice eggplant about 2cm thick. Dip eggplant slices first in the flour, then egg, then panko, making sure the whole slice is coated. Repeat the process with all the slices. Just before serving, shallow fry the eggplant schnitzel until golden and crispy, using a mix of oil and butter for best results.
For the puree, peel and chop celeriac as thin as possible then place in a deep tray with butter and about a third of a cup of water (the water prevents contents burning on the bottom of the tray). Cover tray with tin foil and bake it for 30–40 minutes at 180°C or until celeriac is soft. Place cooked celeriac in a blender with the cream and salt to taste. Blend to a smooth consistency.
For the blackberry jus, place the beef jus in a pot and bring to a boil. Reduce until a thick, coating consistency. Add in a handful of blackberries and keep warm until serving. Beef jus can be hard to find, so a cabernet drizzle or other syrupy glaze from Vetro will also work perfectly!
To plate up the dish, place a swipe of puree on the bottom of the plate. Arrange a few slices of eggplant and mushroom on top, followed by the lamb. Spoon over some blackberry jus and serve.
Bon appetit!