Words & Images: Vicki Ravlich-Horan
A trip to England must include a visit to a castle, but after the second or third they all start looking the same. I contend this is much the same when in Rotorua, but the castles are just bubbling mud pools—marvellous in themselves, all with something unique and wondrous just, dare I say it, a little monotonous.
Just as there is more to see in England than a litany of old buildings, Rotorua offers so much more than geothermal wonders. We spent a couple of days uncovering just a few, asking the locals for their top picks and generally enjoying everything but a geyser. What we discovered is there is so much here to see and do from adventure and thrill rides to enjoying the wonders of nature, biking, hiking and a spot of eating.
We are staying at Jet Park Rotorua. This small chain of hotels with properties in Rotorua, Hamilton and Auckland pride themselves on authentic Kiwi hospitality. It's the perfect spot to base ourselves with a spacious room, ample parking, along with a pool and kid's playground.
Inus Rademeyer, the manager, is quick to give us a list of must see and do's, including many unique free ones like a visit to Kerosene Creek. You'll find this hidden gem down a very rutted metal road, off State Highway 5 heading south from Rotorua to Taupo. Bump your way down the road for two and half kilometres until it ends. Head down the track and you'll find the warm stream and waterfall hidden among the bush that is Kerosene Creek.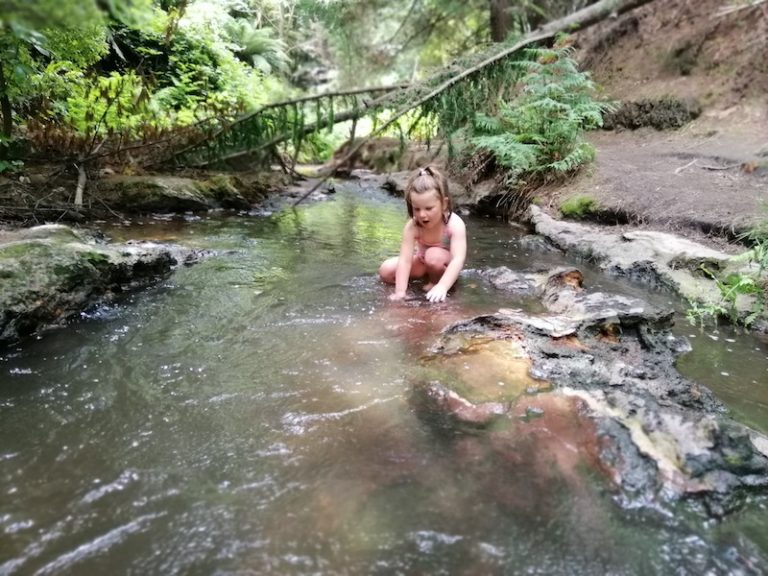 It's a weird phenomenon soaking in a fresh-water stream with warm water flowing past you. This is a magical spot but be careful, don't leave any valuables in the car.
If hot pools are your thing, Rotorua has them in spades from the newest, The Secret Spot, which is part of the mountain biking complex and perfect to soak weary muscles after a ride or to just chill in at sunset, to the iconic Polynesian Spas. But if therapeutic waters are not necessarily what you are after and it's just a frolic in the pool, we loved the Rotorua Aquatic Centre by Kuirau Park.
Another great place for some good old-fashioned family fun is Amazeme. We quite literally got lost in Rotorua! If you are taking on the maze make sure you have good walking shoes on, sunscreen and some water, and I highly recommend a trip to the loo before beginning! This 1.4km hedge maze will have you dazed and confused. Outside the maze you'll also lose time playing the many fun games or exploring McGregor's garden. Pack a picnic and spend the day.
Speaking of packing a picnic, our hotel was just a short stroll to Vetro Rotorua on Amohau Street.  Filled with all manner of epicurean delights, it is the perfect stop to stock up on gourmet ingredients for a picnic or a bottle of wine and some cheese for a quiet night in. Revolver Coffee Roasters are in store so I set the family up with coffee and hot chocolates while I perused the shelves in peace knowing I would find an array of new and exciting or hard to find ingredients to take home with me.  I love their Callebaut chocolate, the imported pastas and gnocchi and range of Italian wines.
Vetro owner Jenny Meban recommends a walk around Hamurana Springs and a bite at the Okere Falls Cafe.
Another favourite stop for something to eat is Scope Cafe on Tutanekai Street. This is a cafe that exudes warmth and character. Walk in and you will be greeted by genuine smiles and a cabinet full of tempting sweets to make you smile.
Owned by Dana and Steven Greer, Steven oversees the food with Dana taking care of the front of house. Scope is one of those rare finds where you know the owners care, it's in the food, it's in the eyes and smiles of the staff and it's in the friendly banter with the many regulars.
Make sure it's on your list of places to visit for breakfast, lunch or even just a coffee, just ensure when you go you don't leave without a couple of treats for later!
Dana agrees with Jenny's recommendation of Hamurana Springs walk. "It's like heaven on earth," says Dana. "Beautiful spring waters, gorgeous Sequoia forests. It's so serene, it's my sanity walk every day, and I am so appreciative to have access to it."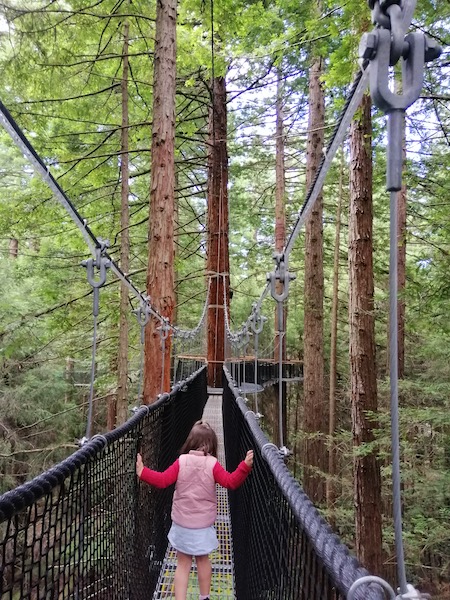 Getting close to nature and enjoying a walk with a difference, you can't go past the Redwoods Treewalk. This 700m walk, 20 metres up among the magnificent century old redwoods includes 28 swing bridges and 27 platforms, giving you a bird's eye perspective of the forest. During the day it is awe inspiring seeing these massive trees from such a perspective. Then at night 30 exquisite lanterns designed by world-renowned designer and sustainability champion David Trubridge turn the walk into a mesmerising experience.
We couldn't decide when to go so went both during the day at night and still can't decide which is better. If going at night make sure you get there early, especially on holidays as the queue can be quite long.
Also lighting up the nightlife in Rotorua is Skyline Rotorua. Having been on the luge many times this family favourite took on a whole new element at night. We headed up at dusk and had dinner at the Stratosfare Restaurant. Here you will find the most magnificent views and the most amazing buffet I have ever experienced in New Zealand. Seriously, it went on for metres, with soup and salad stations; you could make your own Caesar salad. Fresh seafood and sushi, a noddle bar and then curry selection turned into a flame rotisserie and grill station. And then we discovered dessert!
Considerably full we then careered down the hill in the dark. Well, semi-dark, as the luge path is lit by a series of lights. If you want to stay really late you can explore constellations, look for a shooting star and discover planets invisible to the naked eye with the new stargazing experience.
Weary from a few late nights, we spent a day exploring a few of the beautiful lakes. Inus from Jet Park recommended the secluded beach accessed by a step walk down from the lookout carpark between the Blue and Green Lakes. This gorgeous little beach with its crystal-clear water is the perfect spot to swim or simply lie back and enjoy the surrounds.
Other highlights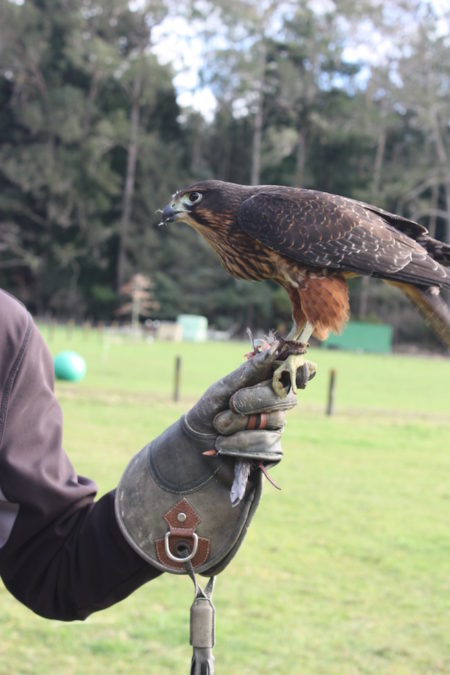 We had a great dinner at The Blind Finch. Here you will find the most creative burgers around matched with an extensive list of craft beers and gin.
Dana says you can't beat Atticus Finch for dinner and a stop at iconic Lady Jane's Ice Cream Parlour is always a good idea when strolling down by Lake Rotorua.
If a trip to Rotorua is not complete without seeing a mud pool you can stroll around Lake Rotorua, behind the Polynesian Spa, or our favourite is a visit to Kuirau Park. Here you can see bubbling mud pools, sit with the tourists and soak your feet in a hot thermal bath or let the kids go wild on the playground. There is also a market here each Saturday.
We also love Wingspan—here you will learn about the native New Zealand falcon the karearea, along with other birds of prey and discover the art of falconry.
Next time
We're hoping to get to the 3D gallery, walk the Lake Tarawera Trail and soak our aching bodies in the natural hot springs, and swing from the treetops with the award-winning Rotorua Canopy tours.  And that's just the start!