Wed in Waikato is a curated group of wedding professionals based in the Waikato with a dual purpose—to help ease the stress for couples planning their special day and to network with their industry peers passionate about weddings to ensure we have the best there is here in the Waikato. Who better to ask for their top tips and advice when planning your big day?
Abbey from Love Club Hire, who hire a range of custom furniture for weddings and events, says, "Weddings get expensive really quick, so draw up a budget and prioritise what's essential to you—this will really help narrow things down when you are picking the right vendors to work with." Abbey also recommends "keeping a notepad by your bed. Jot down things you remember when you are trying to sleep. Then deal with them the next day."
Photographer Ruth Gilmour suggests you stalk your photographer. "It's really important to choose someone you like because you're going to spend your whole wedding day with them. In fact," Ruth says, "I often spend more time with the bride than the groom does!"
Kate from Ryan's Daughter Photography advises you "choose your vendors wisely and then trust them to do what they do best". Kate agrees with Ruth, pointing out "your photographer will be with you for a big portion of your wedding day and during some of the most intimate moments. You need to make sure you feel comfortable around them and confident that they will do their best for you".
Celebrant Kylie McKay believes having a great relationship with your celebrant is also key.  "A celebrant will ask you lots of questions to get to know you, so make sure you give them the good stuff! Try and be open with them, even though most of the time you would have only met them once or twice. They will work their magic with your ceremony content and your guests will be left wondering if you're longtime friends. That is the ultimate goal!"
Kylie points out planning ahead for your celebrations is also key: "If you're having a summer wedding, the height of the wedding season, make sure you book your celebrant as soon as you've got a date. Most celebrants only do one wedding a day and dates (particularly Saturdays) in February and March book out so far in advance."
Being well prepared is make-up artist Abbie Hartland's advice too. Abbie says, "Great lighting is just as important for your photographer as it is for your make-up artist," and you should consider this when choosing where to get ready. "On the morning of your wedding day," Abbie says, "you really want your preparation space to be calm, full of natural light, uncluttered and large enough to accommodate your bridal party, artist/stylists, photographer/videographer and the extra people that come and go as part of this busy morning."
Finally, Abbie says, remember whose day it is. "As a bride you should never be in the make-up chair last! It is easy to underestimate the time it takes for everyone to get dressed and ready. Expect to be in the make-up chair with your hair already styled second to last, if not sooner. As time draws near to your ceremony with this often comes nerves, phone calls, questions and other distractions. You want to enjoy your pamper time and avoid a rush to get into your dress. Your photographer will also appreciate this extra time allowance."
Laurie from Hot Shots Photobooths says it's important to know "that not everything goes to plan and that's ok. Relax and just have fun on the day".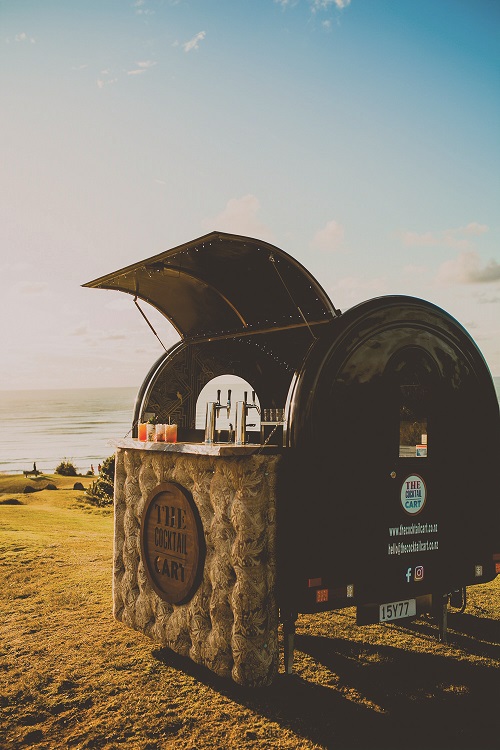 What's Hot
Abbey from Love Club Hire says, "A lot of people seem to be into a more chill wedding set up this year—think bar leaners, chill areas or lounges, tapas or a food truck and no sit-down meal."
The Cocktail Cart is perfect! "Today, food trucks are seriously stylish and increasingly trendy," says Dorothy from the Cocktail Cart who has taken this idea and given it a fabulous twist! The Cocktail Cart is a mobile bar that offers a luxurious experience, bringing delicious cocktails to you and your guests!
"The Cocktail Cart is compact and can be set up anywhere, from your private house to the hill that overlooks the ocean," says Dorothy. Another service that can bring a little fun to almost any venue is a photo booth, which also means you and your guests get to have some candid shots of the night.
Before your guests even get to your wedding, Kelly from Creative Box says you can set the scene. "You can have always have so much fun with your invitations," Kelly says, "and this season is no different. From beautiful simple designs with playful handwritten fonts and monograms, watercolour leaves and bright floral illustrations. For inspiration for your invitations, think about the colours and styles of the men's suits and ties, bridesmaids dresses, florals, venue and styling and most importantly about what you as the couple like."
What never goes out of fashion?
Like beautiful invites and stationery, some things never go out of fashion, like personal vows says celebrant Kylie McKay. "Speak from the heart and avoid copy and paste from the web. Don't worry about what sounds right or what everyone will think. No one else is in this relationship but you two."
Having a wedding day full of the things you love and enjoy together and not feeling restricted by traditions you have no connection to is Kate's, from Ryan's Daughter Photography, advice. While Abbey from Love Club Hire says "good food, plenty of refreshments and great music, either live band or DJ" will always be winners.
Then finally Ruth Gilmour wants you to have long-lasting images of the day you will treasure and says, "Candid documentary-style images that are relaxed and natural are timeless."
Kate from Say I Do With Kate says, "Remember to focus on you as a couple and what's important to you leading up to the big day." Sage advice considering this is the day to mark the rest of your life together.