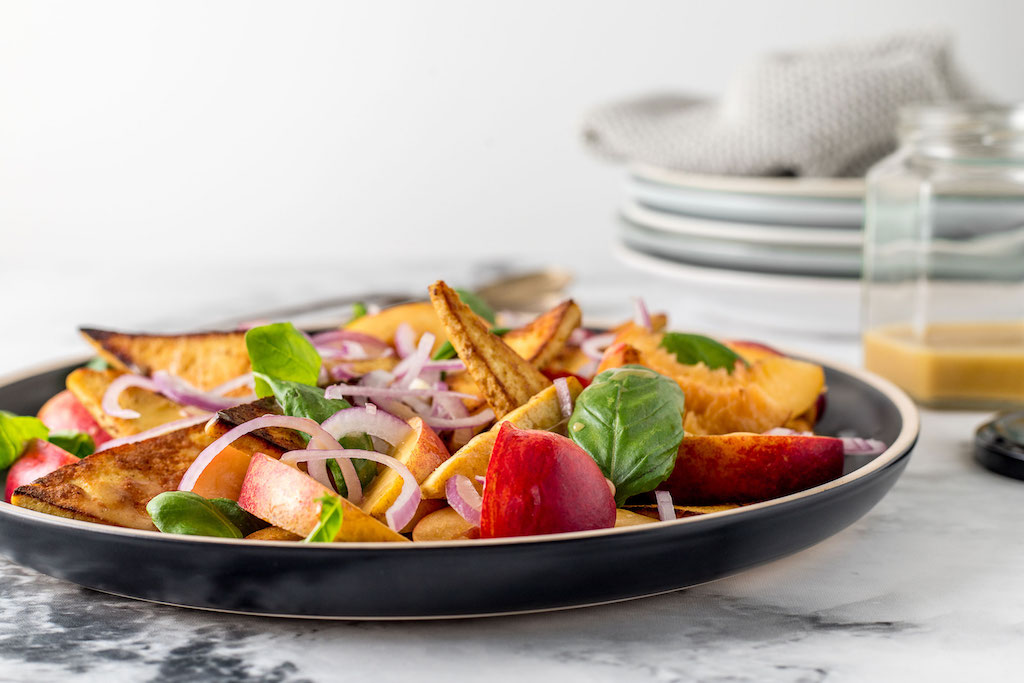 Recipe & Photography: Amber Bremner
Inspired by Italian caprese salad made with tomato, mozzarella and basil, this nectarine and tofu salad is a dairy free twist on the original, with similarly complementary flavours. The tofu marinade gives it a sharp and salty flavour, made slightly savoury by nutritional yeast—a deactivated yeast culture that's high in vitamin B12 and has a kind of cheesy flavour. It's important to note that nutritional yeast (sometimes called savoury yeast flakes) is not the same thing as bread making yeast. Look for it at the supermarket, Bin Inn or health food stores.
Marinated Tofu
300g block of firm tofu (I recommend Tonzu organic tofu)
¼ cup freshly squeezed lemon juice
2 tbsp extra virgin olive oil
2 tbsp nutritional yeast
½ tsp salt
Dressing
2 tbsp extra virgin olive oil
2 tbsp red wine vinegar
1–2 tsp raw sugar
1 tsp Dijon mustard
salt and pepper to taste
Salad
3–4 nectarines, thinly sliced
1–2 shallots or small red onions, thinly sliced
handful of freshly picked basil leaves
Begin by preparing the tofu. Remove from packaging, rinse under cold water, then wrap with paper towels or a clean tea towel and press between two dinner plates with a heavy weight on top (1–2 cans will do the trick). Leave for at least 30 minutes to drain. Unwrap tofu, then slice into 5mm thick pieces and put in a container with a watertight lid. Mix lemon juice, extra virgin olive oil, nutritional yeast and salt together, then pour over the tofu. Marinate tofu for at least two hours, turning over the container every now and then to ensure all pieces of tofu are well coated.
While the tofu is marinating, shake dressing ingredients together in a small jar. Adjust salt, pepper and sugar to taste.
Heat a large fry pan (or barbecue grill) over medium-high heat. Remove tofu from the marinade and fry, cooking on both sides until golden. There is no need to add extra oil if using a fry pan, but you'll need extra to ensure it doesn't stick if you're barbecuing.
Arrange tofu, nectarines, red onion and basil leaves on a serving platter and drizzle with dressing. Serve immediately.
Amber Bremner
Quite Good Food
www.quitegoodfood.co.nz
Amber Bremner is the author of popular plant based food blog Quite Good Food. A champion for cooking and eating food that make you feel good, she believes small changes in the way we approach food have the power to make a difference.