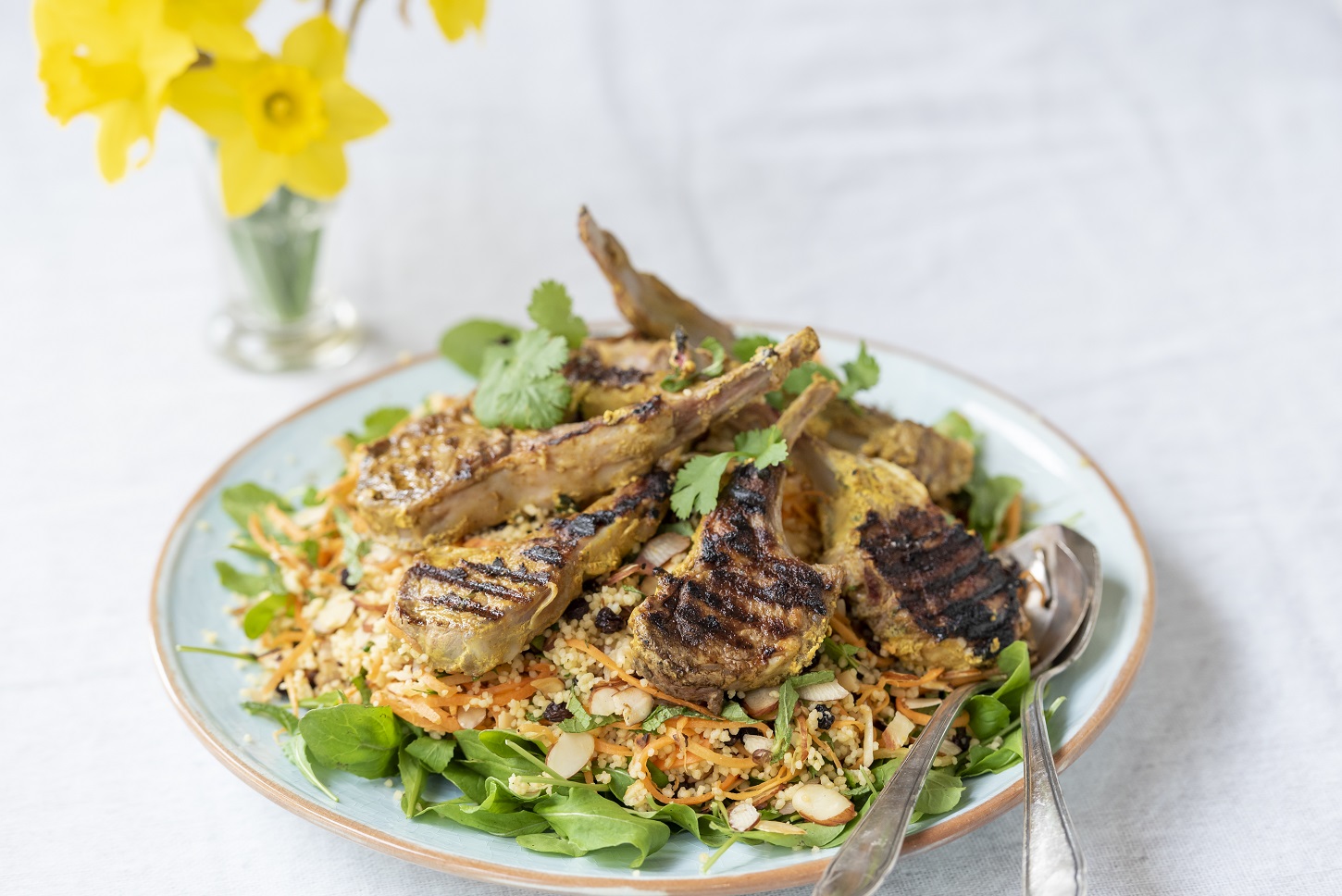 Recipe Vicki Ravlich-Horan, Images Brydie Thompson
⅓ cup fresh mint leaves, julienned
1 tbsp garlic powder
2 tsp ground turmeric
1 tbsp ground coriander
1 tbsp ground cumin
½ tsp paprika
½ tsp chilli powder (optional)
1 tbsp grated lemon zest or finely chopped preserved lemon
3 tbsp lemon juice
¼ cup olive oil
1 cup Greek yoghurt
3 racks of lamb, cut into chops (we used Ovation lamb from the Greenlea Butcher)
salt
Mix all the ingredients, except the lamb and salt, together. Marinade the lamb in the yoghurt mixture for a few hours or overnight.
Just before cooking, sprinkle the lamb with a little salt then sear on a hot griddle pan or BBQ for 2–3 minutes on each side. Allow to rest for 3–4 minutes before serving atop the carrot couscous.
Carrot Couscous
1 cup couscous
½ cup boiling water
¾ cup orange juice
2 tbsp extra virgin olive oil
2 tbsp white wine vinegar
1 clove garlic, crushed
1 tsp Dijon mustard
3 carrots, peeled and julienned*
1 cup sliced almonds, toasted
½ cup currants
1 cup coriander leaves, roughly chopped
1 cup mint, roughly chopped
1 cup Italian parsley, roughly chopped
120g packet rocket
Place the couscous, water, ½ cup of the orange juice and a pinch of salt in a large bowl and cover with plastic wrap. Set aside for 5 minutes or until the liquid is absorbed.
Meanwhile, make the dressing by placing the oil, remaining orange juice, vinegar, garlic and mustard in a bowl. Whisk to combine.
Fluff the couscous with a fork and add the carrot, almonds, currants and herbs. Mix through the dressing, then place on a bed of rocket.
*I love to use my quick peeler which also has a julienne cutter on one side. You'll find these nifty gadgets at great kitchen shops like The Scullery.