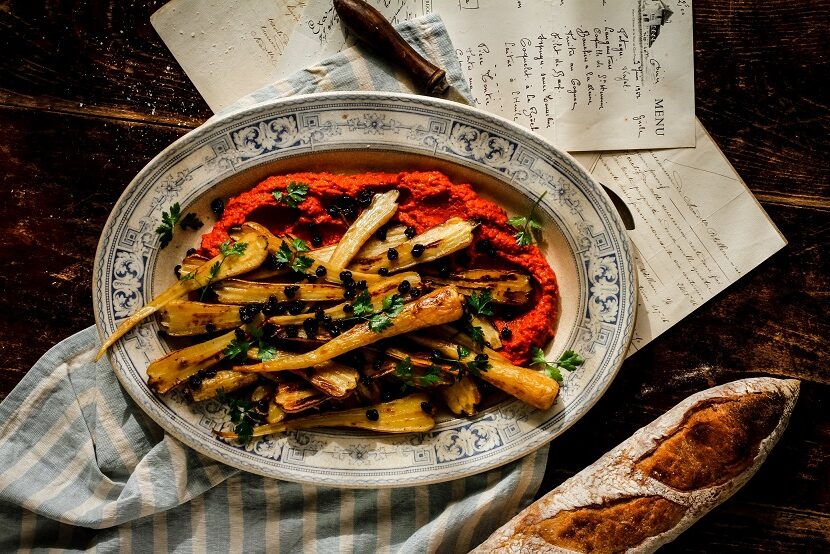 Until recently I've never really rated confit anything, the thought of all that oil back when I was fancy-free made me cringe. However, this old French way of preserving food has a magical effect on many things and in this instance turns seemingly dreary parsnips into melt in your mouth deliciousness. Served with punchy Romesco sauce and wicked wee pickled currants, she's a tapas style side dish that steals the show. Serve with crusty bread to scoop up all the bits.
500g skinny parsnips, larger ones halved lengthwise
1 garlic bulb, with the top cut off
2 slices ginger
3 cups olive oil
red capsicum, deseeded, halved
3 medium tomatoes, halved
½ cup blanched almonds, lightly toasted
2 slices sourdough bread, crusts removed, torn into pieces.
½ cup sherry vinegar (approx., or red wine vinegar is okay)
¼ cup extra virgin olive oil (approx.)
⅓ cup currants
fresh parsley or chervil to serve
Preheat oven to 150°C. Place the parsnips in a oven proof dish large enough to hold them covered in the oil. Add the ginger and garlic bulb and bake for around 30 minutes. Turn them over and return to the oven and continue to cook until soft when pierced with a knife. Set aside in the oil while you prepare the romesco.
Lay the capsicumss and tomatoes on a lined baking tray and bake at 190°C for 30 minutes or so until softened and beginning to caramelise.
Place the currants in a small bowl with 2 tbsp sherry vinegar and microwave on high for 1 minute. Set aside to cool.
Place the roasted capsicums and tomatoes in the bowl of a food processor.
Squeeze out the pulp of the cooked garlic bulb from the confit and add to the roasted capsicum. Add the toasted almonds and sourdough. Season. Blend with sherry vinegar and olive oil to taste, adding more vinegar or oil to taste.
Drain parsnips well and reserve oil for another confit. Fry the cooked parsnips in batches over medium heat until golden brown.
Spread the romesco on a serving platter and top with the caramelised confit parsnips. Shower in the pickled currants and lots of flat leaf parsley.
Serve on its own with crusty bread or as an accompaniment to roast chicken or whole baked fish.
Recipe and Images Fiona Hugues