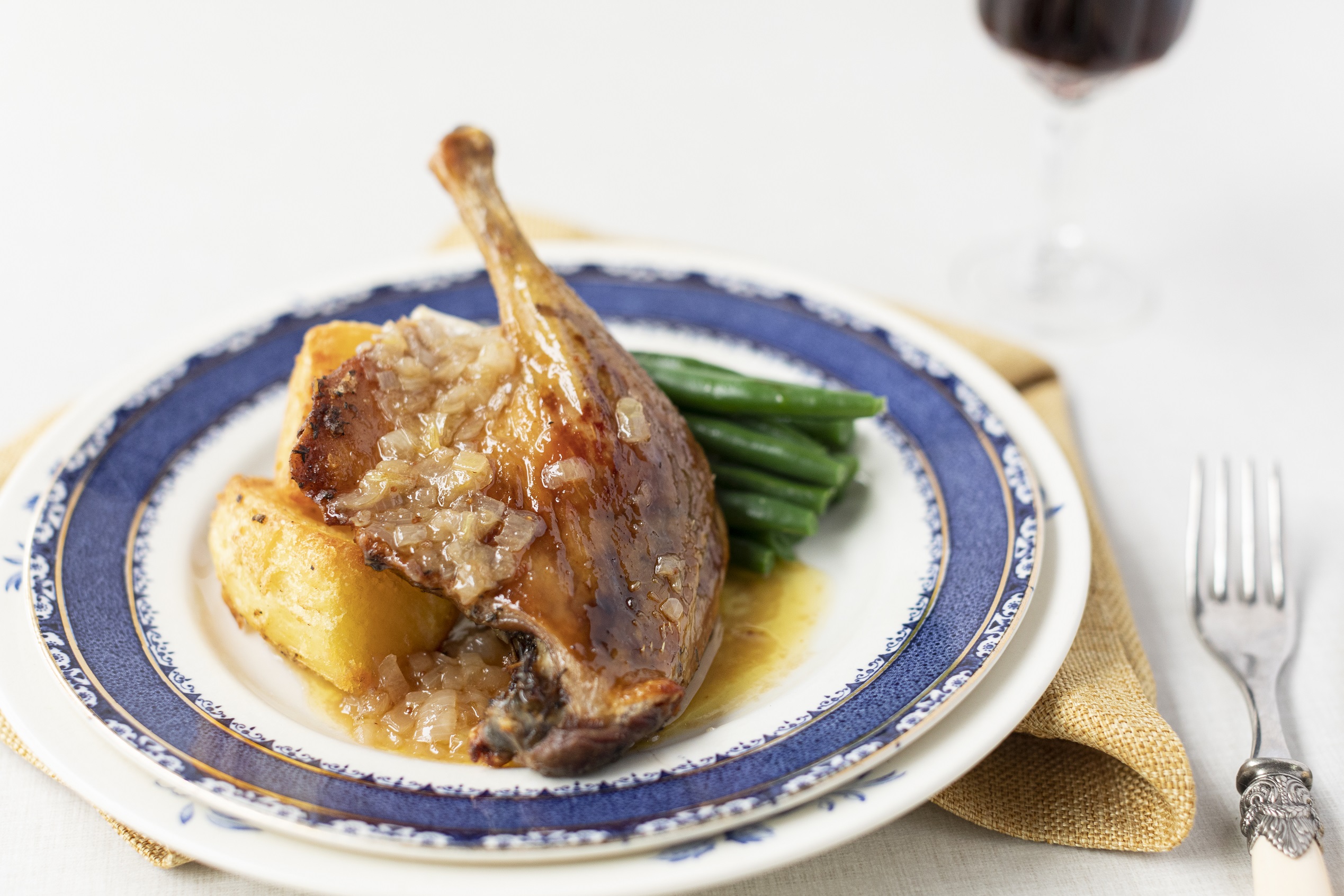 I have just returned from a very overdue visit to Europe, taking in France of course, as well as Spain and Portugal.
One of my all-time favourite things to eat in France, other than foie gras, is confit de canard, or twice cooked duck. Available here in cans from Vetro Hamilton, and very good too, it is actually very easy to prepare your own. It does, however, require a process of three days from beginning to consuming.
Confit is made using the leg/thigh and wings; however, I use the leg/thigh, also known as the Maryland. This is also available from Vetro or La Cave.
Confit de canard is an extremely old way of preparing and preserving duck for the winter in France. The duck was prepared as I am going to explain, then it was placed into large pottery jars, sealed with duck fat and placed into the cellar for the winter months.
6 duck legs (available from Vetro (bop ed) available from La Cave and Vetro (Wai ed)
1 tbsp salt
2 tsp herbes de Provence (available from Vetro (bop ed) available from La Cave and Vetro (Wai ed)
freshly ground pepper
Day 1: Mix together the salt, herbes de Provence and a good grinding of pepper, then sprinkle all over the duck legs. Place the duck legs into a ceramic dish, cover and place into the fridge for 24 hours.
Day 2: Preheat the oven to 150°C fan bake.
Remove the duck from the fridge and place it into a cast iron Dutch oven or a good heavy covered oven dish. Cook for 1½ to 2 hours, or until the duck is very tender. Once tender, allow to cool at room temperature, then place into the fridge overnight.
Day 3: Heat the oven to 200°C fan bake. Carefully remove the duck from the dish, taking as much of the fat off as you can without damaging the duck. Place onto a roasting pan and into the oven.
Roast until the skin is golden, sizzling and spitting.
Use the duck fat to roast the most amazing Agria potatoes to have with the duck.
For an easy sauce, I do the following
50g butter
1 small onion, finely chopped
2 cloves garlic, diced
2 tbsp Bonne Maman Fig Conserve (available from Vetro (bop ed) available from La Cave and Vetro (Wai ed)
¼ cup red wine vinegar
salt and pepper to taste
Melt the butter in a small pan and add the onion. Sauté until clear.
Add the garlic, fig conserve and red wine vinegar.
Cook and reduce to a glaze consistency. Season with salt and pepper, and serve with the duck, crunchy potatoes and steamed green beans. You can't get any more French than this.
Bon appétit.
Wine Match  – Brigid from La Cave says the best match for duck is a Burgundy and would go for the Victor Berard Bourgogne 2020. Pinot Noir grapes make this wine have aromas of red fruits like blackcurrant and gooseberry. The palate is ripe with rich tannins and aromas of spices.
Her other recommendation would be a classic Chateaneuf du Pape. Victor Berard Chateauneuf du Pape 2016 contains Grenache, Syrah, Mourvedre and Cinsault grapes.  A rich ruby colour with intense aromas of dried spices , herbs and flowers, this is a bold but well balanced wine.
Recipe Wayne Good
Images Ashlee DeCaires