Recipe Harriet Boucher, Images Ashlee Decaires
Serves 4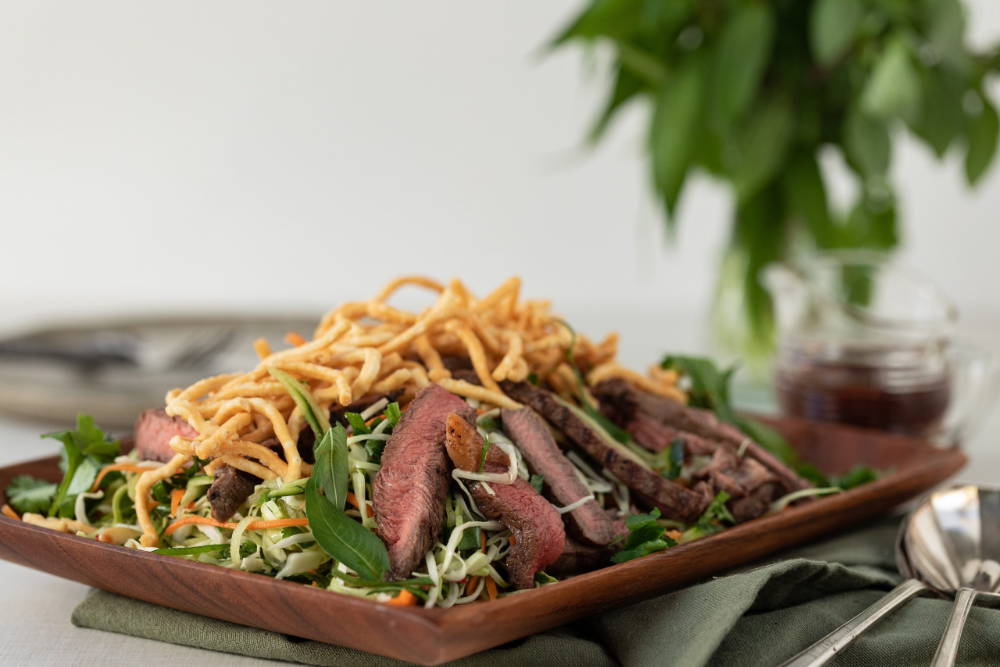 This zingy fresh slaw will summon summer. Serve with grilled rump steak or chicken and a cheeky roti bread on the side. (I love the Silk Road ones from the supermarket, fried in butter and oil – drool.)
Slaw
¼ of a green cabbage, shredded on a mandolin
1 carrot, julienned
1 cucumber, julienned
½ cup Vietnamese mint, roughly chopped
½ cup coriander, roughly chopped
2 spring onions, finely sliced
1 red chilli, deseeded and finely diced
1 kafir lime leaf, stem removed and very finely chopped
crispy noodles (I like the ones from Asian supermarkets)
Dressing
¼ cup lime juice
¼ cup white sugar
¼ cup fish sauce
1 large clove garlic, finely sliced
½ red chilli, finely sliced
To make the dressing, place the fish sauce, lime juice and sugar in a small saucepan. Bring to the boil, ensuring all the sugar is dissolved. Simmer for 1–2 minutes, then drop in the chilli and garlic and simmer for a further 30 seconds. Take off the heat and place into a container in the fridge to cool.
To make the slaw, in a large bowl, combine the cabbage, carrot, cucumber, Vietnamese mint, coriander, spring onion, chilli and kafir lime leaves. Give it a good toss to evenly distribute the herbs.
Pour the cooled dressing over the slaw and toss to combine. Arrange on a serving platter then garnish with two large handfuls of crispy noodles.