Every year the average Kiwi household sends 89kgs of edible food to landfill. This figure does not include food scraps that can't be eaten, like egg shells and banana peels. It also doesn't include food wasted at the source or through our supply chain i.e. what producers, distributors, supermarkets and restaurants throw away.
The problem is huge! But the real problem doesn't lie in the sheer waste: the waste of resources it takes to grow, store and transport food, or the waste of money which we throw away each time we waste food. The real problem lies in the fallacy that because it's compostable there's no harm sending it to landfill.
Food waste is the second largest cause of methane pollution. When you throw those potato peels or stale bread out and it ends up in landfill, it doesn't decompose as nature designed. Instead, starved of oxygen, it breaks down anaerobically, producing methane gas, a greenhouse gas 25 times more potent than carbon dioxide.
One-third of the world's food goes to waste, contributing to 6.7% of the world's carbon emissions—if food waste was a country, it would be the third worst country behind the US and China.
Tackling food waste has a big impact and is a lot less complex than recycling, it's easier than taking public transport and cheaper than installing solar panels. It's something you can do now!
Plus, if you divert your compostable waste from landfill, it breaks down as nature intended, returning the nutrients to the earth, eliminating the need for artificial fertilisers and helping us to grow nutrient dense food.
Composting 'waste' is nature's original carbon recycling system.
What Can We Do?
The first step is to reduce your waste from the get-go; shop to a list, preferably one created from a meal plan, only buying what you need. Those 'buy two get one free' offers seem like great value—except when you end up throwing half away. Wayne Good from Arkanda suggests you "shop as you need, not as a habit". Wayne says, "My fridge always has very little in it except milk, condiments, butter, cheese etc."  This method requires a lot of discipline! "It's very easy to go in for a bottle of milk and come out with sixty dollars' worth of stuff," admits Wayne.
Wayne's method of shopping often and only for what you need eliminates food going off before you can use it, but if shopping daily doesn't work for you, you need to learn to store your food correctly to get as long a life out of it as possible.
Samsung's ingenious Family Hub fridge helps you with your shopping list, sending it to your phone.  It can also alert you when food is about to expire. There are a number of great products for storing food from sachets that absorb the ethalene in your vege bin or these ingenious Swag bags (available at the Herbal Dispensary in Raglan) which help keep your fruit and vegetables as well as your bread and baked goods fresher longer.
Your freezer is also a great tool with so many foods, from egg whites to ripe bananas, bread to leftovers all fine to be frozen and extending their life for months. Just be sure to label everything clearly! Frozen lime juice looks just like egg whites—a lesson I learnt the hard way.
Wilted Green Balls
These ever-changing balls are the answer to all those now wilting greens you bought with good intentions of downing a green smoothie each morning or to a vege garden that goes crazy with more leafy greens than you can eat.
I love them served with zucchini noodles and a rich homemade tomato sauce. They also make great finger food served with a yoghurt dip.
Makes 14–16 balls
a big bunch of greens (8–10 cups spinach, kale, rocket…)
oil (I use extra virgin olive oil or sunflower)
1 onion, finely diced
1 tbsp cumin seeds
salt, to taste
2 cloves garlic, finely chopped
½ cup herbs (coriander, basil, parsley…)
1 cup fresh or Panko breadcrumbs*
¼ cup crumbled feta
1–2 eggs
Pulse greens in a food processor or finely chop with a knife.
Heat a large pan over medium-low heat and add a dash of oil, the onion and cumin seeds. Cook, stirring occasionally, until the onions are soft and translucent. Add the garlic and herbs and cook for a further minute.
Add greens to pan and sauté until they have wilted. Take off the heat and allow to cool.  Add the breadcrumbs and feta.  Mix well then check and adjust the seasoning.
Crack one egg into the bowl and mix with your hands to incorporate. Squeeze a small ball of the mixture. If it holds together, begin portioning out the remaining mixture into small balls. If it doesn't hold together, add another egg.
Heat oil in a pan before adding the balls—they should sizzle when they hit the oil. Turn heat down and cook until golden on all sides.
*Replace the breadcrumbs with cooked leftover rice for a gluten free version.
Bananas
Bananas are one of our favourite fruits, but they can be troublesome; one day they're green, the next speckled with black spots, which means the fussy ones won't touch 'em. They are also one of the top fruits we waste with New Zealanders, throwing away just under 5 tonnes a year!
Freeze them
Frozen bananas make the best smoothies! The trick is to peel and chop them first, then freeze them on a tray before storing in a container in the freezer.  This will mean you will have no-fuss free-flow bananas whenever you need them.
Dos and Don'ts
As a tropical fruit, bananas don't do well being chilled, so don't be tempted to store them in the fridge. In the same breath, don't store bananas in the fruit bowl with other fruit unless you're trying to ripen them both fast. Bananas release ethylene gas through their stems, so to slow down their ripening you can try wrapping the stems.
Banana Bread
This versatile banana bread is another great answer to overripe bananas. If, after a couple of days, you haven't managed to eat the loaf, it can be toasted and enjoyed in a whole new way.
2 cups flour
½ tsp baking soda
1 cup coconut sugar*
125g butter, softened
2 eggs
4 ripe bananas
⅓ cup plain low-fat yoghurt
1 tsp vanilla extract
Cream the sugar and butter in a large bowl. Add the eggs, one at a time, beating well after each addition. Mash 3 of the bananas and add to the creamed butter along with the yoghurt and vanilla; beat until blended. Mix in the dry ingredients until just combined. Grease a large loaf tin before pouring in the mixture.
Slice the last banana down the middle and place on top.
Bake at 180°C for 1 hour or until a wooden pick inserted in centre comes out clean.
*You can replace the coconut sugar with white or brown sugar.
Mix it up
Mix 1 cup of chocolate chips or berries into the batter just before baking
Don't Scrap It
A good portion of food waste comes from food prep, throwing away food like potato peels and broccoli stalks. Take a look at the scraps you generate. Can they be eaten? Stop peeling potatoes and carrots and scrub them instead. You'll reduce the waste and gain extra nutrients from their skin.
Chop those broccoli and cauliflower stalks up and use them in stir fries, salads and stews. Vegetable scraps like onion peel, carrot tips and celery roots can all be kept and used to make a flavoursome stock.
Parmesan Rinds – don't throw these away! Toss them into your soups or stews or when making stock for a flavour boost.
Scrapers
If you have ever been through a juicing phase you may have wondered what you can do with all the pulp. These crackers are one idea, as long as your juice is full of veg like carrot, spinach, kale, celery and beetroot, not orange and pineapple etc.
1½ cups flax seed
1¼ cup ground almonds
½ cup pumpkin seeds
¼ cup sunflower seeds
¾ cups veges, grated, or juicer scraps
2 tbsp sesame seeds
1 tsp ground cumin
1 tsp dried oregano
½ tsp sumac
1 tsp sea salt
If you're using the oven, preheat it to its lowest setting and line a large baking tray with baking paper. If you're using a dehydrator, set it up to 46°C and line the tray.
Place the flax seed in a bowl and just cover with water. After an hour all the liquid should have been soaked up by the flax seeds.
Add all the other ingredients to the soaked flax seeds and mix well. If the mixture seems too dry, add a little water, or if it's too sticky, add more ground almonds.
Tip the mixture onto the lined tray and begin flattening the dough out with a rolling pin (or just use your hands) until the dough is about 2mm thick.
Dry out in the low oven or dehydrator until crisp and dry. I find this takes around 12 hours. Once cooked, cut into squares and store in an airtight container. They should stay fresh for about a week.
Love Your Leftovers
After bread, leftovers are the second biggest category of food we waste. Instead of throwing out your leftovers, embrace them and what they offer, i.e. a free lunch.
Work leftovers into your meal plan, creating two meals from one, saving you time and money.
Frittata
With a few leftover roast veg or pumpkin, an onion, perhaps a bit of bacon or chorizo and any other veg (zucchini, mushrooms, capsicum, spinach…) bound together with egg and you suddenly have a great meal.
Serve it with toast and/or a salad and always a spoonful of your favourite chutney or relish. We love Peplers great range of small-batch, locally-made chutneys and relishes.
Minestrone
Soups have long been a great way to make a nutritious meal out of very little, from those veg at the bottom of the fridge you may be tempted to throw out to a chicken carcass. This hearty soup-cum-stew is a wonderful way to make a delicious meal from your Sunday roast leftovers using not just the leftover meat but the bone for a flavoursome stock.
LAMB STOCK
1 tbsp olive oil
1 each onion, carrot, celery stalk and tomato
3 garlic cloves, chopped
6 thyme sprigs
2 tbs tomato paste
½ cup (125ml) white wine
leftover roast lamb bones
For the stock, heat oil in a large pot, add the onion, carrot, celery, tomato, garlic and thyme and cook, stirring occasionally, for 5–10 minutes or until onion has softened. Add the tomato paste and cook, stirring, for 2–3 minutes. Pour in the wine and cook for a further few minutes or until reduced slightly.
Add lamb bones along with 3L (12 cups) water, and bring to the boil. Simmer for 2 hours, skimming any foam from the surface. Remove from heat and set aside for 20 minutes to cool slightly. Strain through a fine sieve into a bowl, discarding solids. Chill for 2 hours or until fat solidifies on surface then skim this off.
Once cooled, the stock can be kept in the fridge for up to a week or frozen to use in soups, stews etc at a later date.
¼ cup olive oil
2 onions, finely chopped
3 garlic cloves, crushed
2 carrots, finely chopped
2 celery stalks, finely chopped
1 zucchini, finely chopped
1 Parmesan rind
1 cup tomato passata
2 litres (8 cups) lamb stock
approx. 250g leftover cooked lamb, shredded
1–2 cups dried pasta*
Heat the oil in a large pot over medium heat. Add onion, garlic, carrot, celery and zucchini and cook, stirring occasionally, for 5–10 minutes or until onion has softened. Add Parmesan rind, passata, lamb stock plus 2 cups of water. Cover and simmer for 15 minutes.
Add the shredded lamb and pasta and continue to simmer uncovered for a further 15 minutes or until the pasta is cooked.
*This is a great opportunity to use the odds and ends of pasta you have lying around as it doesn't matter if they're all different shapes. Alternatively, if you want to keep this gluten free, add in a tin of chickpeas or cannellini beans.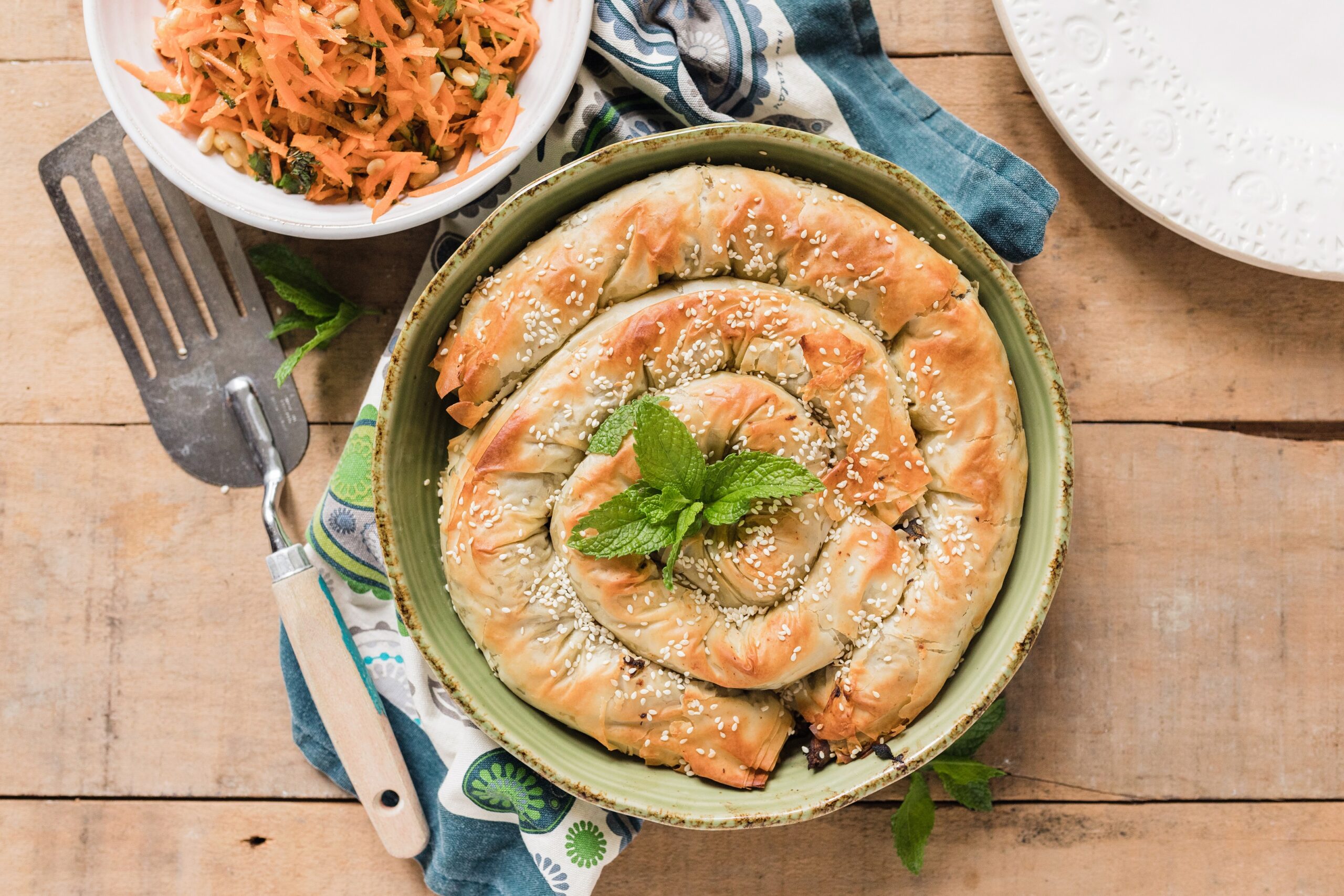 Lamb Filo Pie
This is another great way to use leftover meat from a roast.
¼ cup olive oil
1 onion, finely chopped
2 garlic cloves, crushed
1 tsp sumac
2 tbsp ras el hanout
2 tbsp tomato paste
1 zucchini, grated
¼ cup currants
Zest of 1 lemon
¼ cup pine nuts
300–400g leftover roast lamb, shredded
8 sheets of filo pastry
Heat 2 tbsps of the oil in a large pan and sauté the onion and garlic with the spices for 5 minutes until the onion has softened. Add the tomato paste and cook while stirring for 2–3 minutes.  Add in the zucchini, currants, lemon zest, along with a cup of water and continue to cook for 5 minutes.  Add in the lamb and pine nuts, mix well and take off the heat. Cool for 10 minutes.
Meanwhile, preheat the oven to 200°C and grease a 24cm round pie dish.
Remove filo sheets from the pack and cover with a damp cloth. Lay 1 sheet on the benchtop and brush with oil. Lay a second sheet on top. Spoon ¼ of the mixture along one end of the pastry sheets. Fold ends in (about 2cm) then roll up loosely to enclose. Brush all over with a little more oil and shape into a coil. Place in centre of pie dish. Repeat with remaining pastry and filling, placing in the dish so that the ends are touching. Brush the top of the pie with remaining oil and bake for 30 minutes until golden.
Every year Kiwis send 157,398 tonnes of food to landfill (source Love Food Hate Waste NZ).
New Zealander's throw away almost $2 billion of food a year (according to a 2017 RaboDirect survey).
For more recipes, tips and tricks go to www.lovefoodhatewaste.co.nz