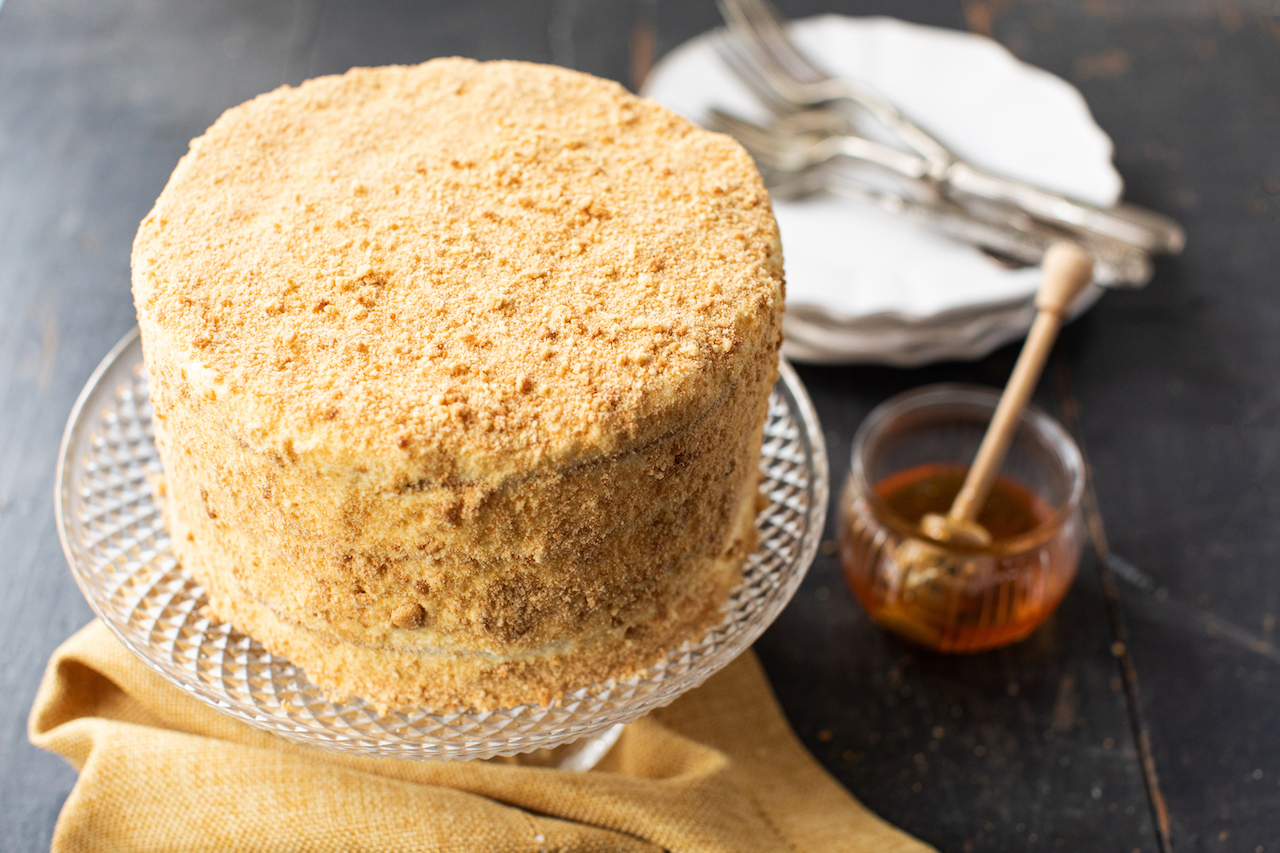 Bake for Ukraine
Intro Vicki Ravlich-Horan, Images Ashlee DeCaires
As we watch events unfold in Europe and the plight of Ukrainians, it's hard not to feel helpless, but you can help. Sarah Stuart-Black, Secretary General at New Zealand Red Cross, says, "The situation in Ukraine has really touched Kiwis, who have generously supported our appeal. However, there is still so much to do and so many who need help. Donations are being used for practical support to alleviate suffering and give hope, and we sincerely thank everyone for their support."Ukrainian Kiwi Olena Williams is based in Taranaki and has started a Facebook page (@vigilforukraine) highlighting some of the amazing things people are doing from local artists auctioning work for Ukraine to bake sales and even local schools performing the unofficial antiwar anthem – Oi U Luzi.
Good George sold out of their Piss Off Putin vodka and raised $50,000 for the Red Cross in the process.
Ukrainians Alina Dresker and Anna Fletcher have been living in Hamilton for five years and say the support from Hamiltonians has been heartwarming. People, the pair say, wanted to help but didn't know how, and so they came up with a bake sale. They have held two at the Hamilton Farmer's Market with the goods (including honey cake) baked by the Ukrainian community as well as those from Belarus, Kazakhstan and Russia. They have raised a whopping $10,000 so far!
In the Bay of Plenty, Falls Café held a fundraiser in April making and selling Ukrainian food. Harriet Campbell from Falls Café says they made "solyanka soup which we served with pampushky garlic bread, holubtsi cabbage rolls, varenyky dumplings, deruny potato cakes and piroshki mince filled buns which we served with garlic olive oil. These were all so delicious! The cabbage rolls and the mince buns were my favorite. Then there was yabluchnyk apple cake, medivnyk honey cake, maktort poppy seed cake, oreshki walnut caramel cookie and the iconic Kyiv cake." Harriet says she loved the Kyiv cake so much she has made it several more times and all profits from the sale of it go to a Ukrainian charity.
Kiwis wishing to help the people of Ukraine can make a donation through New Zealand Red Cross by visiting their website. One hundred per cent of donations will be used to help the people of Ukraine, with much of the funding going directly to international Red Cross teams on the ground there and in neighbouring countries who are providing support to the many people in need.
www.redcross.org.nz/donate/ukraine-humanitarian-crisis-appeal/
Ukrainian Honey Cake
Olena gave us this traditional recipe for honey cake or medovik, which is one of the most popular desserts in many Slavic countries. The cake originated in Russia with a young chef seeking to impress Empress Elizabeth Alexeievna, wife of Alexander I. Empress Elizabeth hated honey, and any dish made with it. It was said that she despised honey so much that any dish that had even the slightest hint of the sticky, sweet substance would cause her to go into a full-on fury. Unaware of this, a young new pastry chef in the Imperial kitchen baked a new cake with honey and sour cream.  The Empress didn't realise that honey was the sweetness she was tasting because the layers of sour cream masked the strong honey flavour. The Empress didn't just enjoy it, she loved the cake, and it became a firm favourite.  Over time the cake has changed slightly with condensed milk (used in Olena's recipe below) or custard replacing the sour cream. What has remained is the popularity of the cake in this region of the world.
Dough
2 eggs
1 cup sugar
100g butter
2 tbsp liquid honey
1 tsp baking soda
1 tbsp white vinegar
3 cups plain flour
Cream
250g butter, softened
1 395g tin condensed milk
Beat together eggs and sugar until fully combined then add in the butter, honey and white vinegar.
Whisk together over a double boiler until the mix is all melted and the honey and sugar is dissolved, then mix in the baking soda.
Take off the heat and gradually fold in the flour. Tip out onto a floured surface and knead until smooth. You can dust with extra flour if needed, it is quite forgiving.
Preheat the oven to 175°C. Shape the dough into a log and divide into 8 equal parts. Shape each dough piece into a ball. On a piece of baking paper, roll a dough ball out into a thin sheet. Keep the remaining pieces covered with a tea towel. Cut the dough into a disc using a 15cm cake ring or plate. Keep any excess scraps off to the side on a separate oven tray (you will bake these later). Prick the disc with a fork, then bake for 7–8 minutes until golden. Repeat with the other dough pieces. Cool the cooked discs on a wire rack.
Once all of the dough has been rolled out and trimmed, bake the scraps until golden and dried out. When cool, blitz these into a crumb.
Whip the butter and condensed milk together until thick and fluffy. This may look like it is about to split, but it does hold itself.
Layer the first disc on a flat plate. Spread a ninth of the condensed milk/butter cream on top. Repeat this with the other 7 layers, reserving two-ninths of the cream aside. Use the last bit of cream to cover the entire cake, then gently press the blitzed crumbs to coat the cake. Allow to sit overnight in the fridge to soften a little, then serve the next day with a cup of tea.