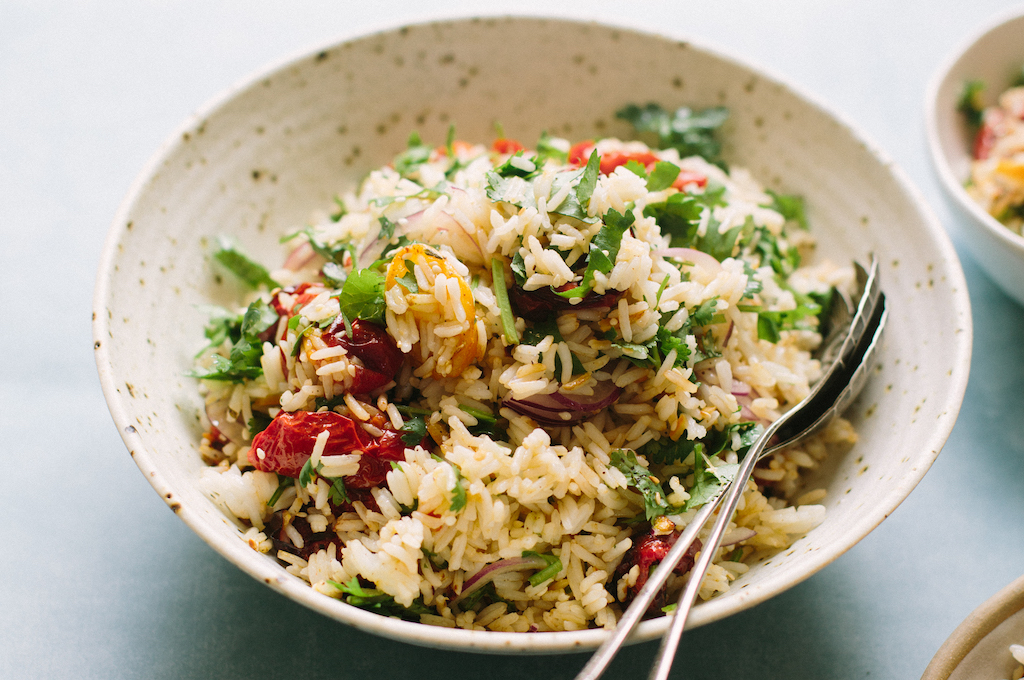 Recipe & Photography: Emma Galloway
Roasting tomatoes until slightly dried intensifies their flavours and makes them the perfect flavour-bomb to add to summer salads. This rice-based salad is the perfect make-ahead dish to take along to summer BBQs. Add some cooked chickpeas for a more substantial stand-alone meal. I used medium-sized tomatoes. If you use cherry tomatoes, reduce the cooking time and if you use large tomatoes, you'll need to increase it. Finely grated lemon zest can be used in place of preserved lemon, if preferred.
Serves 4–6
1kg tomatoes
1 tbsp thyme leaves, roughly chopped
½ tsp sumac
olive oil
fine sea salt and freshly ground black pepper
1½ cups white basmati rice, rinsed well
½ red onion, finely sliced
½ preserved lemon, skin finely diced
1 tbsp lightly toasted sesame seeds
2 tbsp lemon juice
4 tbsp extra-virgin olive oil
big handful coriander leaves and tender stems, roughly chopped
small handful parsley leaves, finely chopped
pinch dried chilli flakes, optional
Preheat oven to 170°C. Slice tomatoes in half and place onto an oven tray (or two). Sprinkle with thyme and sumac, drizzle with a little olive oil and season with salt and pepper. Roast 1 hour, or until slightly dried but still juicy in the centre.
Bring a large saucepan of salted water to the boil, add basmati rice and give it a good stir. Cook for 7 minutes, drain well then return rice to the saucepan, cover with a tight-fitting lid and set aside to steam for a further 15 minutes before fluffing up with a fork.
Transfer rice to a large bowl, stir through onion, preserved lemon, sesame seeds, lemon juice and olive oil. Season with salt and pepper to taste, before stirring through herbs, chilli flakes (if using) and roasted tomatoes. Any leftovers will store in the fridge for up to 2 days.
Emma Galloway
mydarlinglemonthyme.com
@mydarlinglemonthyme
Emma Galloway is a former chef, food photographer and creator of the multi-award winning food blog My Darling Lemon Thyme and A Year in My Real Food Kitchen. She lives in her home town of Raglan, with her husband and two children.