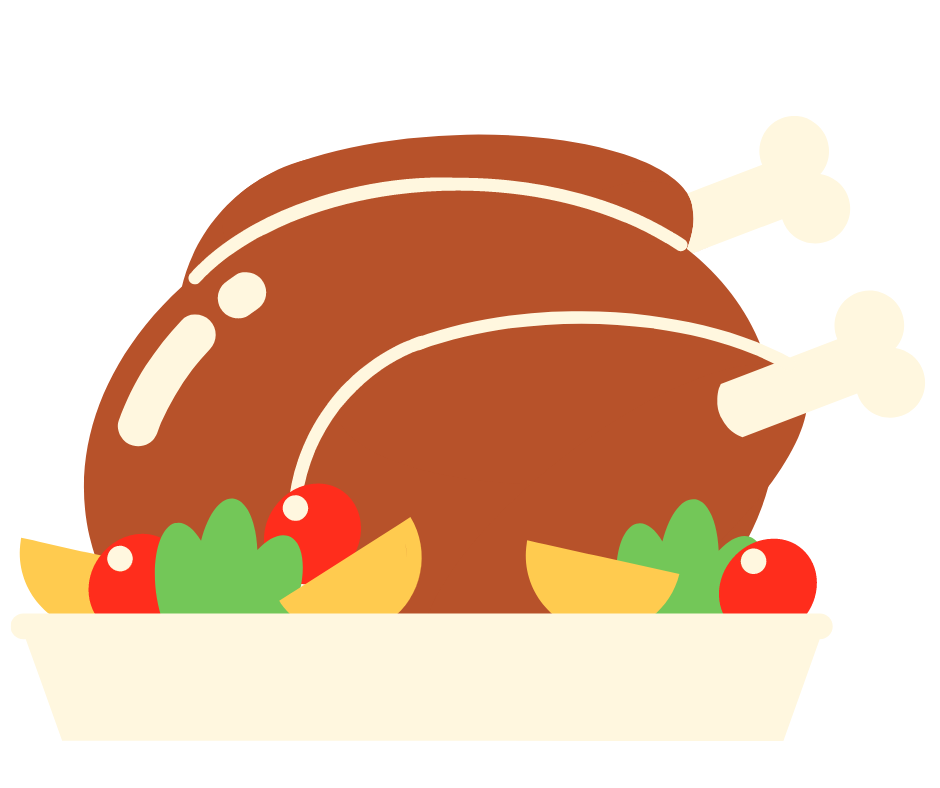 Safety First
Turkey is part of the poultry family so all the safe food handling practices you employ with chicken apply.  Here are some points to remember:
Chances are you will buy a frozen turkey so allow plenty of time for this to thaw slowly in the fridge, around 3 days. Don't be tempted to thaw it on the bench!
Place the turkey in a large bowl or oven dish while thawing to catch and blood or juice.
When thawing place the turkey on the bottom shelf in the fridge in case any juice do spill, they won't drip on any other food.
Ensure you wash thoroughly your hands, boards or anything else that comes into contact with the turkey.
Sizing it up
4kg Turkey feeds approximately 10 people
5kg 12 people and 6kg 16 people.
If feeding a large crowd, say 20, consider buying two 4 kg turkeys instead of one large one.  This will help when it comes to fitting the bird in the fridge and oven as well as reduce the cooking time and risk of a dry bird!
Brine – the secret to a succulent, juicy turkey
Brine is salted water, often used to preserve things such as olives but also handy way to keep lean meats from drying out when cooking.  Turkey and pork are great examples of this.  When meat cooks it loses moisture (around 30%) so by soaking the meat in brine beforehand you add moisture in, meaning you have more (moisture) to begin with.  The salt also acts as a bit of a tenderiser breaking down some of the proteins in the meat.
Simple Brine
1 cup sugar
1&1/2 cups salt
7 litres of water
Dissolve the sugar and salt in 1 litre of boiling water.  Add the remaining water so you are left with a completely cold solution.  Immerse your turkey in the brine for 12-18 hours.
If there is not room in your fridge to do this, sterilise a chilly bin and place the turkey and bring in the chilly bin along with some plastic bags of ice (to keep it cool).
Flavours
When brining a turkey it is a great opportunity to add some flavour.  Simply add lemon peel or slices, peppercorns, juniper berries, bay leaves, rosemary or other aromatic herbs or spices to the brine.
Time to cook
Whether you have brined your turkey or not if you want crispy golden brown skin, it is important to dry the turkey.  Pat it dry with paper towels and then allow the bird to dry for ½ an hour on the bench (just not in the direct sunlight or a hot spot!)
For extra moisture place softened herb butter between the skin and the turkey breast.  Before cooking, season generously then place the turkey in a deep oven tray along with 2-4 cups of good quality chicken stock, depending on the size of turkey.
Bake for 30 minutes at 200C then turn the oven down to 175C and cook for 15 minutes per 500g (or ½ kg) .  Test the Turkey is cooked by piercing the breast, if the liquid runs clear it is cooked.  Or better still use a meat thermometer and when it reaches 80C at the thickest part of the turkey it is cooked.
Remove from the oven and cover in tinfoil to rest for 30 minutes.  This will give you plenty of time to cook the vegetables, make the gravy and so on.
To stuff or not to stuff?
It goes without saying that stuffing is an important part of a Roast Turkey meal but at what cost?  Turkey has a tendency to become very dry if overcooked so by stuffing the bird with dense stuffing you prolong the cooking period and increase the risk of your bird drying out.
There is also a risk that your stuffing will not be completely cooked and thus the cause of some upset stomachs, or worse, on Boxing day.  To avoid these problems make your stuffing and either wrap in streaky bacon or tin foil and cook beside the turkey.
Cranberry, Pistachio and Brie Stuffing
½ onion, finely chopped
1 cup panko (or fresh) breadcrumbs
½ cup cranberries
½ cup pistachios, roughly chopped
350g good quality pork sausages
2 tsp Tuscan seasoning
110g brie, chopped
Over a low heat carefully sauté the onions until translucent.  Place the cooked onion along with the breadcrumbs, cranberries, pistachios, Tuscan seasoning and brie in a bowl.  Squeeze the sausage meat out of their casings and add to the other ingredients in the bowl and using clean hands give mix everything together thoroughly.
Form the stuffing into a big (2cm wide) sausage and wrap in either foil or streaky bacon.  Bake beside the turkey for an hour.
Turkey timings
21st December – Place frozen turkey in the fridge to defrost
Christmas Eve – Brine the turkey
Christmas Day – Cook the turkey
Boxing Day – Enjoy those Turkey leftovers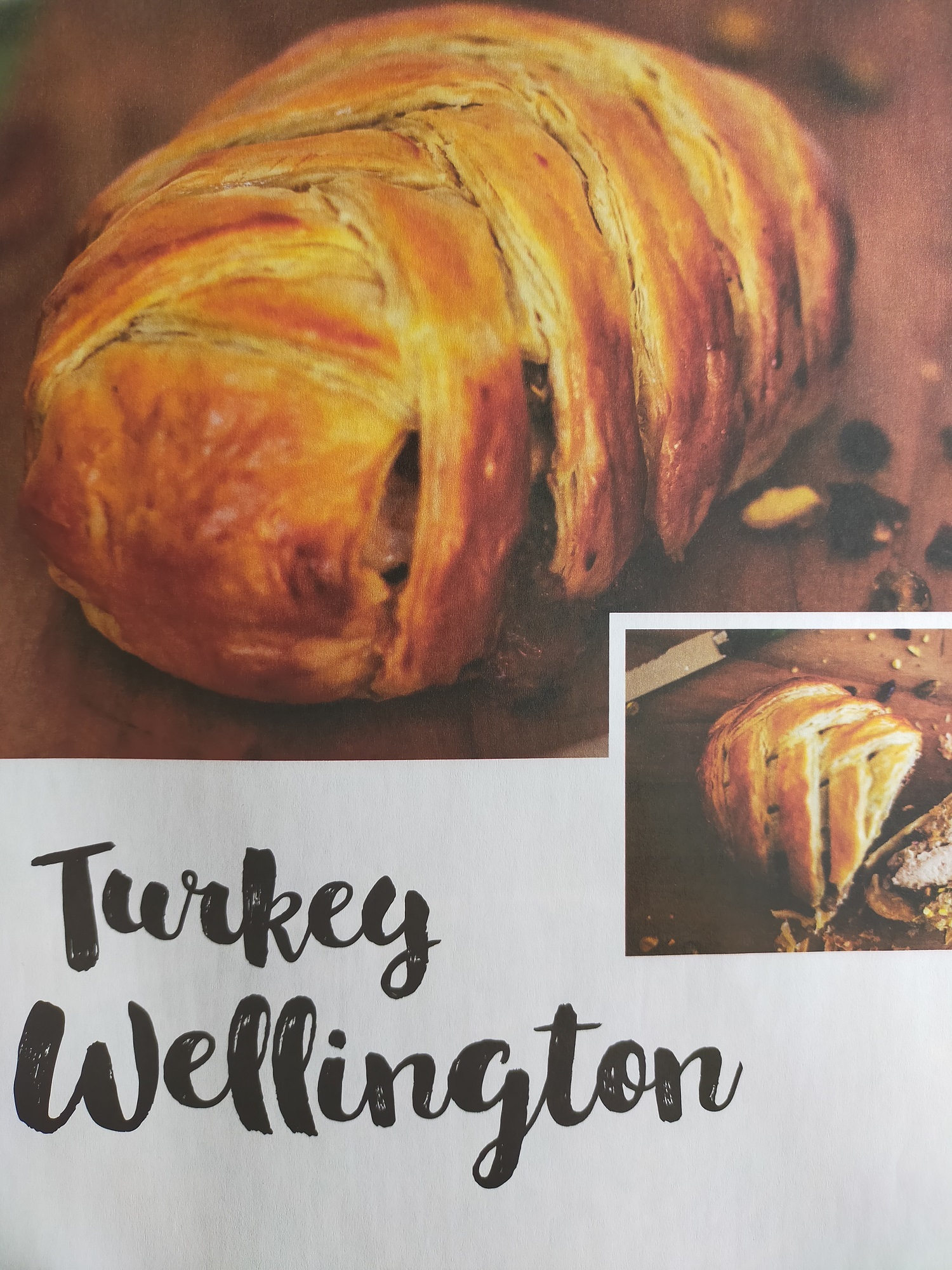 If you aren't feeding a small crowd for Christmas but still want to enjoy a Turkey dinner this is the perfect dish.  The stuffing ensures the turkey breast doesn't dry out while also giving you the great festive flavours enjoyed with turkey.  You can also prepare it the day before giving you a very fuss free dinner or lunch.
Cranberry, Pistachio and Brie Stuffing
1 Turkey breast
400g flaky pastry
Trim the turkey breast so that it is even in shape and thickness.  I cut the thin tip off and place on top of the same end of the breast so that it is the same thickness as the fat end.  This will ensure even cooking.
Encase the entire breast with the stuffing.
Roll out half the pastry ti a rectangle slightly bigger than the encased turkey breast.
Place the pastry on a lined baking tray then the turkey breast on top of this.
Roll out the remaining pastry and lay this over the turkey.  Crimp and trim the edges.
Brush with a beaten egg and bake at 200C for 20 minutes.
Turn down the heat to 180C and cook for a further 30 minutes and the pastry is golden brown.
For a more spectacular look check out out Mushroom Wellington for step by step instructions on a plated pastry case.