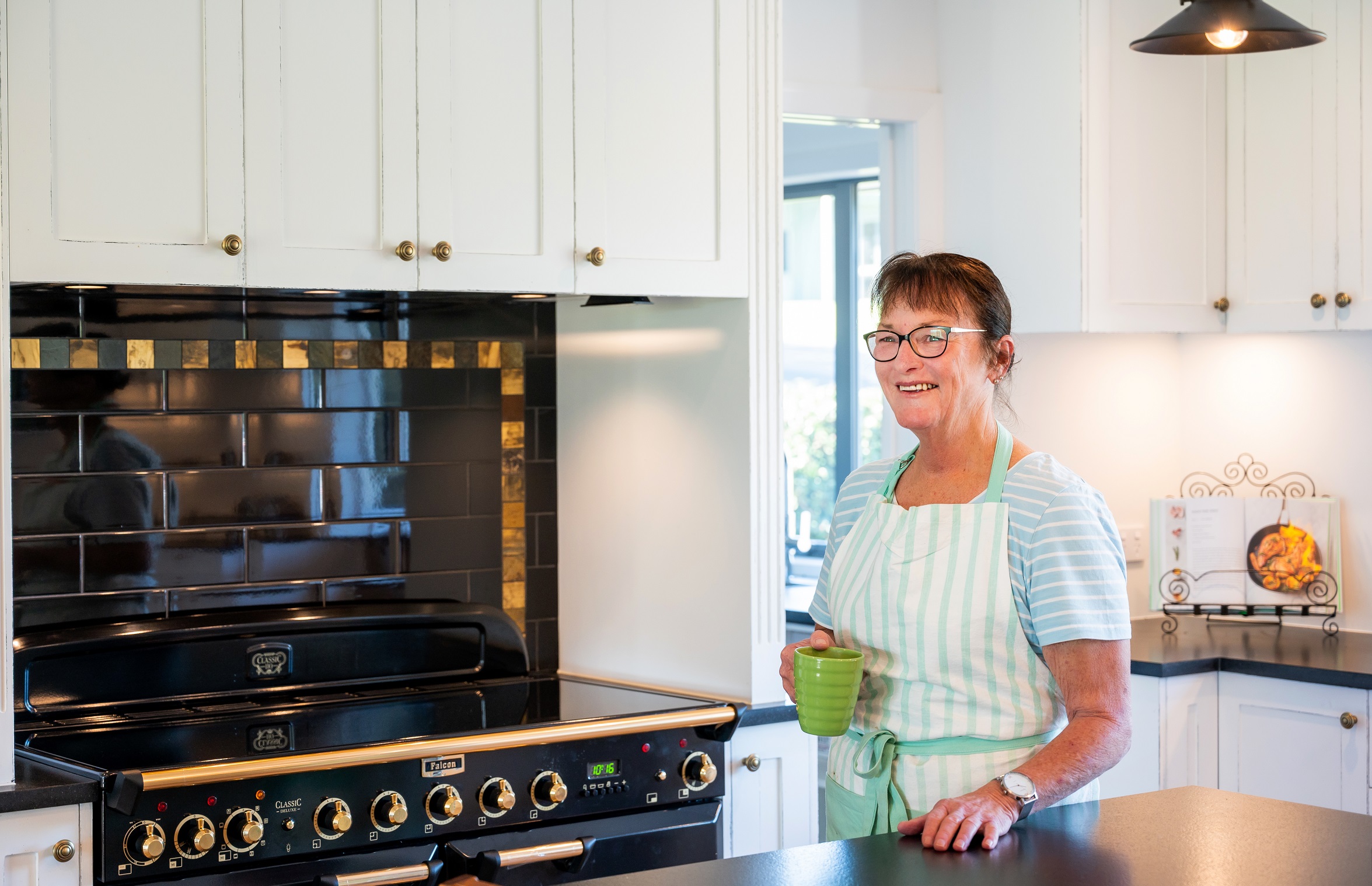 It is said imitation is the sincerest form of flattery and this could not be truer for a job Treetown Kitchens just completed for Sue Hodgson in Maungatautari. We're standing in Sue's brand-new kitchen, an almost exact replica of the kitchen Treetown Kitchens created for Sue 15 years ago.
"We work with a lot of repeat clients," says Hayley Hohneck, "but there is no better compliment than someone wanting to rebuild the exact same kitchen." Hayley is in charge of Operations & Marketing at Treetown and it was her job to draw up the plans for Sue's kitchen 2.0 from the many photos taken of the original kitchen which tragically burnt down, along with Sue's dream house, two years ago.
When it came to rebuilding Sue knew exactly who would be doing her kitchen. Working with the likes of Kevin and the Treetown team, Sue says, "have made a very hard time easier … There are those you know who genuinely care and those that it is just business. Kevin and the team care."
Sue's kitchen is truly the heart of the home. From the sunken lounge it appears to take centre stage with an enormous picture window as the backdrop. Sue admits she knows what she wants, and this was part of why she loved working with Treetown Kitchens; they knew how to execute her vision from the expansive centre island to the distressed painted cupboards.
Hayley tells us, "The most in demand kitchen is a white one, but no one white kitchen is the same."  And this is evident in Sue's. The hand painted cupboards and the detailed coving and fretwork all fit beautifully in this country home. Sue wanted a kitchen that was classic and wouldn't date. Fifteen years later and building the same kitchen again may be a strong case that she got this.
The beauty of hindsight has meant a few changes, most notably the addition of a scullery which was previously an outside nook to store what Sue describes as "ugly gas bottles". The fancy new range has an induction top, which has done away the need for gas.
The huge range that was on back order for 10 months is also one of Sue's most loved features in the kitchen. Beautiful and clever cabinetry surrounds the range, giving loads of hand storage while also accentuating that country feel.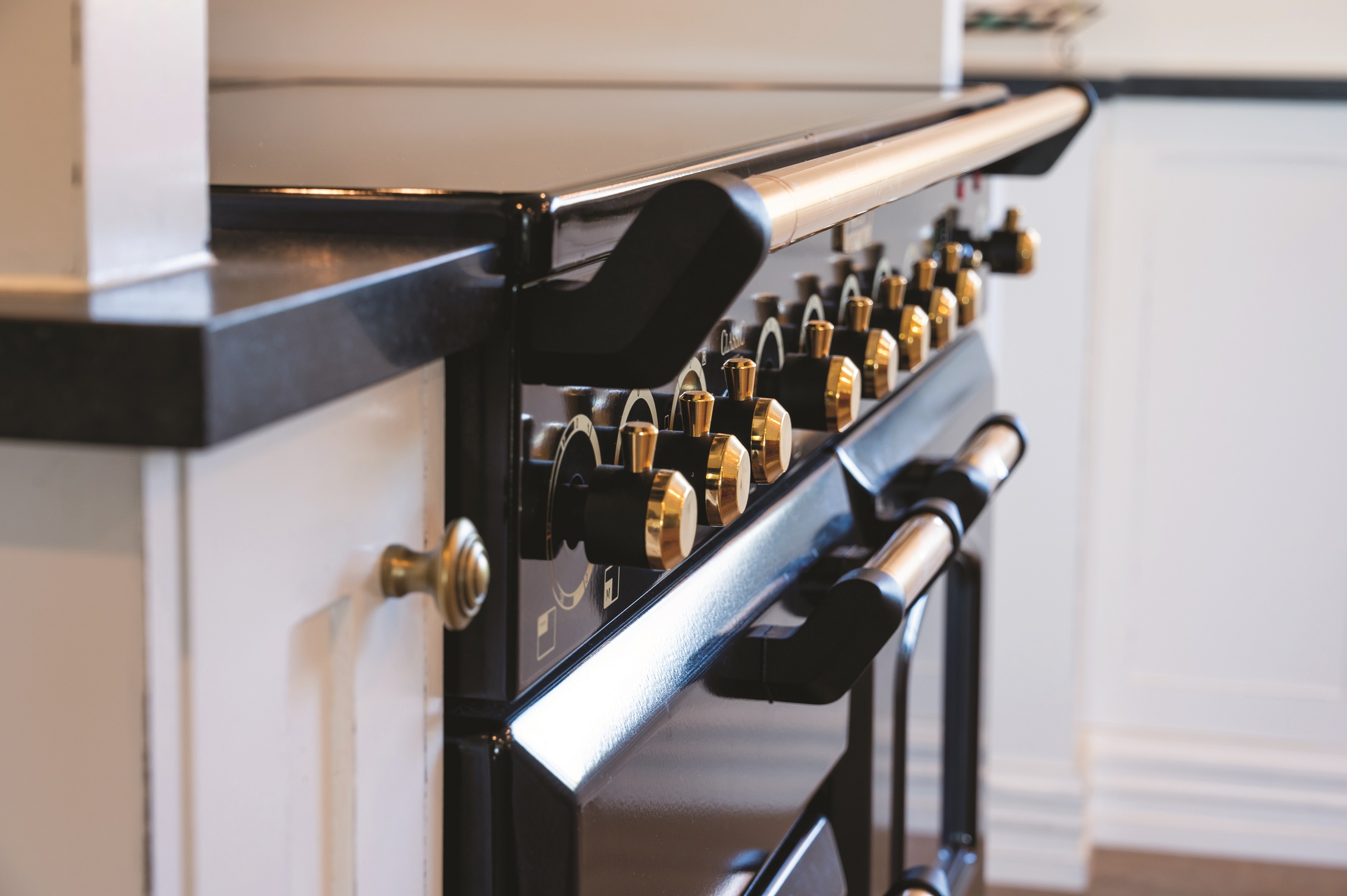 The benchtop, while similar colour to the original, is an engineered stone instead of granite. Sue says the shiny granite was a nightmare to keep looking perfect. Hayley agrees that engineered stones offer lots of options while being a little easier to care for.
As we leave Sue to bake up a storm in her kitchen, we can't help being impressed. Impressed by Sue's attitude and fortitude overcoming what must have been a traumatic few years rebuilding, as well as being impressed by the obvious great relationships Treetown Kitchens create with their clients. Oh, and of course with that kitchen!
Words Vicki Ravlich-Horan
Images Brydie Thompson