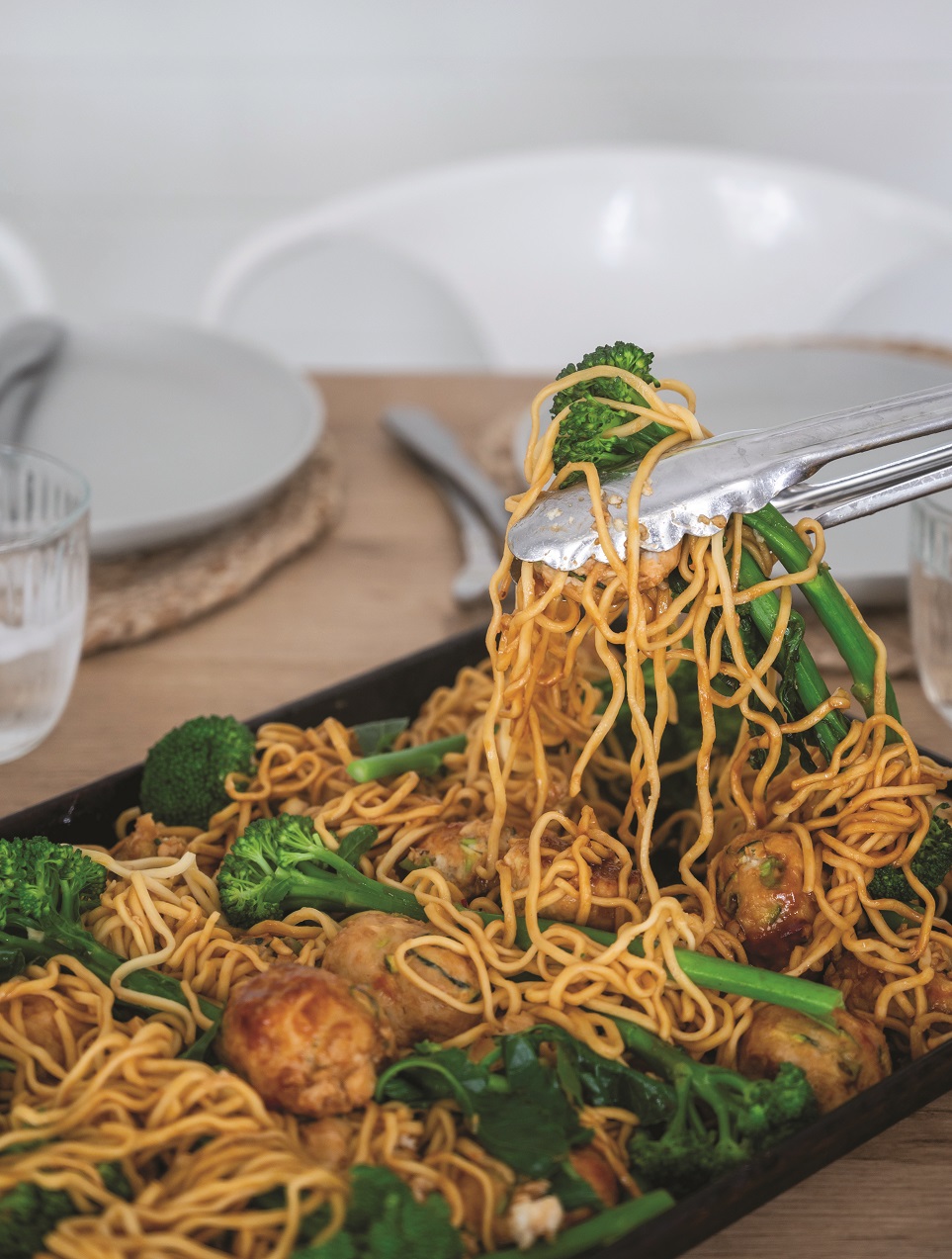 Images Brydie Thompson
If your family love spaghetti and meatballs try this Asian inspired twist. I love meatballs, as you can hide a bunch of veg in them, and while they are a little bit of work (with this recipe the forming of the meatballs is the most work), the noodles and broccoli are cooked in one pot in a matter of minutes.
500g chicken mince
2cm piece ginger, peeled and grated
3 garlic cloves, crushed
2 spring onions, chopped
1 zucchini, grated
1 egg
1 cup crushed water/Snax crackers or breadcrumbs
½ tsp salt
½ cup hoisin sauce
1 tbsp sweet chilli sauce
2 tbsp soy sauce
350g fresh egg noodles
1 head broccoli, cut into florets or bunch of broccolini
1 tbsp sesame seeds, toasted
Preheat the oven to 200°C.
Combine the mince, ginger, garlic, 1 of the spring onions, zucchini, egg, crushed crackers, salt and 1 tbsp of the hoisin sauce in a mixing bowl. Form into 24–26 meatballs and place on the tray. Bake in the oven for 15 minutes. While the meatballs are baking, put a large pot of salted water on to boil.
Mix the sweet chilli and soy sauce with the remaining hoisin, and after the initial 15 minute baking time, brush the mix over each meatball and bake for a further 5 minutes.
The water should be boiling now, so plunge the noodles in along with the broccoli and cook for around 3 minutes. Drain, and the toss with the meatballs, coating the noodles with the sauce.
Scatter over the remaining spring onion and sesame seeds and serve.