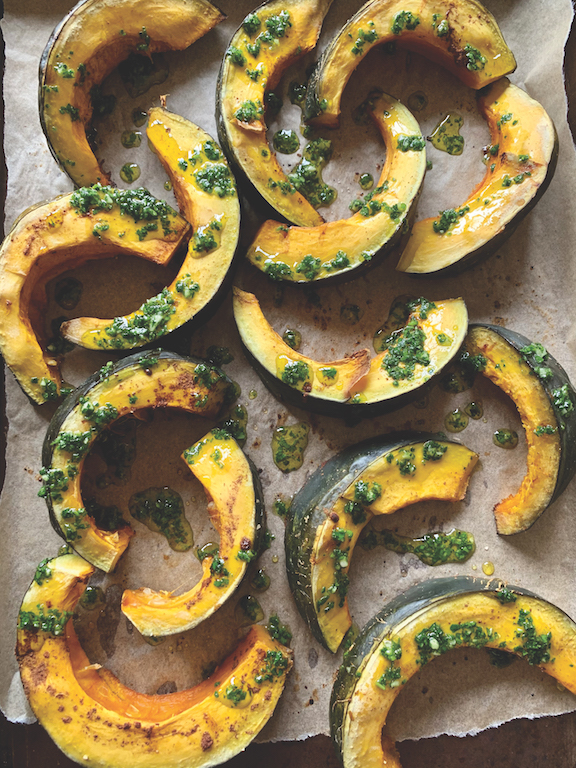 Recipe & Image: KATHY PATERSON
Ajillo is the magic condiment used in dishes in the Spanish-speaking world. Ajillo gives a lift to many dishes so keep a jar in the fridge. It stores well.
Serves 4
1kg pumpkin, skin on, cut into about 5cm wedges
½ cup orange juice
1 tsp ground cinnamon, or use a small piece of cinnamon quill
a good splash of olive oil
Ajillo
⅓ cup extra virgin olive oil
3 cloves garlic, finely chopped
A good handful of flat leaf parsley leaves, finely chopped
To make the ajillo, put the olive oil in a small bowl and, using a fork, whisk in the garlic and parsley. Cover and keep in the fridge.
Heat the oven to 190°C. Line a large roasting tray with baking paper.
Put the pumpkin in a large bowl. Add the orange juice, cinnamon and oil and season with salt and pepper. Toss well to coat each piece of pumpkin. Tip out onto the tray in a single layer.
Put in the oven and roast pumpkin for about 40–50 minutes until tender. This will depend on the pumpkin you use, so check if tender with the point of a sharp knife.
Arrange the pumpkin on a serving plate and dollop with the ajillo.
Tip – Use this roasted pumpkin to make a soup. Roasting concentrates the flavour and texture and adds deep caramelised notes to your soup.