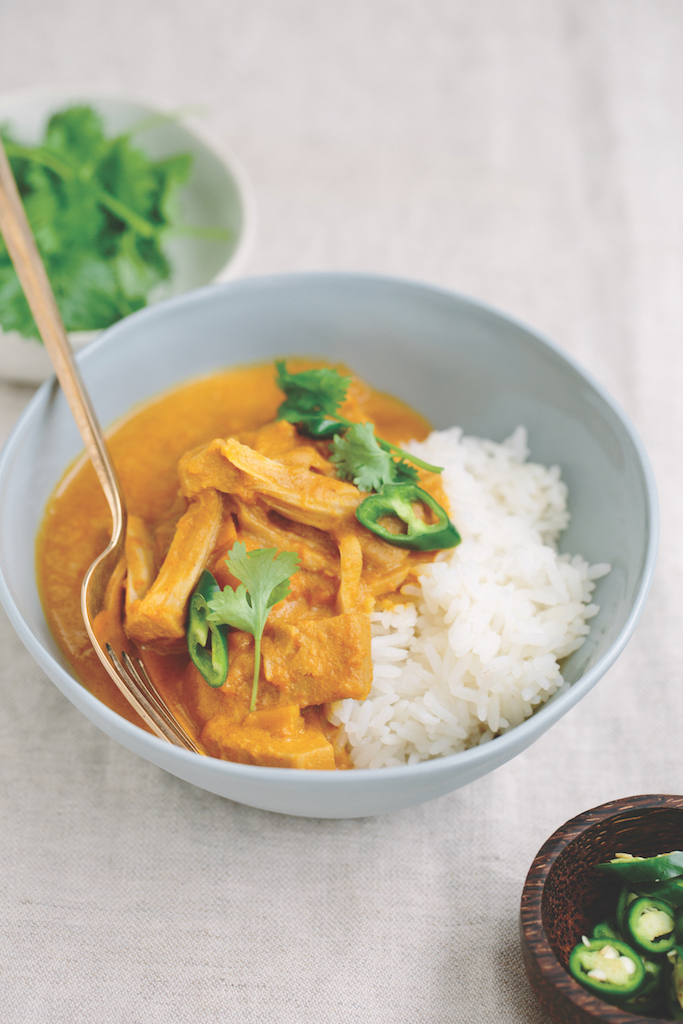 Recipe and Images By Emma Galloway
I know people get nervous making Thai curries from scratch as the ingredient list can look a little daunting; however, it is a really straightforward process. You can also make the curry paste well in advance, as it stores in the fridge for up to 4 days, or double up this recipe and freeze in portions for quick and easy mid-week meals. Feel free to add some Asian greens or broccoli to the curry for a little colour, if you like. You'll find tins of young green jackfruit at most supermarkets. It adds a 'meaty' texture to vegetarian dishes. I use buttercup pumpkin here as I love their dense texture, but you can use any flavoursome pumpkin.
Serves 4 with rice
Yellow curry paste
5 shallots, unpeeled
6 cloves garlic, unpeeled
1 tbsp coriander seeds
1 tbsp finely grated ginger
3 red chillies, roughly chopped
1 lemongrass stalk, tender bottom part only, sliced thinly
2 tsp curry powder
1 tsp ground cumin
1 tsp salt
1 tbsp coconut oil
400ml tin coconut milk
2 tbsp coconut sugar
1½ tbsp soy sauce (gluten-free if needed)
half a medium buttercup pumpkin, cut into bite-sized cubes (roughly 3–4 cups diced)
400g tin young green jackfruit, drained and rinsed well
juice ½ lime
cooked jasmine rice, sliced chilli and coriander leaves, to serve
To make the curry paste, place unpeeled shallots and garlic into a dry heavy-based frying pan and cook over medium-high heat 8–10 minutes, stirring often, until the skins are charred and the insides tender. Remove from the pan and set aside. In the same hot pan, toast the coriander seeds 15–20 seconds while stirring, until golden and fragrant. Immediately transfer the toasted seeds to a mortar and pestle and grind to a coarse powder. Transfer ground coriander to food processor, peel shallots and garlic and add along with the grated ginger, chillies, lemongrass, curry powder, ground cumin and salt. Blend to form a smooth paste, adding 2–4 tablespoons water if needed to help it blend easier.
To make curry, heat coconut oil in a saucepan over medium heat. Add curry paste and cook, stirring often, for 3–4 minutes until fragrant and slightly reduced. Add coconut milk, 200ml cold water, coconut sugar, soy sauce and diced pumpkin. Cut each piece of green jackfruit in half, if large, then add to the saucepan. Bring to the boil, then reduce to a simmer and cook 8–10 minutes or until the pumpkin is just tender. Remove from the heat and stir through lime juice. Serve immediately with jasmine rice, sliced chillies and coriander leaves.