Words: KATE UNDERWOOD | Images: ASHLEE DECAIRES
If the Piopio gas station is the town bloodstream, the Fat Pigeon Cafe is undeniably the heartbeat of this small King Country village. Amidst the thriving rural township sits an inviting, quirky space guaranteed to brighten the long road trip between the Waitomo Caves and the Taranaki Coast. For the last 11 years, owner Melanie Simpson has nurtured a classy, farmhouse-style cafe with the sole purpose to feed hungry locals or travellers and to make sure everyone who enters feels welcome.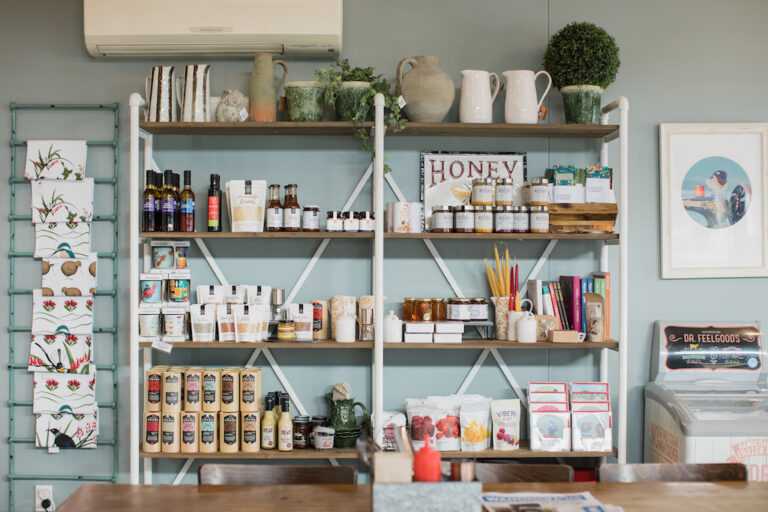 The Fat Pigeon has all your culinary desires and dietary bases covered and being located 'on -the-road' means its diverse cabinet selection outsells everything. You'll find all the joyful classics from ham and cheese toasties made with Volare bread, to custard squares, cheese scones (including a gluten free version), a good ol' mince and cheese pie, club sandwiches and a particularly flavourful, keto-friendly veggie and feta frittata. The bacon and egg savoury has filled many a hole, and Mels son Roy, the chief quality controller, raves about the Moroccan lamb pita. From the full-scale menu, omelettes are a current favourite, there's mince on toast, the hearty Fat Pigeon Brekkie and even a green shakshuka for the gourmet-leaning.

For those needing a side of fresh air with their caffeine fix, there's a covered porch and outdoor wooden tables that stretch out to the Piopio playground — perfect for letting those backseat bandits fly free. In today's cafe culture where you are only as good as your flat white and your children speak fluent 'fluffy', Mel reckons "you'd be buggered without good coffee". The Fat Pigeon crew pride themselves on making consistently great brews and have always used Taranaki-born Ozone Coffee Roasters, founded by Craig McFarlane, who along with his team have been a huge support over the years.
There's a generosity that exudes from this SH3 pitstop, that goes beyond the bountiful cabinets, extensive seasonal menu and that sweet little brownie treat that comes with your coffee. The Fat Pigeon Cafe is a true community hub and a genuine must-stop destination on the drive to and from New Plymouth. "I really love the surprise and delight factor," shares Mel. "We often see people stop here — in a place that feels like there isn't much going on, then they come inside and are always so excited to have found us."
There are shelves perched high with a curated selection of food-related gifts. From cookbooks and crockery, to ceramics, beeswax wraps, takeaway coffee cups, gift cards and the much-loved Pepper & Me condiments. Plus the incredible range of local honey, The Keeper Apothecary, a small Piopio business conjuring up specialty honey products infused with chai spices, cacao, turmeric and maca powder.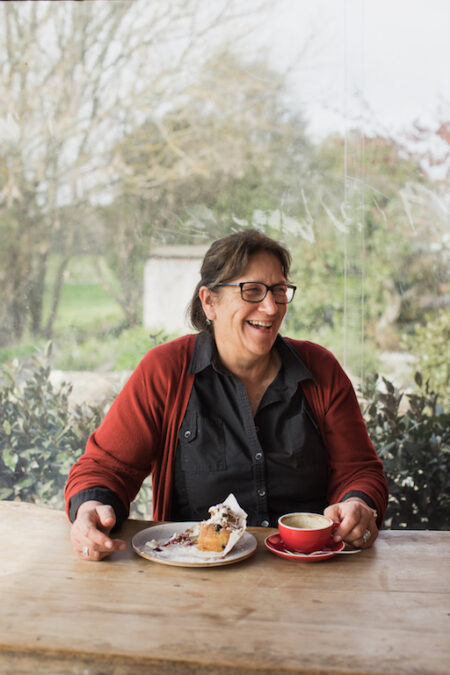 As a local hospitality legend, naturally, Mel has her fingers in a number of pies, including owning The Night Owl, a bar/bistro, and the Owl's Nest Motel. Earlier this year, along with her business partner Jaimee Poole, she opened the aptly named Fat Kiwi Cafe in Otorohanga, which has been bustling ever since. Filling catering orders takes up another big chunk of her day, whether that be for weddings, birthdays or local farming meetings. She is one of those humans that somehow has access to a few extra hours in their day. As a massive Rick Stein fan, Mel has been super fortunate to have travelled the world attending and hosting international food tours, which have helped her stay inspired and continue to learn. "I've made some special, life-long food friends on those trips, and to this day, I'm a proud member of the 'Tarts on Tour'."
When asked of the success of her thriving Waikato cafe flock she shares, "You have to move with the trends and constantly evolve, so you have options for everyone." Mel knows better than most that she is nothing without her team and the massive support of her equally food-loving family, now up to 11 grandchildren. Her current kitchen manager, Ulanda Taylor, started with her at Bosco's in Te Kuiti, which she managed back in 2001, and new manager of the Night Owl, Deiresa Ratima, used to manage the Fat Pigeon. The team will attest she is often heard saying, "The only people who pay your wages are the people that walk in the door — without them we've got nothing."
There are exciting future plans for Fat Pigeon, including extensions to allow for the busy weekend trading, an open market kitchen and a take-home product range. Plus a little birdie tells me there is potential for a new member of the 'Fat' flock, but she's keeping that under her wing. Fascinatingly, the New Zealand pigeon is known for its role as a seed disperser, an important responsibility in the life cycle of our native trees. In many ways Mel shares a similar talent — an innate ability to scatter cafe concepts throughout the Waikato region and ensure they flourish. To her it's all about fresh, honest food and that warm, unpretentious kiwi hospitality. "I just love feeding people — it makes me very happy."
Kate Underwood
Kate is a freelance Food Writer and Communications Specialist for Eat New Zealand. With a background in human nutrition and food communications, she has her finger in a number of NZ food-related pies – including sitting on the Executive Committee of Food Writers New Zealand, judging the 2020 Outstanding Food Producers Awards and was named Emerging Food Communicator at the 2019 NZ Food Media Awards. Born and bred in Te Puke on kiwifruit, whitebait and avocados she now spends most of her days discovering, eating, cooking, grammin' and writing about great food and the glorious humans behind it. You can follow her on @relishthememory and @eat.newzealand on Instagram.