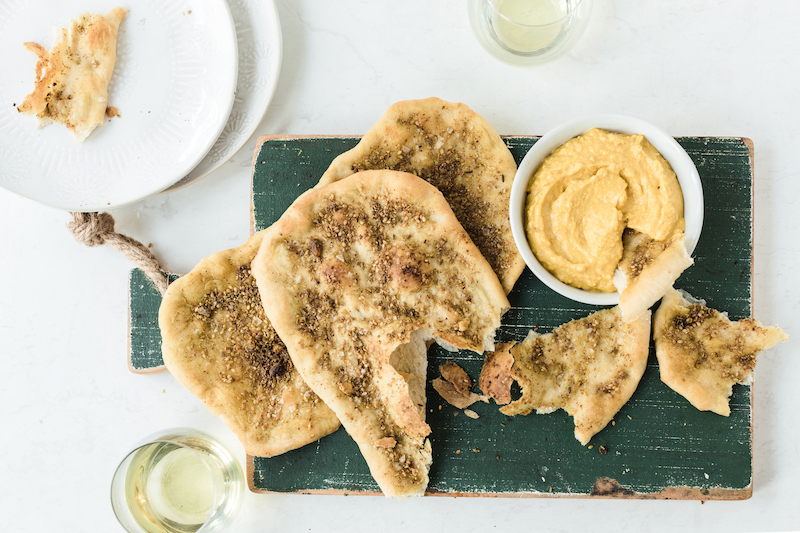 Recipe VICKI RAVLICH-HORAN | Images ASHLEE DECAIRES
This is a super quick bread to make and delicious served with hummus and my dukkha. It also doubles as an easy pizza dough.
1 tsp dried active yeast
1 tsp sugar
2 tbsp warm milk
⅔ cup warm water
2 cups flour
1 tsp salt
1 tbsp extra virgin olive oil + extra for brushing
Combine the yeast, sugar, milk and water in your mixer's bowl. Place in a warm spot for 10 minutes to activate the yeast. Stir in ½ cup of flour, cover with cling film or a beeswax wrap and place in a warm spot for an hour.
Add the remaining flour, salt and oil and knead for five minutes (by hand or using the dough hook on your mixer). When the dough is smooth, place in a lightly greased bowl, cover and allow to stand for 1 hour.
Divide the risen dough into three and roll into approx. 12cm x 30cm ovals. Brush with olive oil and sprinkle with dukkah.
Bake at 240°C for 8–10 minutes on a pizza stone if you have one.

VICKI'S DUKKAH
1 cup nuts (this is up to you, but I use ¼ cup each of cashews, pine nuts, almonds and pistachios)
1 tbsp coriander seeds
1 tbsp cumin seeds
1 tsp fennel seeds
2 tbsp sesame seeds
1 tsp sea salt flakes
½ tsp cracked pepper
Place the nuts on an oven tray and roast in a moderate oven for 10–15 minutes, being careful not to brown them.
Meanwhile, in a dry pan, toast the coriander, cumin, fennel and sesame seeds until they begin to pop.
Take these off the heat and allow to cool, along with the roasted nuts.
Combine everything in a food processor or mortar and pestle and process or pound until desired consistency.