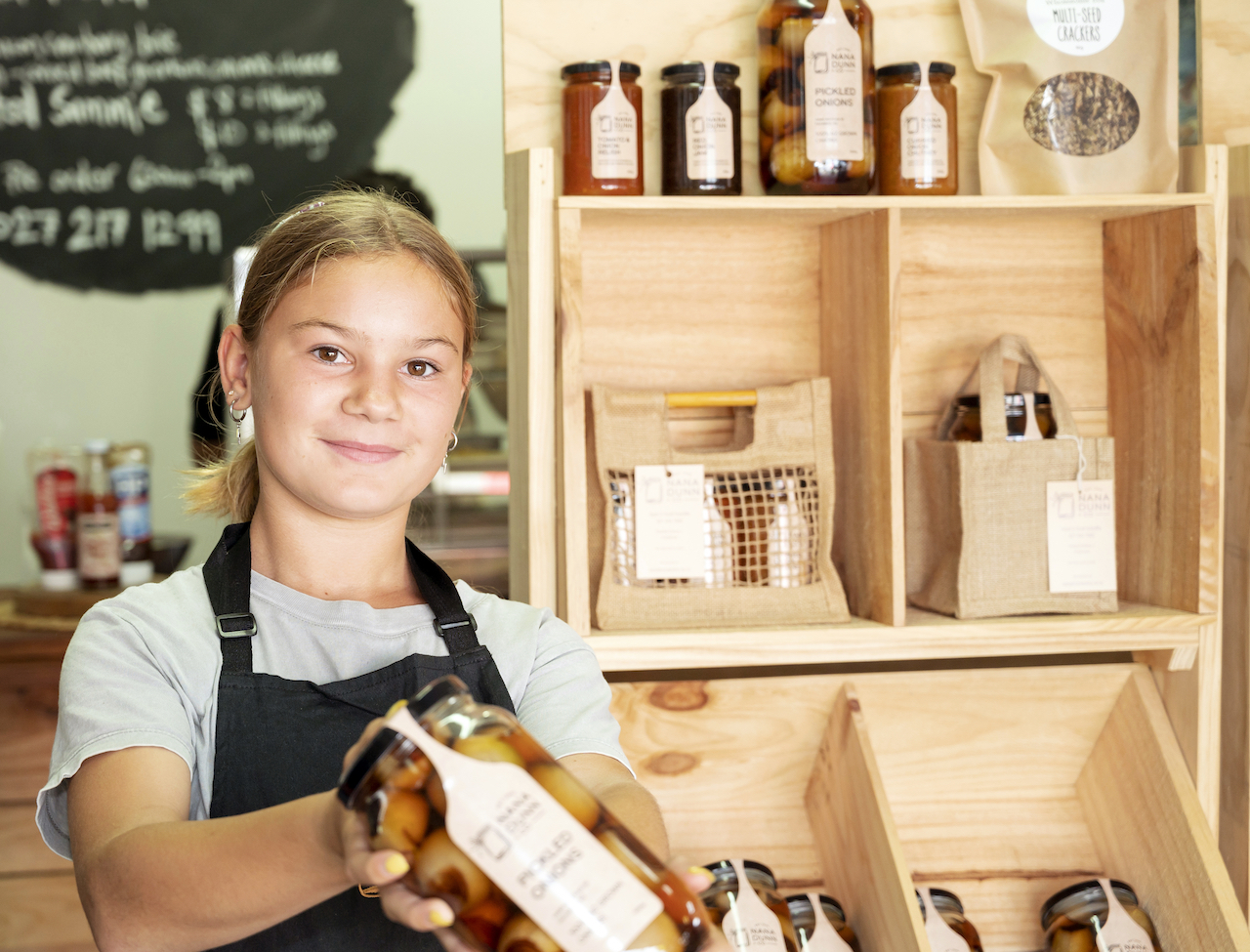 Words Kate Underwood @relishthememory, Images Brydie Thompson
Nana Dunn (or Great Aunty Melba) is 95 years old. She lives in Matamata and still pickles the odd onion but laughs at the thought that her humble recipe has become a thriving artisan food venture. Three years ago, her granddaughter Laura was gifted the secret recipe which dates back to 1935. In an attempt to preserve their family history, she joined forces with cousin Heidi Sutcliffe and husband Scott (previous owner-operators of OBR Restaurant) and together they launched the Nana Dunn & Co pickled onion empire.
It all began in April 2019, in the OBR kitchen in Arataki, with 10kg of onions and a few jars. Developing a cult following at the restaurant, as things grew, they were forced to move production to their registered home kitchen. In early 2021, Laura's own business ventures were growing too, so it made sense for the hospo couple to take the onion reigns.
Each Nana Dunn jar is comprised of entirely NZ grown onions, acquired by Dave (their onion agent), who gets them directly from a Pukekohe grower. New-season onions are at their best in January as their skins are so thin. Their hottest tip to avoid onion tears is to soak the onions first in warm water for 30 minutes. Together their three-man production team can now get through 20kg of onions per day. Someone peels, someone tops and tails and the other pickles.
Peeled. Pickled. Bottled. Aged. It's a simple, yet methodical process, with very few ingredients. But the result is a jar of perfectly circular onions. In fact, if the onions aren't perfect, they don't make the jar. Anything with a blemish gets redirected into their other products – so not a single onion goes to waste!
The Nana Dunn range extends to red onion jam, tomato onion relish, and a curried onion chutney (which ex-chef Scott says makes an epic BBQ marinade when mixed with coconut cream or yoghurt) with a spectrum to cover all tastes – from sour pickle, to sweet red onion jam, spiced aromatic curry and the savoury tomato number. The curried chutney is a recipe that has lived on through Scott's culinary career for almost 25 years.
In the vein of no waste, they share a vinaigrette recipe using the leftover pickle brine to create a zingy, dressing with garlic and wholegrain mustard. Heidi is adamant social media has been a powerful way to build consistent sales and community, particularly through Covid. Thanks to Christmas gift hampers, the end of the year is always a busy time, particularly their 1L jars, which they package up in a cute hessian tote. They also offer a gluten free version, sans malt vinegar.
As professional pickled onion purveyors, the Sutcliffe's are no strangers to the demands of food production. Their post-restaurant retirement plan consisted of hunting out a commercial kitchen for their small onion venture. Just 18 hours after finishing up at OBR, instead of finding a new hobby, they picked up a lunch bar. The couple joke about how after a lifelong hospitality career, it feels like a graduation of sorts, allowing better hours and more time with their kids. The tiny, but mighty lunch bar kitchen is now Nana Dunn's official home, where hundreds of kilograms of onions get their pickle on. Situated on Ashley Place in east Pāpāmoa, it sits alongside various gyms, trade businesses, a daycare and is adjacent to the Pāpāmoa Farmers' Market site.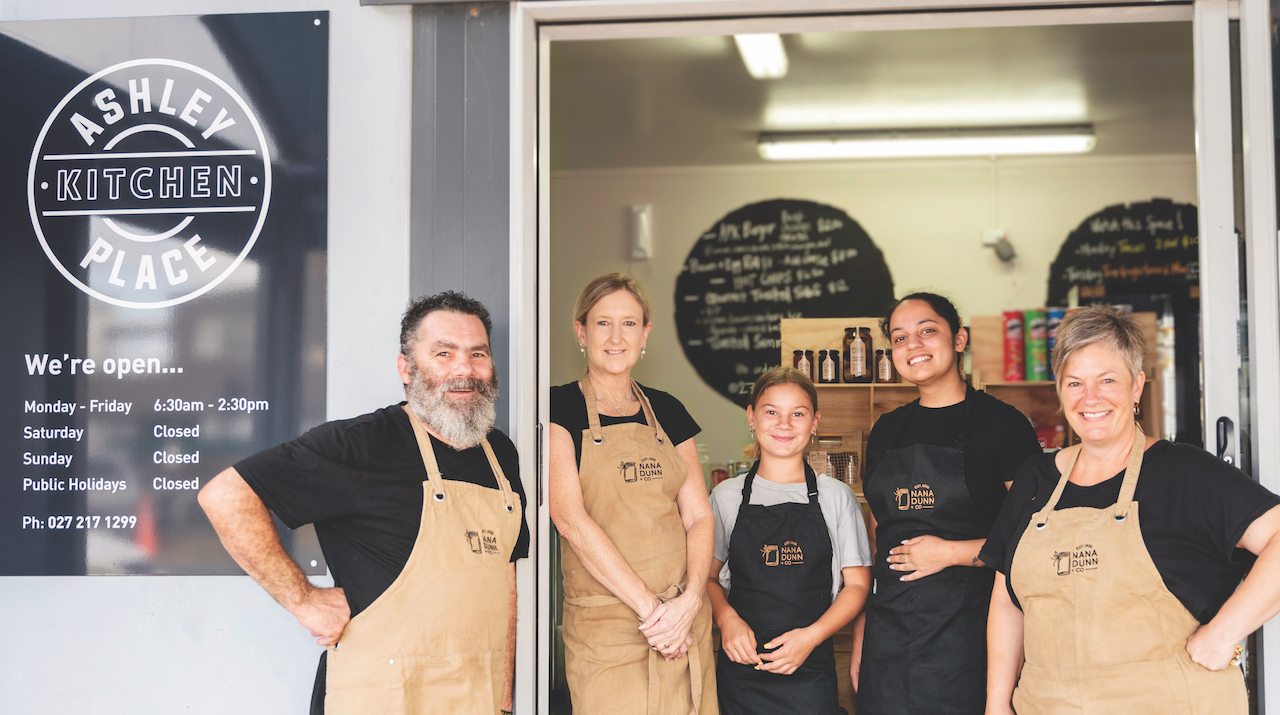 "Our hope for Ashley Place Kitchen is that everyone can buy something to eat," says Heidi. Determined to offer something different, they consider food trends, dietaries and allergies. Catering for tradies and school mums, to keto-friendly gym junkies and local salesmen – their offering includes fresh salads, great pies, sandwiches and daily specials, including beef burgers with their red onion jam. Heidi set's herself up directly behind the coffee machine for the day, multi-tasking between peeling onions and serving customers Miller's Coffee.
In the spirit of supporting local, Ashley Place Kitchen stocks other talented food folk, including raw slices from Real Rad Food, alongside custard squares, donuts and a bi-weekly bread delivery from the Ginger Beard Man from Tauranga Farmers' Market. Their pantry section allows you to get dinner sorted, with ingredients such as spinach fettucine and bolognaise sauce from BOP pasta legends Real Pasta.
On the onion horizon, Scott and Heidi hope to secure a spot at the Tauranga Food Show, alongside plans to streamline procedures, update labels and build future stockists. They'd love to keep expanding their range and eventually acquire machinery. But for now they're delighted to be feeding the people of Pāpāmoa, peeling onions, crying the odd tear and ensuring Nana Dunn's precious recipe stays alive for years to come!
To get your hands on the goods (available in 1L, 700g and 300g), you can swing by the lunch bar or purchase directly from their website www.nanadunnandco.co.nz.