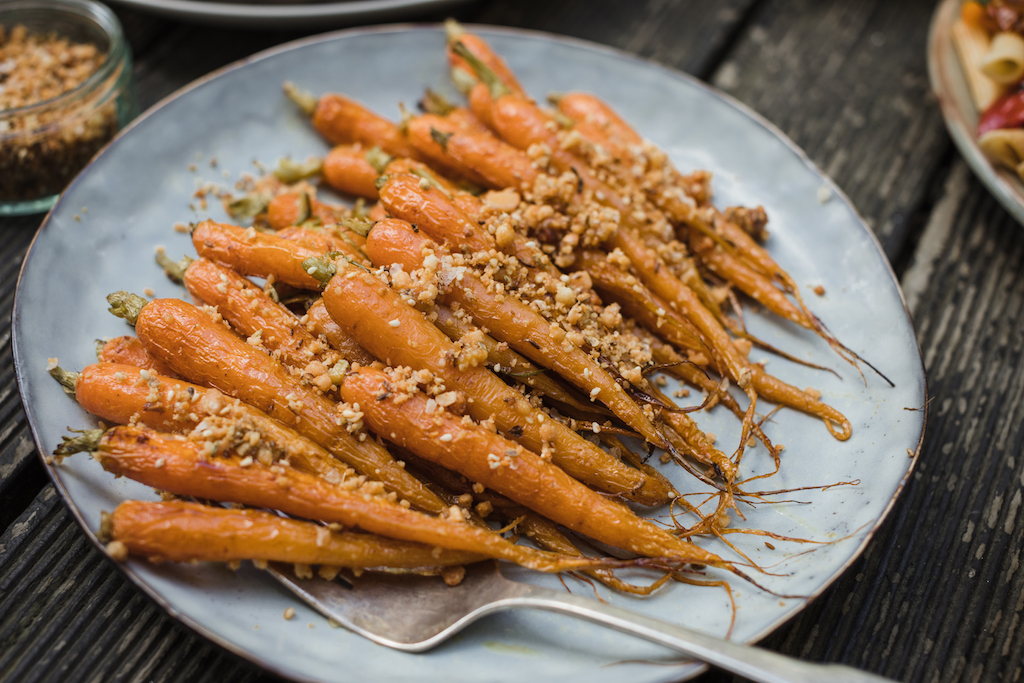 Recipe: Vicki Ravlich-Horan | Photography: Ashlee DeCaires
Dukkha makes a great gift or standby in the fridge. Dip fresh Flaveur bread with extra virgin olive oil from Katikati Frantoio and then your dukkha. Or sprinkle over hummus or roast vegetables. Use to coat fish, chicken or lamb. 
1 cup macadamia nuts (from Harbourside Macadamias.)
1 tbsp coriander seeds
1 tbsp cumin seeds
1 tsp fennel seeds
2 tbsp sesame seeds
1 tsp sea salt flakes
½ tsp cracked pepper
baby carrots, scrubbed
extra virgin olive oil
extra salt
Place the nuts on an oven tray and roast in a moderate oven for 10–15 minutes, being careful not to brown them.
Meanwhile, in a dry pan, toast the coriander, cumin, fennel and sesame seeds until they begin to pop.
Take these off the heat and allow to cool along with the roasted nuts.
Combine everything in a food processor or mortar and pestle and process or pound until desired consistency.
Toss baby carrots (from Abundant Backyard) in olive oil and a little salt then lay out on an oven tray. Bake for 10–15 minutes (depending on their size) at 180°C. Serve warm on a platter with dukkha scattered on top.