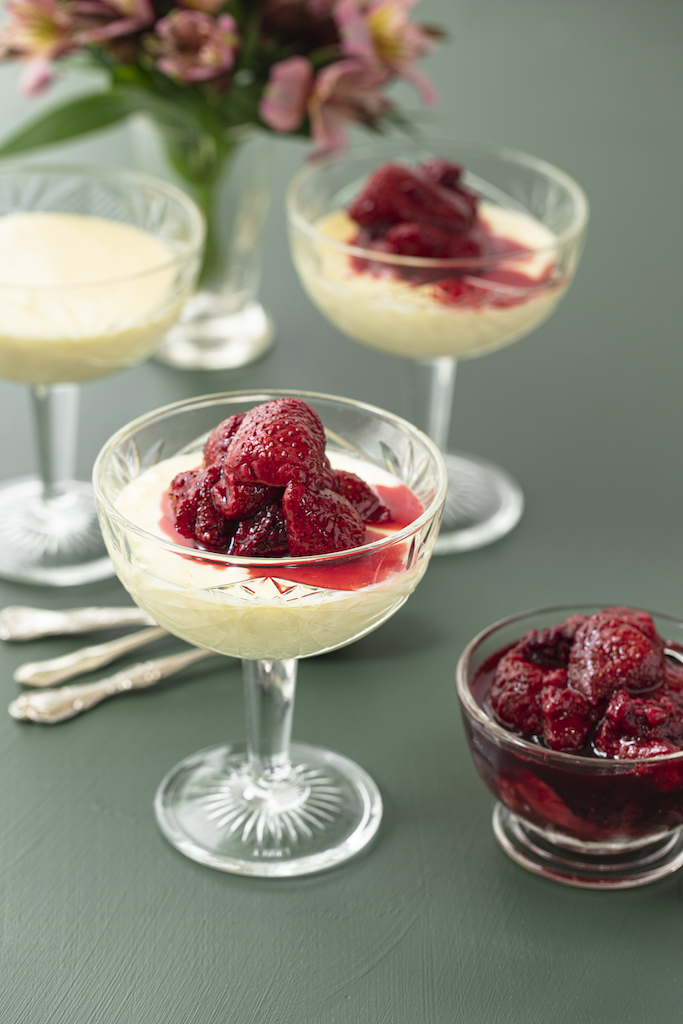 Recipes by Wayne Good, Images by Ashlee Decaires
Lemon Posset with Roasted Summer Fruit
This is the easiest dessert in the world! It is very rich, so a small portion will suffice. With the roasted fruit, I usually do a panful, as I love them with my muesli and yoghurt for breakfast.  Use beautiful berries in December and as summer goes on stone fruit like apricots, nectarines and peaches are perfect and in winter Tamarillo's make a great substitute.
600ml cream
¾ cup caster sugar
zest and juice of 3 lemons, the juicer the better
8–10 firm stone fruit or 2 cups of berries
2 tbsp caster sugar
Place the cream, sugar and lemon zest into a large pan. (The large pan is important as it has a tendency to boil over!)
Place onto the heat, stirring until the sugar dissolves, and bring to a rapid boil for exactly 3 minutes. Set your timer. This is important.
Remove from the heat and cool. I usually sit my pan in a sink of cold water to speed the process.
Once cool, whisk in the lemon juice.
Pour into pretty glasses or ramekins and cool uncovered in the fridge. Makes 6.
For the roasted fruit, cut peaches, plums or nectarines in half and remove the stones.
Sit in a roasting pan or oven dish, sprinkle with caster sugar and splash a bit of brandy on the fruit as well.
Place into a pre-heated oven of about 180–200°C and roast for 20 to 25 minutes or until the fruit has a glazed, slightly golden look about it, and is softish.
Place the posset on a plate and serve with the roasted fruit. Extra whipped cream could be served if required.