Words Denise Irvine, Images Ashlee DeCaires
The modest building at 54 Collingwood Street, Hamilton has been many things over the years. Most memorably a mechanic's workshop and spare parts store, and a while back it had a brief flirtation with being a cafe.
You've probably driven past No 54 for years without noticing it. It's that kind of building, a survivor from the 1970s. Now it's had a change of status, and it's made its debut on the city's bar scene. It's called Last Place, developed by a hospitality partnership comprising Maurice Montero, Mat Pedley, Alex Hudson and John Moughan.
Mat reckons Last Place's vibes are a combination of an RSA club and an old-school American dive bar. "It's a bar with really good food." And the interior fit-out? "Somewhere between a plush lounge and your garage."
Maurice and Mat own city eatery Mr Pickles, Alex has cocktail bar Wonder Horse, and John is the one who'll run day-to-day ops at Last Place. The others are aiming to be more hands-off than hands-on.
They've been thinking about what's missing in Hamilton hospitality for a while, keeping their eyes out for the right space for the independently owned and operated bar they had in mind. Alex, in particular, really pushed for Last Place, envisaging a venue that was the polar opposite of high-end, where there would be live bands, a great line-up of drinks, and the chefs would still cook you a cracking burger at 2am. Exceeding all customer expectations.
Says John, "We've tried to make something where we'd like to go ourselves."
Here's how it works: Last Place is open from 4pm till very late (happy hour 4pm–6pm). It's got a stage at the rear for live bands, local and out-of-town (no covers bands, says Alex). On nights when there aren't bands, there will be carefully curated music in the house.
There are about 100 different beers available, a broad spread from throughout New Zealand, Europe and the US. There's Waikato on tap as well as the fanciest seasonal release of craft beers. Speaking of taps, there are 15 of those, 10 for beer, four for wine, and one doing a whiskey highball. Plenty of other (fancy) whiskey, too, heaps of gin, and some decent bottled wine. "A short, concise, delicious wine list," says Mat.
What to eat? This is a short, concise, delicious list as well, the owners say. They're doing beef burgers (minced brisket with cheese, lettuce, tomato and homemade Dutch curry sauce); vegan nachos; cheese toasties; potato crisps with Kiwi onion dip; and a soft-serve machine if you want something sweet. Everything available from go to whoa. An early review of the beef burgers from a punter was concise and complimentary: "Frickin' awesome."
There is no deep-fryer. Alex was strict about this. He says they want to shake up the Hamilton hospo scene a bit; they don't want to be the same as everyone else. "Everyone does fries. You don't come here for hot chips."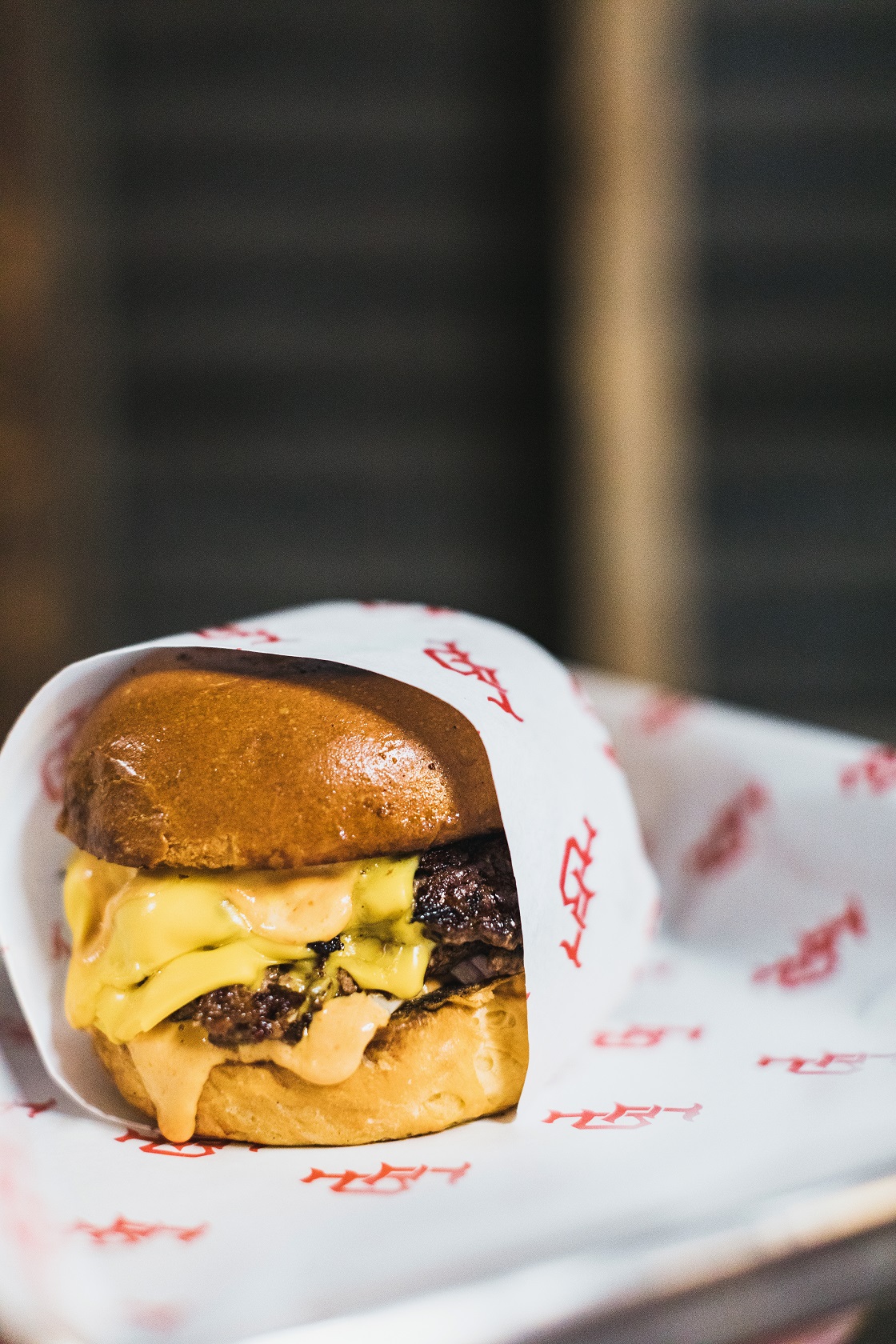 The partners designed the interior themselves. John has largely done the construction work, using a unique mix of rimu, brass, stained ply, corrugated iron and hurricane netting. The wooden chairs have come from the Katikati War Memorial Hall, still inscribed on the back with the hall's initials. Alex bought these earlier for an event where they weren't actually needed. They've been in storage and have found a fresh purpose.
The front area is dominated by a vast bar and a flash drinks fridge, adjacent to the open kitchen. In the kitchen, they've scored an extraction unit from the building's earlier incarnation as a cafe. That's helped with the tight budget.
The four partners have put a huge amount of work and effort into this venture. They're happy with the result: it's a high energy bar, they say, and they reckon it will add considerably to Hamilton's night life.
And it's definitely the last place (pun intended) to go if you want hot chips!
Last Place
54 Collingwood Street, Hamilton Central