Words and Image by Kathy Paterson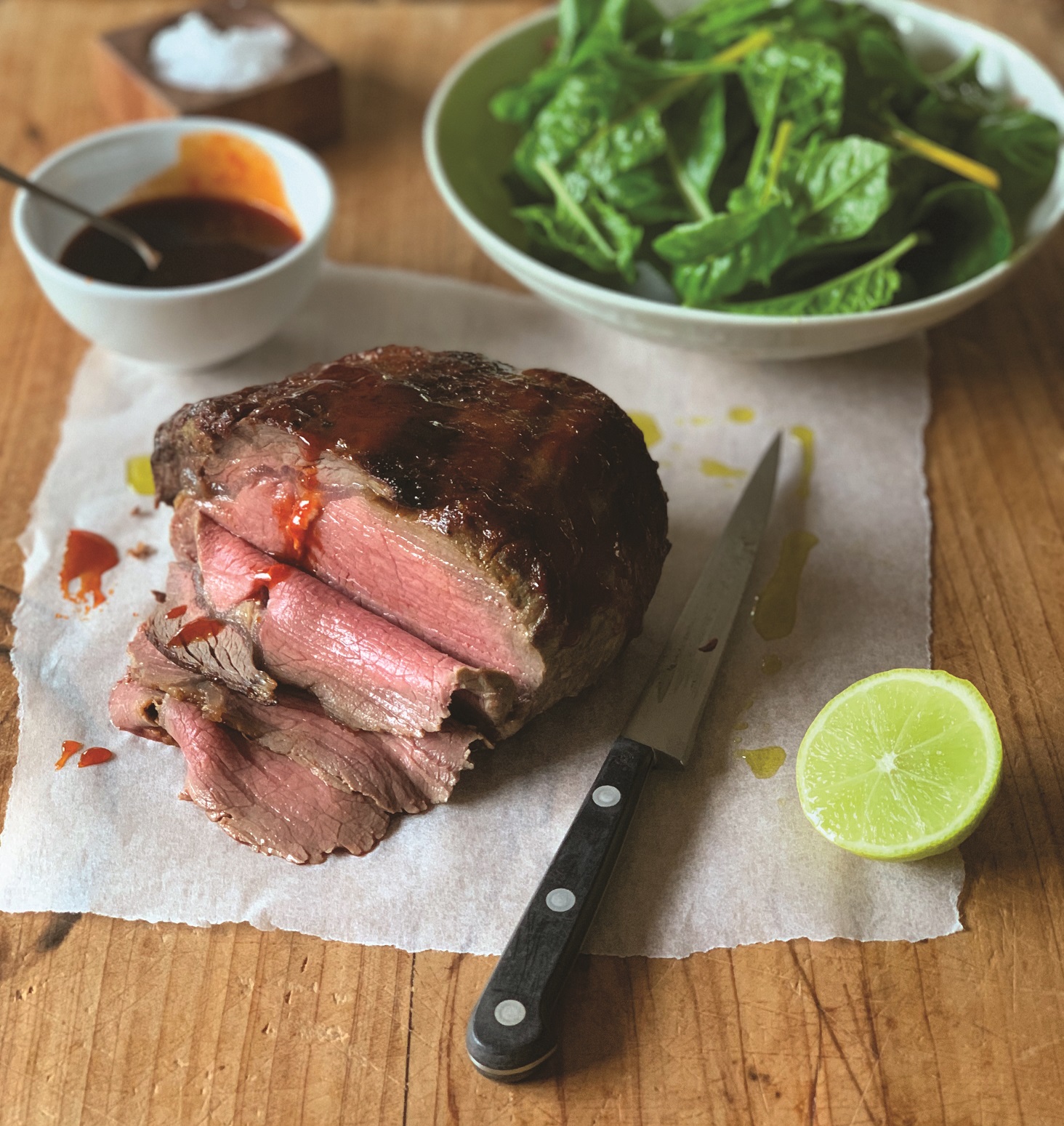 Honey is one of the most diverse foods we have and honeys boundlessness of flavours, colours and textures really fascinates me.
Flavour characteristics are formed by rainfall, wind, soils and flora and the simpliest way to get to know which honey you will enjoy is to taste at farmers' markets or in-store tastings.  A lighter-flavour honey works well for general use.
Honey is handy for adding sweetness to dressings or marinades, as well as drizzling over fresh fruit with fresh ricotta or mascarpone. However, my favourite is spread over hot buttered toast all sticky and runny.
Store honey away from light and try to avoid the fridge.
Put a spring of flavour in your beef with this honey and gochujang sauce. A piece of beef this size makes for a wonderful small roast.
Serves 4 with maybe leftovers
3 tablespoons honey
2 tablespoons gochujang (Korean chilli paste)
2 tablespoons soft brown sugar
1 tablespoon light soy sauce
1 teaspoon peeled and finely grated fresh ginger
1 teaspoon crushed garlic
700g piece rib-eye of beef (can also be called cube roll as the bone is removed or referred to as scotch fillet), at room temperature
olive oil for rubbing
flaky salt
Make the honey gochujang sauce, put the honey, gochujang, sugar, soy sauce, ginger and garlic in a small saucepan. Put over low heat to dissolve sugar and thicken slightly. Remove from the heat and set aside.
To roast a piece of rib-eye of beef, heat the oven to 200°C. Heat a roasting dish in the oven.
Rub beef with a little olive oil.  Heat a large heavy-based frying pan or flat plate until hot and brown the beef quickly on all sides. Transfer to the hot roasting dish and brush the top surface of the beef with a good coating of the sauce. Drizzle over a little more olive oil. Put in the oven and roast for 20 minutes for beef that is on the rare side. If you would like a tad less rare and more medium-rare (which I think is the optimal finish for this cut), then cook for a further 5 minutes.
To test meat as well – use tongs (as the coating will be hot and sticky), to press gently on the meat.  If it is very springy then it will be very rare. The less springy the meat becomes the more it is cooked. Rib-eye of beef is compact or dense pure meat so my preference is to cook in a hot oven (or lidded barbecue), but not too hot. Rib-eye should having good marbling and a small nugget or chain of fat within. It's prudent to allow the fat to melt during cooking, making the meat even more succulent and juicy.
Remove from the oven and sprinkle with salt. Cover loosely with compostable foil and a clean tea towel and leave to rest for 20 minutes in a warm spot. This allows the meat juices to redistribute throughout the meat and settle and helps the meat to carve beautifully.  AND so does a very sharp carving knife!
Serve beef with extra honey gochujang sauce on the side, lots of spring green leaves. A grain salad with a citrus dressing is good here too or oven roasted potatoes or kumara.  Serve with lemon or lime halves for squeezing.
Tip – the honey gochujang sauce is brilliant with chicken too.
Chicken wings or drumsticks can be well coated in the sauce and roasted in the oven until sticky and well glazed.