This is such a brilliant idea. You take three women with magpie-like tendencies for finding lovely objects, and the confidence and design skills to turn someone's chuck-outs into 21st century treasures. You put them together in a store in Cambridge and create a showcase for their handpicked French, English and New Zealand homewares.
This is The Heritage Trading Company, in Cambridge's landmark Central Hotel on the corner of Empire and Duke Streets, where there is a warm welcome and a dazzling array of old and new china, ceramics, soft furnishings, art, glassware, silver, brass, dressers, chairs, table linen, wool blankets, jewellery, and more, to peruse. "This has always been in my dreams," says co-owner Jo McIntosh, as customers wind their way through the abundant displays.
The Heritage Trading partners are Jo, Helen Martens and Maria Gascoigne. They run the business as a co-operative, and towards the end of last year they took over Colonial Heritage Antiques – operated on this site by Kenneth Sheldrick and his late wife Beverley for almost 50 years – and folded it into their venture.
Jo, Helen and Maria each have their own brand (and area) within the store. Jo's is Linen & Stone, dedicated to her love of French furniture, textiles and antiques. She first visited France in 2009, and says she felt like she'd come home. She later discovered that her great-great-grandmother, Adeline d'Oridant, had married a Frenchman, and was buried in Menton, in south-east France. Jo later visited Adeline's grave and has learned more about her ancestral connection.
She has spent endless time in France since then, she owns a house in Chauvigny, near Poitiers, with Australian friends, and runs Bespoke French Village Experience tours alongside Linen & Stone in Cambridge.  She's been in the interiors business for 32 years, starting in Australia and following on with a pop-up store in Cambridge in 2020.
Jo's area of Heritage Trading offers authentic French brocante (vintage and antique goods) alongside beautiful cushions made to her own design and incorporating old French tapestries and printed linens. There are also printed wall hangings, tablecloths, ceramics, mirrors, throws, hand-made bags, and unique garments.
"I have a special love of textiles, and I'm always on the hunt for things that cannot be found in New Zealand," she says, whisking a set of exquisitely embroidered tablecloths from the shelf.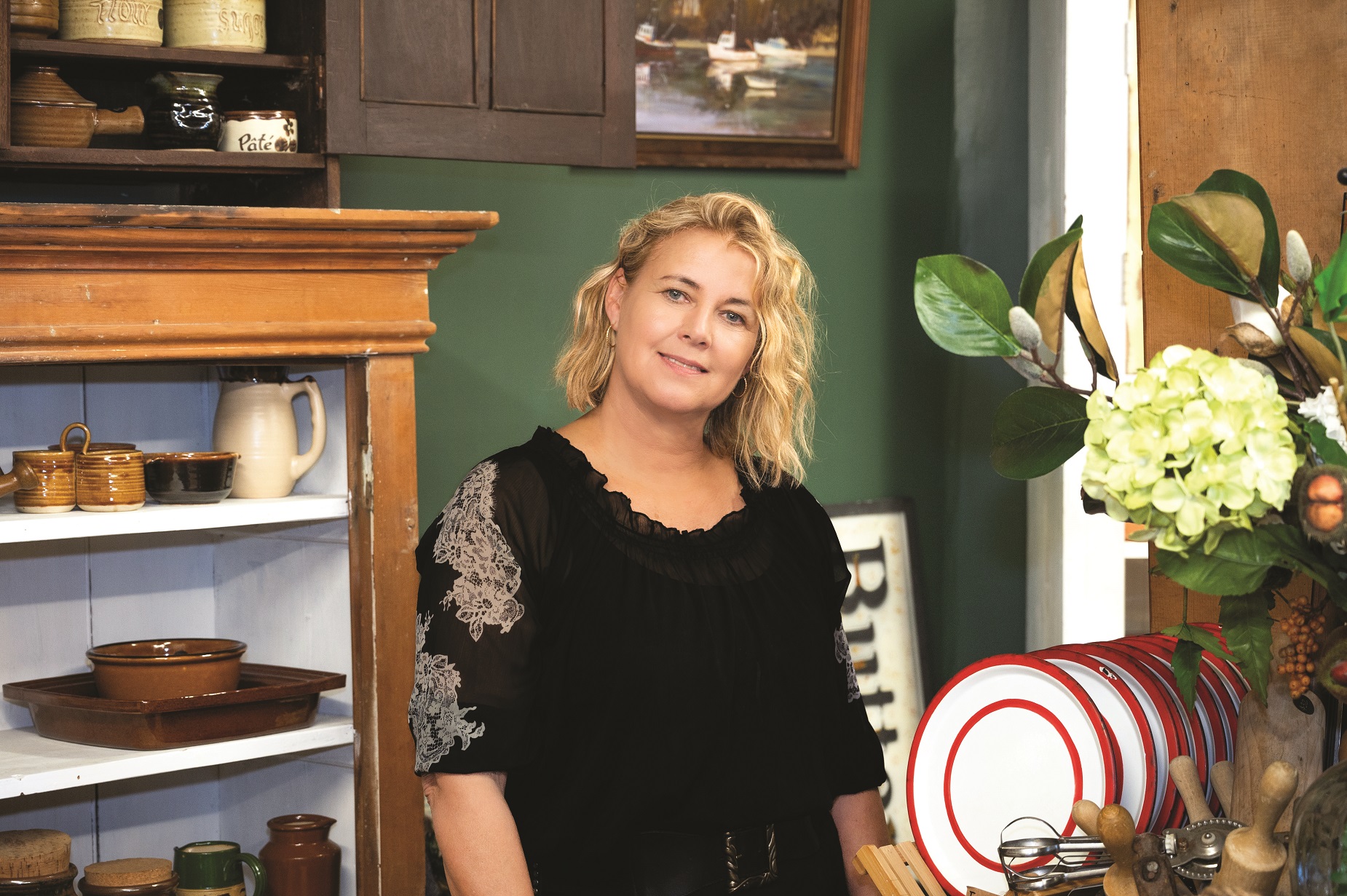 Maria Gascoigne's specialty space, Redeemed Recycled Interiors, has its roots firmly in New Zealand. Her style is rustic farmhouse and she began collecting, restoring and selling vintage items at a barn on the family farm at Roto-o-rangi, near Cambridge.
"The shabbier the better," she says, as she outlines her love of repurposing and redesigning furniture and other goods, loading her ute with her acquisitions. "I find things at charity shops, garage sales, or I hear about people who are down-sizing and discarding. I have literally rescued things from the dump."
Maria can turn an old wardrobe into a pantry, a wooden cupboard into a butcher's block, a handyman's work-bench into a set of shelves. "It just takes a bit of imagination and elbow grease, and I particularly love kauri furniture, it tells a story that is typically New Zealand."
Maria's refurbishments retain the patina of their age and history; for her, interiors are about creating a feeling of warmth and cosiness, places and spaces where people want to gather. She also gets pleasure from seeing treasures gain fresh purpose with a younger generation, like a jug from grandma's china cabinet used as a vase for flowers. "Our job is to bring the best out of old things, present them in a new way and make them relevant again."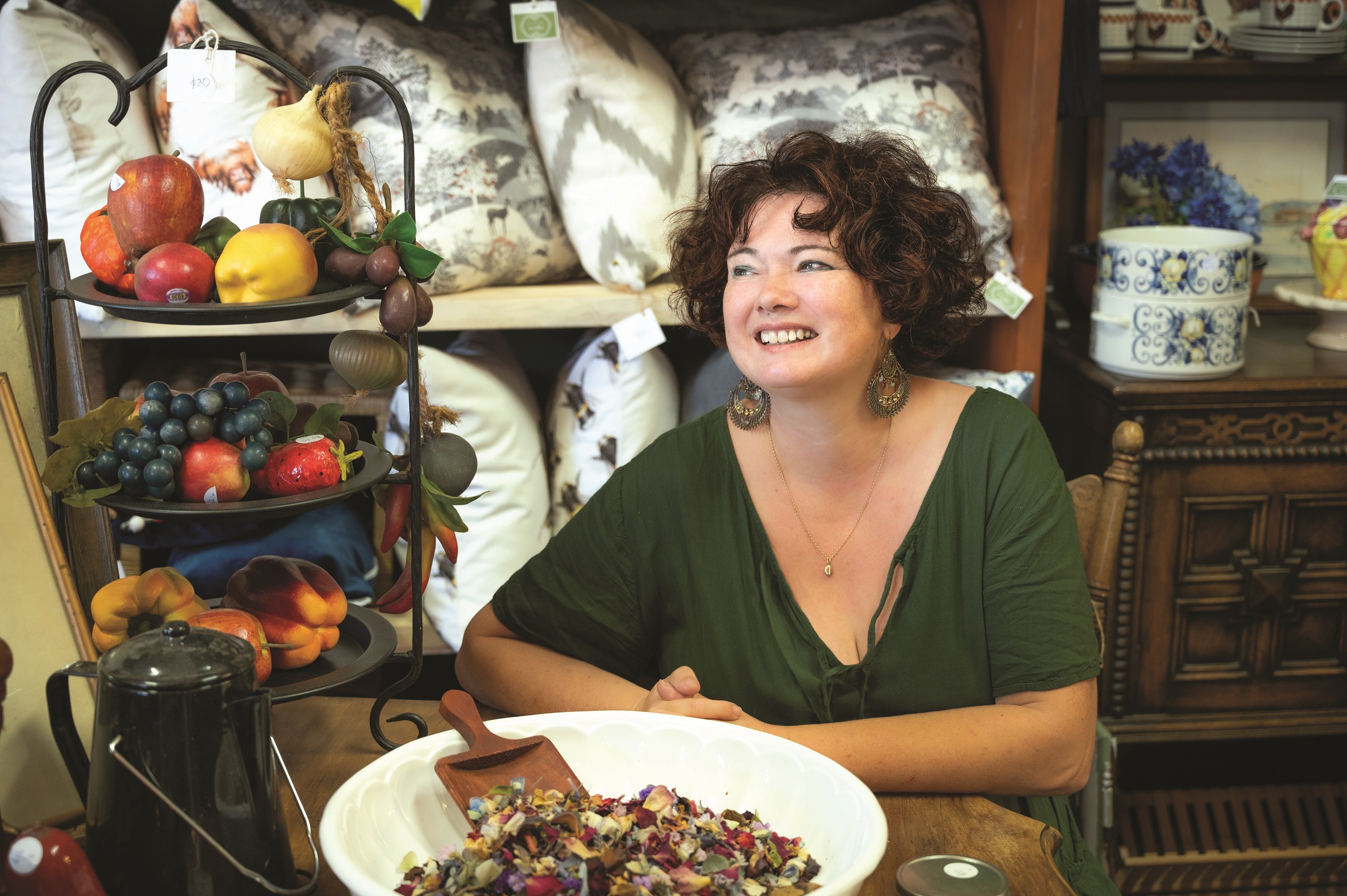 Helen Martens' brand, Tuffet & Co, takes its name from her love of chairs and reclaims the old English word for a low seat. (Or in the case of Miss Muffet, of nursery rhyme fame, a grassy mound.) Like partners Jo and Maria, Helen likes to bring fresh life to old objects.
Helen is from England, and she previously had a corporate career, and her own business consultancy, in Auckland, and left that a few years ago to move to Cambridge and be a stay-at-home-mother. She settled happily in the Waikato and tapped into her creative side, making pottery and ceramics, and rescuing and reupholstering chairs.
Chairs quickly became Helen's thing; she loves their various forms, their beauty and history. She takes great pleasure in repainting and recovering them, and passing them on to new owners. Her English country style has been a perfect fit with Jo's and Maria's respective interests. "I have a house full of English antiques," she says.
In Helen's area of the store you'll find a mix of old and new china, glassware, furniture, and soft furnishings, including beautiful tweed throws from her beloved home county, Yorkshire, and handcrafted items from Yorkshire artisans Boggle Hole. And, of course, chairs. At present she has an elegant Victorian slipper chair looking for a fresh location.
So when you've shopped France, England and rustic New Zealand in Cambridge's old Central Hotel, take a turn through the cabinets of Colonial Heritage Antiques that offer more treasures and preserve the legacy of former owner Kenneth Sheldrick.
It's four brands under one roof, a shared philosophy of slow retail, and a traditional general store feel that draws you back for more. I can't stop thinking about a couple of beautiful cushions and a set of Crown Devon china identical to one my mother owned. Helen found the china in a bin at a Rotary market.
As she says, "It's the store that keeps on giving."
Heritage Trading Co
40 Duke St, Cambridge
Words Denise Irvine, Images Brydie Thompson