The Good Buzz kombucha story began modestly in Kaikohe, in 1974. There was a bold new chapter in Wainuiomata in 2014, and it gathered pace a few years later in Tauranga. Today it is perfectly poised for major plot developments.
Ryan Christensen, chief executive of Good Buzz Beverage Co, traces the history in the spacious new production premises at Tauriko, Tauranga, where the organic, handcrafted kombucha—with a distinctive fizz, tang and taste—is brewed.
Ryan is proud of the new set-up: "We've gone from a factory of 400 square metres to 1200 square metres. We've tripled our footprint, expanded our staff and we're constantly innovating."
Many things have changed at Good Buzz but Ryan says the core business stays the same, and they're embracing the growing popularity of kombucha, or booch, the naturally fermented sparkling tea that is understood to have originated in ancient China.
"We're a true New Zealand company; our kombucha is born and brewed in New Zealand with really good ingredients. It is BioGro-certified organic and it is hand-crafted in the way Good Buzz has been doing it for decades. We make delicious drinks that support an active lifestyle and are bubbling with gut-loving bacteria."
Good Buzz was founded in Wainuiomata in 2014 by Alex and Amber Campbell, its genesis being the memorable drink with healthy properties that Alex's grandmother Amy made for him as a child in Kaikohe. Amy called her humble booch "Manchurian Tea", with a nod to its Chinese roots. The scoby (symbiotic colony of bacteria and yeast) she used for this is the mother scoby of all Good Buzz products today.
In the earliest years in Wainuiomata, Good Buzz was an entirely hands-on affair by the Campbell family, who were involved in every task. Amber was the brewer and recipe developer, Alex ran the infrastructure and other family members lent a hand. It was largely sold to local cafes.
In the following years, Wendy and Richard Gatward from Ōhope became co-owners, Alex and Amber Campbell moved to Tauranga, and Good Buzz relocated there too. In other changes, Bay of Plenty company Quayside Holdings is now an investor, and Lion NZ was an earlier investor.
Ryan became chief executive in March last year, and the Campbells and Gatwards remain board members and owners. Ryan had met Alex and Amber Campbell at a trade show when he worked for Lion NZ; he tried Good Buzz at the show, he loved the product and the story, and the company's commitment to local ingredients and suppliers.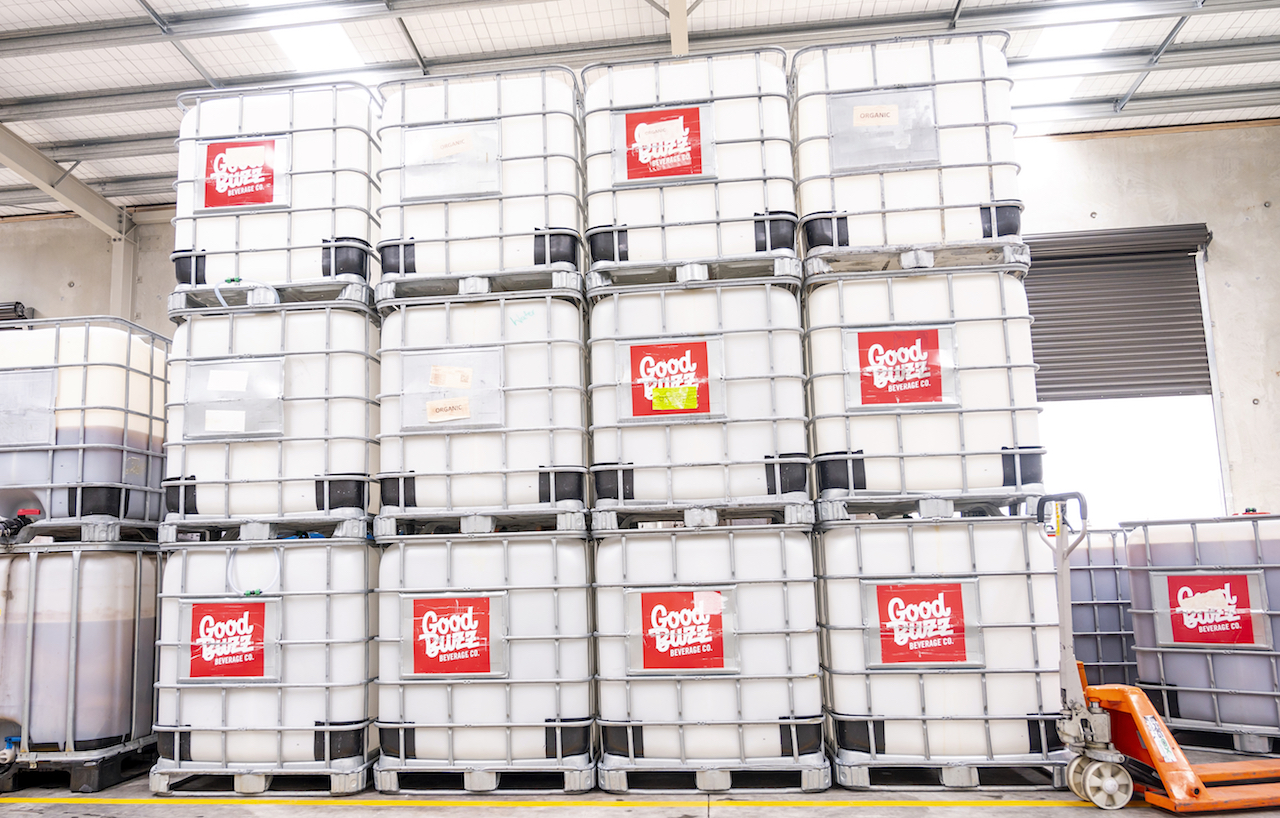 "Good Buzz had created something special, and it was being made in an authentic way. The overwhelming feedback on Good Buzz is its great taste. I loved how simple it was but it created a beautiful complexity. I could see the potential for growth."
Ryan brings wide experience to his role: he has worked for more than 10 years in the Fast-Moving Consumer Goods (FMCG) industry in various sales, marketing, operational and leadership roles. In 2019 he and two friends founded Izakai Bar & Eatery at Mt Maunganui, and he was co-founder of creative design agency Herd. He is still involved with Herd in his "spare time".
He started at Good Buzz in March last year with a team of five; since then he's done a full product rebrand, introduced a range of Good Buzz kombucha cans and a new Premium series, moved factories (in early December), overseen a fresh look for the website, built a team of 10, and he's seen online sales increase 30 per cent. He jokes, "I haven't slept."
He steps through the new premises, purpose-built for Good Buzz: "It's like making a big cup of tea," he says, as he explains how the organic black tea is batch-brewed for two hours in 1000 litre stainless steel vats. The tea is from Sri Lanka and is paired with Bay of Plenty artisan spring water, organic cane sugar and organic New Zealand fruit extracts and freeze-dried fruits.
The symbiotic culture, the scoby, resembling a giant, slippery lily pad, is added at this point and the batches are transferred to containers in a fermentation room that is rich with yeasty, fruity aromas.
The batches sit (at 30°C) for two weeks, allowing generous time for the scobys to work their fermentation magic in the vats of lightly sweetened tea. They feed on the sugar, converting it into micro-nutrients and organic acids.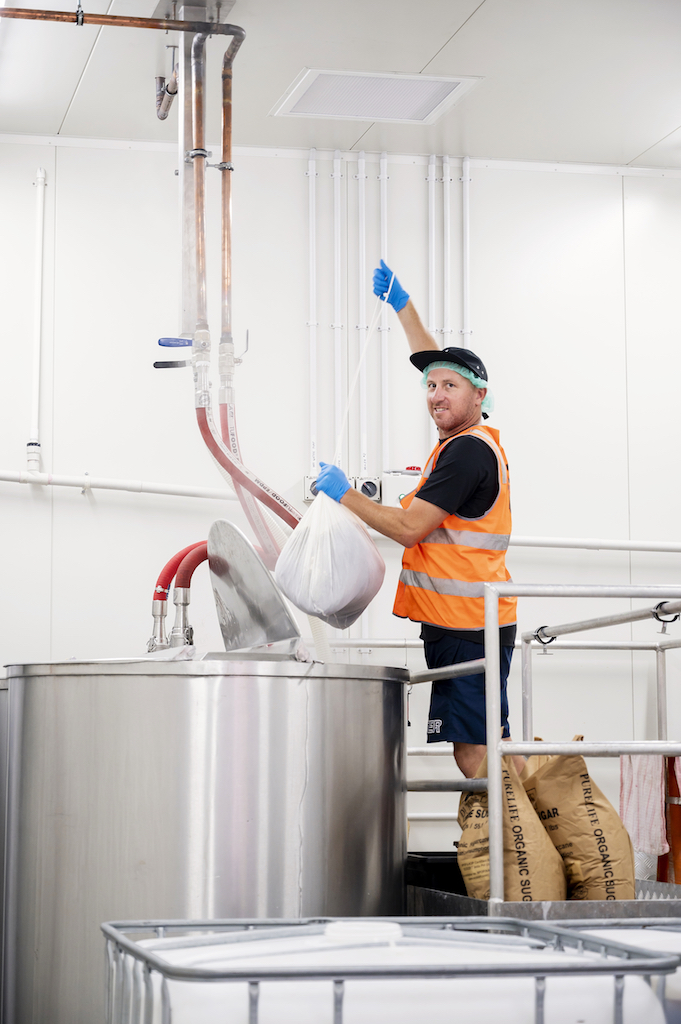 The brews are tested regularly until they achieve Good Buzz's prerequisite fizzy tang, then they're filtered and bottled by Tauranga company Pure Bottling. Distribution to supermarkets, restaurants, cafes, online customers and other places is from the new Good Buzz headquarters. The Scobys are carefully stored and nurtured in the fermentation room, ready for another round.
Good Buzz currently makes a core series of five tropical flavours and one natural, plus the new 250ml cans with flavours of Blueberry Peach, Pineapple Mango, and Passionfruit Guava. The Premium series showcases uniquely New Zealand tastes of Gisborne Lemon & Manuka Leaf, and Hawke's Bay Peach & Kawakawa.
The Premium booch was created by Good Buzz co-founder Amber Campbell. Premium flavours will be expanded by newly appointed head brewer Luke Miller, formerly the winemaker at Leveret Estate near Katikati.
The development of the Premium and canned ranges was driven by Ryan, and he's delighted with the results. He says Premium is a true expression of New Zealand ingredients, and the cans will be perfect for picnics, boat trips and similar. "They're easy to transport and they chill in 30 minutes."
Ryan says Good Buzz is currently producing around 50,000 litres of kombucha a month. He is now looking to expand into other categories of beverages; his goal is to make Good Buzz available "in every place that you can buy a drink, so people get a healthy, delicious choice wherever they go".