Words by Harriet Boucher
Here at Nourish, food is celebrated, loved and deeply rooted in a lot of our memories. In anticipation of Mother's Day, I asked our contributors for a food memory with their Mum's, along with a special image to share. My most common response was "I'm always the one taking the photos and never in them myself!". I think is a lesson for all of us to take more pictures with our loved ones, even if you are camera shy!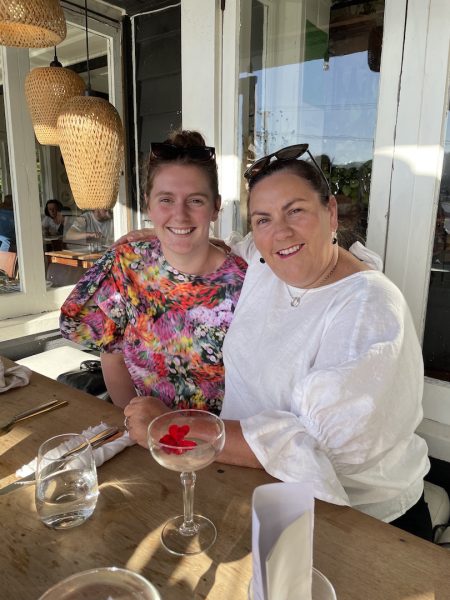 Harriet Boucher:
Even though I was the one asking for the food memories, I was stuck on what one I would use myself! One of my earliest fond food memories with Mum is regular breakfasts at Scotts Epicurean, where I would devour a plate of Bangers and Mash- I was utterly heartbroken when they took it off the menu!
She makes the best chocolate and russian fudge, it would sell out in the staffroom of the school fair before even making it to a stall. More recently, I love when my sister comes home from University in Christchurch because Mum goes above and beyond at dinner time- and I always get an invite. She is an incredible cook, all of her friends and family can vouch for that. I am an obsessed foodie thanks to her, although some of her fussy traits have definitely rubbed off on me!
Vicki Ravlich-Horan
All the women in my family a great cooks, so I have many great food memories.  While I often tease Mum about her grey lumpy mince and burnt pikelets we endured growing up her rice pudding is now a family treasure, and her marshmallow pudding is still what I request for my birthday dinner.
As a Mum myself now, I take my hat off to her cooking for a family of six every night.  This point is illustrated by the fact my daughter's favourite meal is none other than fish fingers! I often don't have time for much else but possibly not what most would think is dished up regularly in our house. I once overheard her telling a friend who was staying for dinner "you are in for a treat, as Mums fish fingers are the best!  And Mums a cooker for her job."
Denise Irvine
Mum's caramel pinwheel scones were the best. They were very on-point for 2022, really, with a delicious filling of cinnamon, brown sugar and lashings of butter. Mum baked them in a high-sided meat dish because the plentiful butter oozed out and would have been a disaster on a tray. The scones were rich and sticky and their warm, sweet fragrance filled the house; such a treat on freezing winter mornings after netball. Mum's roast dinners were the source of another magic memory from a Waikato farm childhood: homegown lamb, pumpkin, potatoes, onion and parsnips, everything (very) liberally basted in pan drippings until crispy and golden!
Emma Galloway
Favourite food memory? Hovering in the kitchen when she made her famous banana cake with carob icing, so I could swipe a finger full of creamed butter and sugar before the eggs went in!
Liz French
My mother (who died two years ago aged nearly 100) was a typical farmer's wife cook (bacon and eggs for breakfast, roast dinners nearly every night with home preserved fruit and ice cream for dessert in summer, steamed pudding in winter) but my favourite food memory is never having to eat anything I didn't want to, never having finish first course before dessert, never being told off for not eating my school lunch. You can tell why I've never become a genuine foodie!
Nikki Crutchly
I have always been a sweet tooth so my favourite food memory is Mum's baking. There was always something for lunchboxes and afternoon tea. The two things that have stuck with me are coconut date slice with lemon icing and date loaf with lots of butter (I'm pretty sure I could polish off a date loaf on my own!). My birthday cake choice was often a pavlova, and it's only now that I'm an adult and have tried making pavs a few times (not very successfully) I have realised what an expert my mum was in making them – crispy on the outside and soft in the middle – perfection!
Kathy Patterson
My favourite food memory is definitely Mum's roasts.  Always cooked beautifully with crispy, sticky bits to pick at in the roasting dish.  Rich, full-flavoured gravy, and her signature – she had to serve plenty of vegetables and the plate had to be full of colour.
So nearly always carrots, peas, broccoli and potatoes or a mix of potatoes, kumara and pumpkin.  I'm sure it was instinctive – no 5 + a day or eat a variety of coloured vegetables. Always mint sauce for lamb or horseradish and Yorkshire puddings for beef.