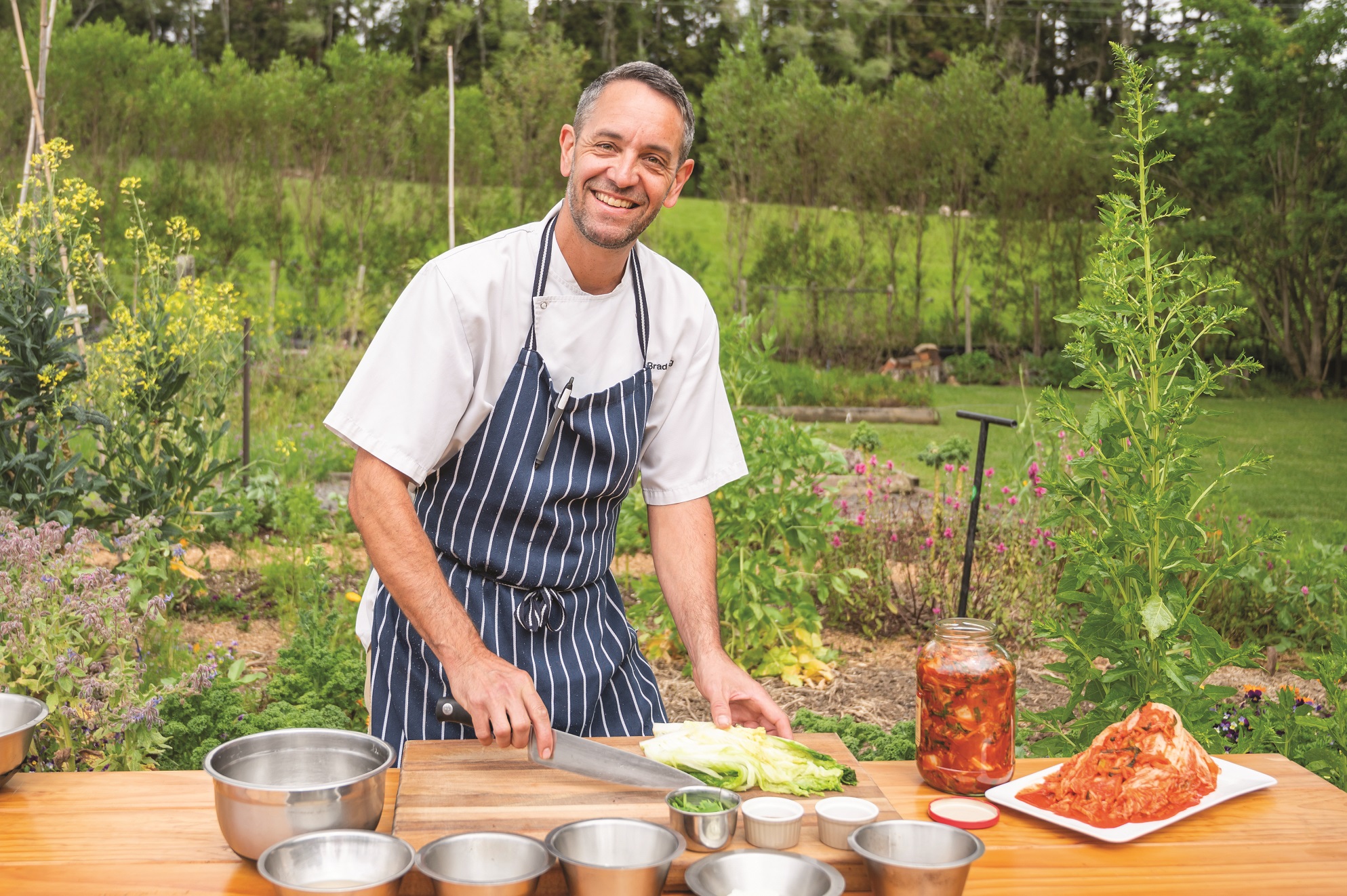 As we bid farewell to the final shreds of summer, the veggie garden rewards us with its autumn harvest. Here at The Falls Retreat, this means we are into pickling, preserving and fermenting mode as we attempt to capture all of nature's goodness and utilise this glut of fresh produce. As we head into the cooler months, our house-made pantry staples, such as our Cucumber and Zucchini pickle, start to feature more throughout our menus while we turn our focus to planting and utilising crops such as carrots, cabbage and daikon radish –  meaning kimchi soon becomes our new best friend!
What is Kimchi?
It's a traditional Korean dish made by submerging vegetables in a salt and water (brine) solution. By doing so, harmful bacteria are killed and the sugar and lactose present in the food are then converted to lactic acid, creating tangy and safely preserved vegetables that can be served as a side dish with all sorts of meals. It is traditionally made using cabbage, and each bite provides unique and complex flavours ranging between savoury, sweet, sour and spicy. It also has multiple nutritional benefits as it's high in vitamins, minerals and fibre and full of live bacteria, which is excellent for digestion.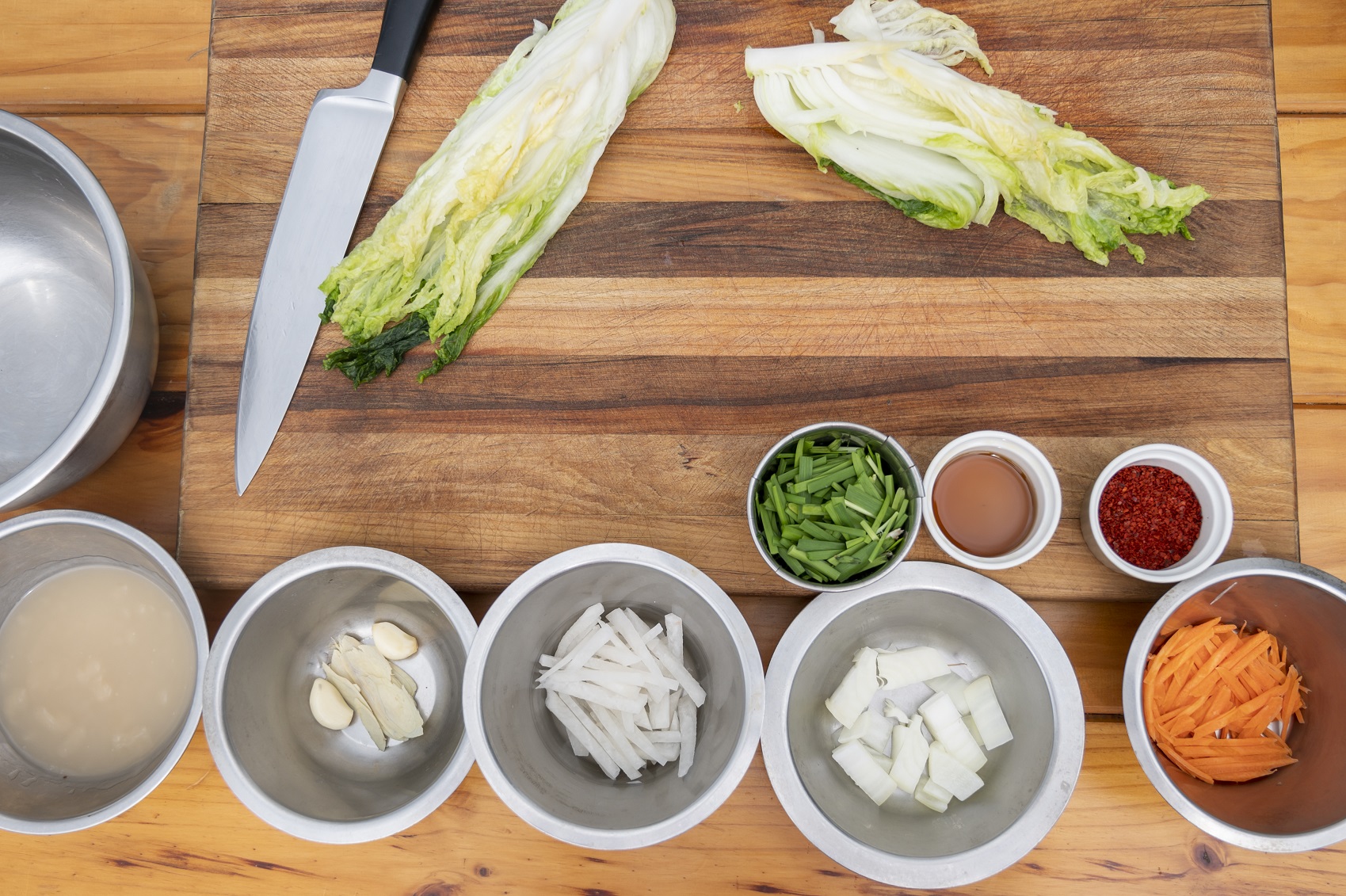 Making Kimchi
Kimchi is easy to make, it just takes a little time and patience for the magic to occur. It will start fermenting within a day or two at room temperature, depending on humidity and the temperature. The warmer it is, the faster the kimchi will ferment. Once it starts to ferment, it will smell and taste sour! You can test that it has begun fermentation by pressing on the top with a spoon – this will release trapped gases and bubbles from beneath. At this stage, store in the refrigerator to use as needed. Refrigeration will slow down the fermentation process and the kimchi will become more and more sour as time goes on.
Recipe   
3kg Chinese cabbage
½ cup salt
'Porridge'
3 cups water
3 tbsp glutinous rice flour
3 tbsp brown sugar
Vegetables
2 cups daikon radish, sliced matchstick size
1 cup fennel bulb, sliced matchstick size
2 cups carrot, sliced matchstick size
2 bunches spring onion, chopped
Seasonings & Spices
½ cup garlic cloves
¼ cup ginger
1 medium onion
½ cup fish sauce or substitute with soy sauce
2 cups Korean red chilli flakes (gochugaru)
3 Granny Smith apples (cored and de – seeded )
Chop each cabbage into quarters, keeping the cores attached.
Dunk into a large basin of water to get them wet. Sprinkle the salt in between the leaves by lifting up every leaf and getting salt in there. Use more salt closer to the stems where it is thicker.
Let the cabbages rest for 2 hours. Turn over every 30 minutes so they get well salted. From time to time you can ladle some of the salty water over top of the cabbage ensuring an even process.
While the cabbage is salting, make the 'porridge' and prep the vegetables, seasonings and spices.
To make the porridge, combine water and rice flour in a small pot over medium heat. Mix well and let it simmer for 10 minutes until it starts to bubble. Add sugar and let simmer for 1 more minute. Remove from heat and let cool completely.
For the Seasoning and spices, use either a blender or food processor and blitz the garlic, ginger, onion, apples, fish sauce and 1 cup of the red chilli flakes till smooth, set aside.
After 2 hours, wash cabbage quarters a few times under cold running water to remove the salt and any dirt. Cut off the cores and place in a strainer to drain well.
Pour cooled porridge into a large mixing bowl, add garlic, ginger, onion, fish sauce, and the last cup of red chilli flakes. Mix well with a wooden spoon into a thin paste.
Add the vegetables to the porridge and spice mix and mix well.
Cut salted and washed cabbage into desired pieces and place into a large bowl. Pour over vegetables and spice paste. Mix and massage into cabbage, thoroughly coating every piece.
Place kimchi into jars or a plastic container.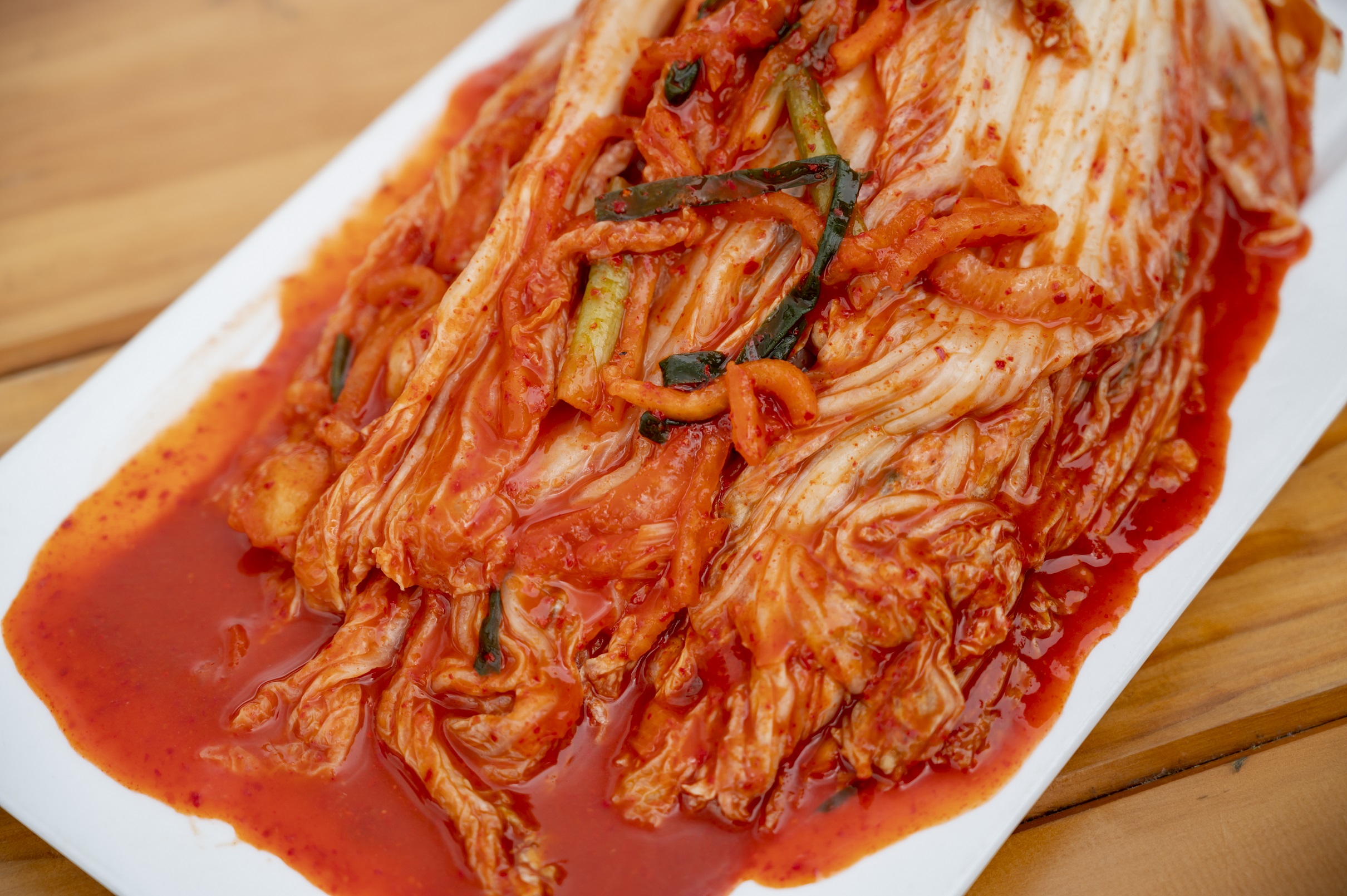 Brad's Top Tips
Don't use iodized salt (table salt), as the iodine inhibits the beneficial bacteria during the fermentation process.
Gochugaru can be substituted with regular chilli flakes.
Use a decent mandolin to ensure all your components are the same size; this makes for a more even consistency and distribution of flavours.
Use disposable gloves if you have sensitive hands, as the chilli can irritate your skin.
To keep recipe Vegan substitute Fish sauce for Soy sauce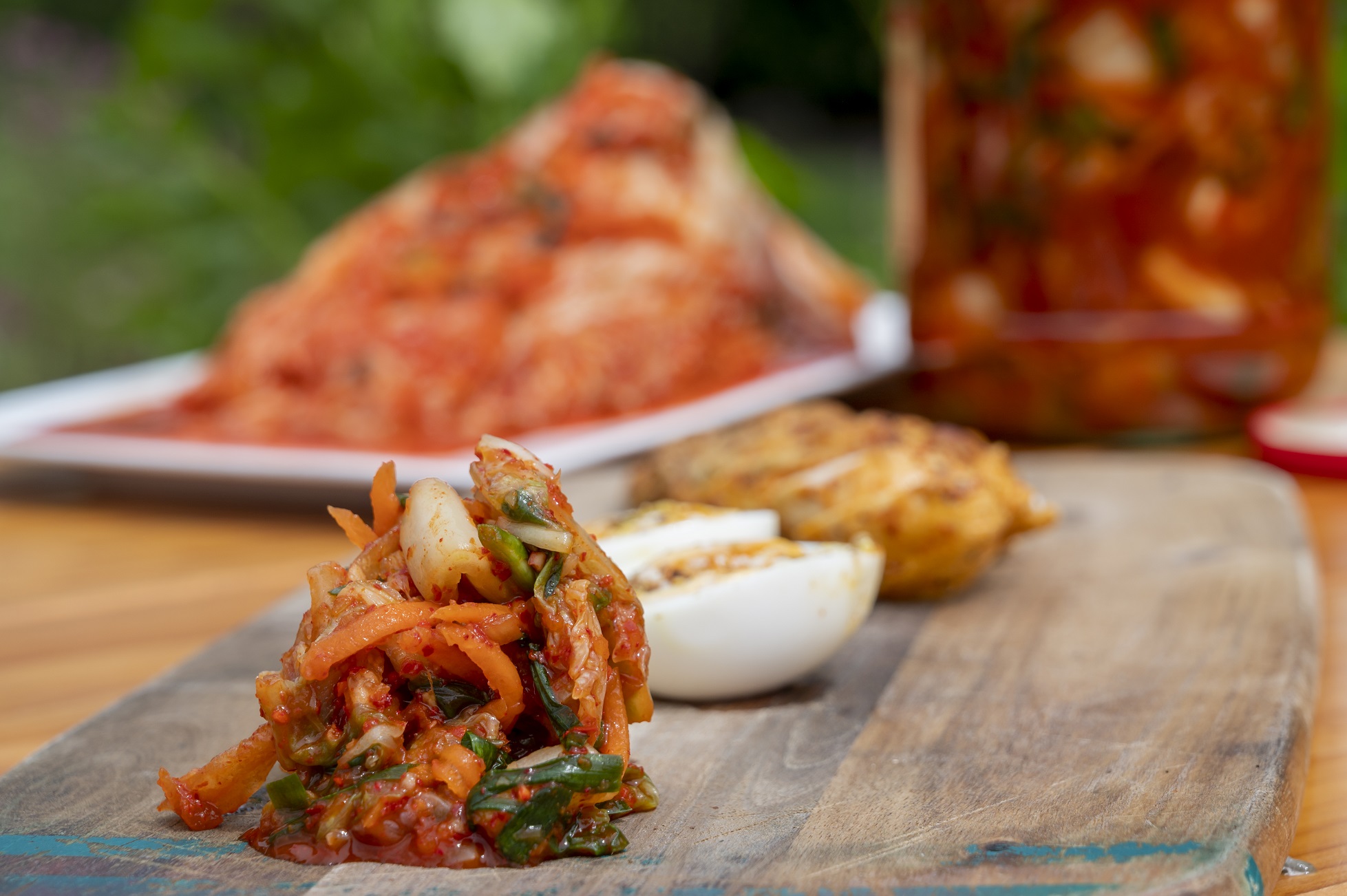 Learn more about cooking from scratch and sustainable living at The Falls Retreat with their range of cooking and gardening workshops.
Falls retreat
25 Waitawheta Road
Waihi
www.fallsretreat.co.nz/educate
Words Brad King, Images Brydie Thompson