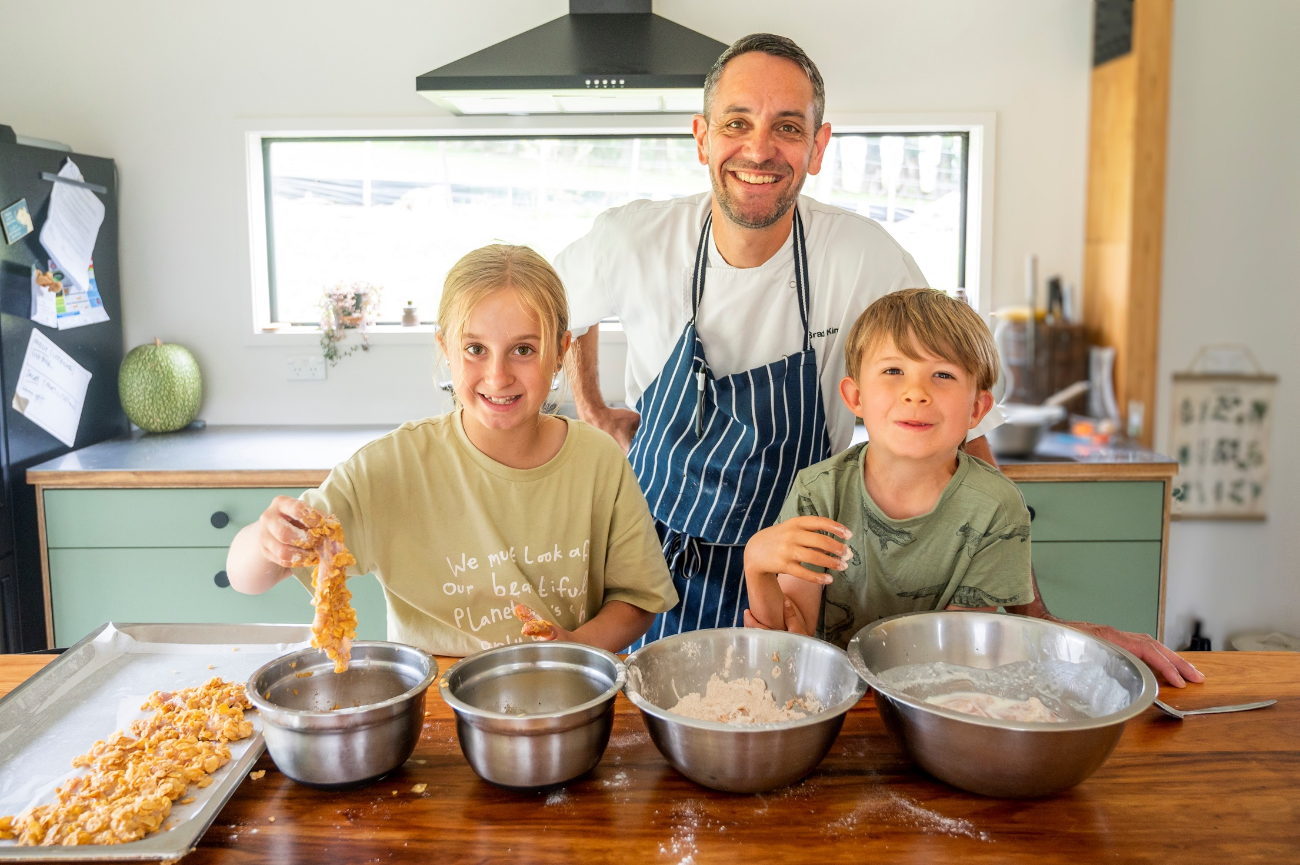 Words Brad King, Images Brydie Thompson
Here at The Falls Retreat, we believe that a kids' menu should be equally as enticing and nutritious as the adult version (if not more so for those little growing bodies!). No frozen chicken nuggets around here! And whilst we encourage our kids to try new flavours, we are also aware that their favourite meals are often the tried and tested family favourites, such as homemade fish and chips or spaghetti Bolognese.
The best part of creating simple, family meals is that you can also engage your kids with the cooking – lack of complicated recipes and easy to follow instructions give them the opportunity to help prepare a family dinner
This recipe for fried chicken tenders is the one we use for our kids' menu at The Falls Retreat and is one that the whole family will enjoy, as it doesn't cut corners on flavour or nutrition. It can be adapted to suit your family's tastes, so feel free to omit cayenne pepper if the little people are not keen.
This is a recipe that even small kids can get involved in. It's a little bit of a messy job pressing the tenders into the breading – a hands on experience they will no doubt love!
Having access to our organic veggie gardens means our meals are packed with whatever is coming out of the gardens, so we find dinners such as these are often accompanied by baby carrots or cherry tomatoes, depending on the season. If you want to get your kids eating salad and nutritious green leaves – try sorrel. It can be served raw, and its tangy, sour apple flavour is often a hit with kids. Or get them making crispy kale chips – simply toss leaves in olive oil and a pinch of salt and roast on a baking tray at 175°C for 12–15 minutes (be careful not to burn them, as they become bitter).
Then the best part of all – sitting down together to enjoy your family feast.
Buttermilk Chicken Tenders
Serves 4
MARINADE
1kg chicken tenderloins or breast (about 2cm thick)
1 cup buttermilk
1½ tsp salt
¼ tsp cayenne pepper
¼ tsp garlic powder
¼ tsp paprika
BUTTERMILK DIP
3 tbsp buttermilk
1 egg whisked
CRUMB
1½ cups flour
1½ tsp baking powder
1 tsp salt
1 tsp black pepper
1 tsp garlic powder
1 tsp paprika
1½ cups cornflakes, scrunched
COOK
3–4 cups vegetable oil, for cooking
To marinate the chicken
In a bowl combine the chicken tenders with the marinade ingredients, mix well, and refrigerate for at least 4 hours or up to 24 hours. This will make the chicken more tender.
Line a baking sheet with baking paper for easy clean up.
Crumb
Combine the crumb ingredients in a bowl and mix well.
Dip
Whisk buttermilk dip ingredients together and season. This egg/buttermilk mix enables the crumb to stick to the tenders.
To Assemble
Remove the chicken tenders from the marinade one at a time.
Run the tenders first through the dip mix then into the crumb bowl.
Press the crumb mix into the tenders to get a lovely thick coat. This will add the crunch when fried. Be sure to press the crumb firmly into the chicken so that the clumps adhere to the tenders.
Set crumbed tenders on the prepared baking sheet.
Leave in the fridge to help set the crumb coat on the chicken.
To fry the chicken:
Gently deep fry in batches at 180°C until golden (or alternately drizzle with oil and bake in the oven at 180°C until the internal temp of the tenders is at 75°C or the juices run clear). Set the cooked tenders on a paper towel-lined baking sheet to drain. (If the tenders start browning too fast, lower the heat.)
Season with a pinch of salt over the cooked fried chicken and serve.
Falls Retreat
25 Waitawheta Road, Waikino, Waihi
https://www.fallsretreat.co.nz/