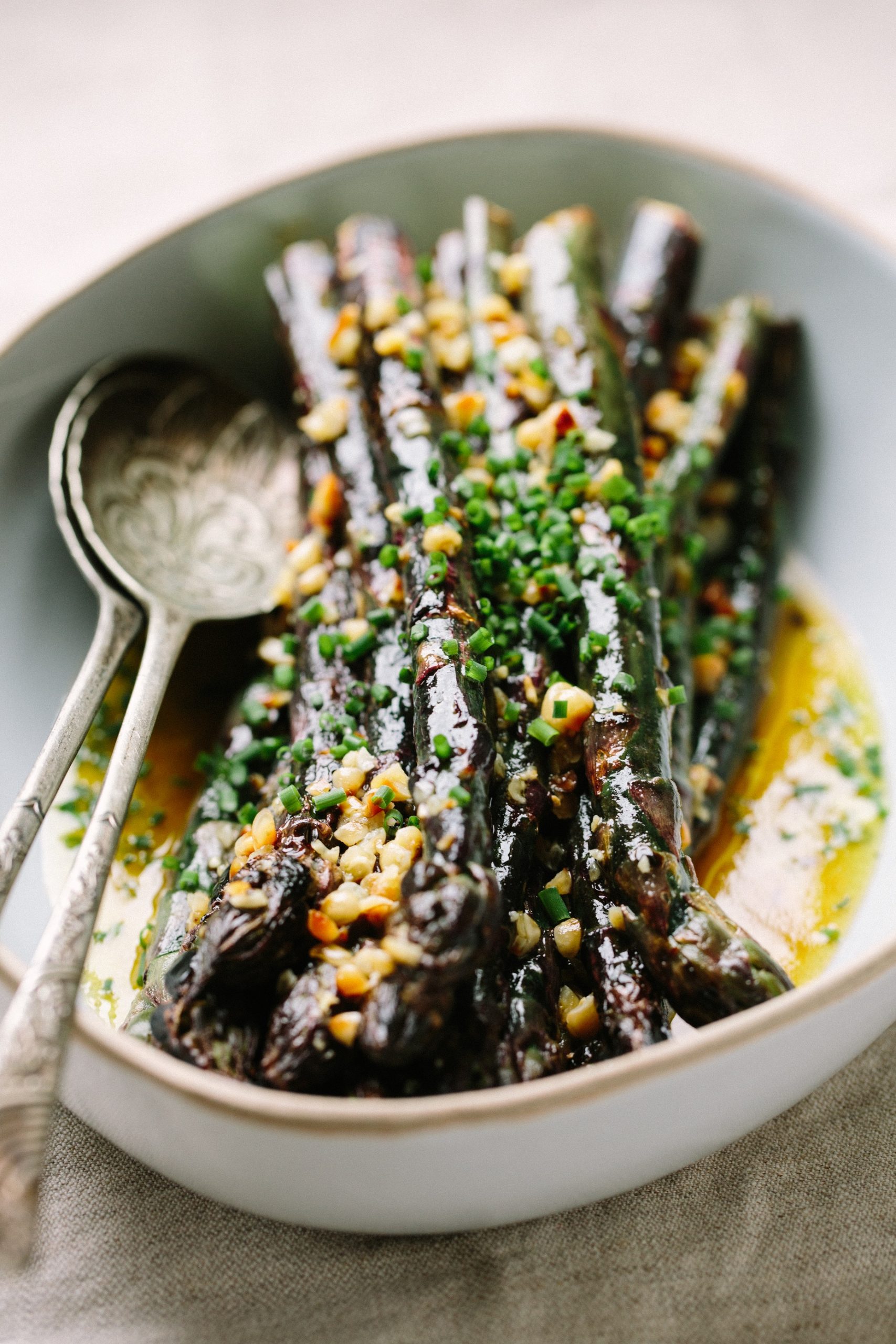 Recipes and Images Emma Galloway
Purple asparagus is one of those spring treats which comes and goes in the blink of an eye, so make the most of it while you can! During the season you can find it at selected supermarkets or order online from Naked Harvest. Purple asparagus has a slightly higher sugar content than its green cousins, so it's sweeter and more tender. This means it's great for eating raw or very briefly cooked, like I have here, to retain its beautiful purple hue (they turn green when fully cooked). If you love halloumi, add some grilled pieces to make into a more substantial side.
Serves 3–4
500g purple asparagus, ends snapped off
olive oil, salt and pepper
chives, finely chopped
Pine Nut Dressing
2 tbsp lightly toasted pine nuts, finely chopped, plus extra to serve
1 tsp Dijon mustard
½ tsp honey or pure maple syrup
¼ cup lemon juice
⅓ cup extra virgin olive oil
Preheat a chargrill or heavy-based frying pan over high heat. Place asparagus into a large bowl, drizzle with olive oil and season with salt and pepper, mix well to coat. Chargrill asparagus in batches 2–4 minutes, turning until just tender and golden. Transfer to a serving plate.
Combine chopped pine nuts, Dijon mustard and honey/maple in a small bowl and whisk to combine. Add lemon juice and continue whisking as you drizzle in the olive oil to form the dressing. Season with salt, to taste. Dress grilled asparagus with dressing and scatter over chopped chives and extra chopped toasted pine nuts, if using.