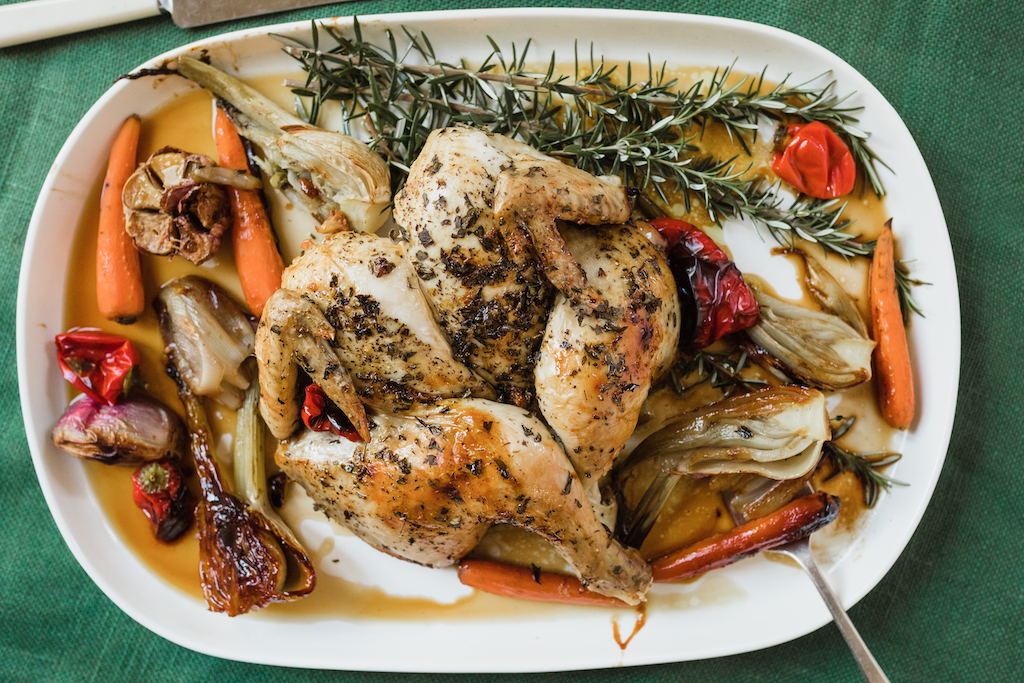 Recipe: Megan Priscott (Red Kitchen) | Photography: Ashlee deCaires
This is made in one big roasting dish. Ask your butcher to butterfly a chicken for you, it cooks more evenly and presents beautifully. I have included our recipe for our dry rub, but there are many good quality Mexican rubs you can buy too.
1 x butterflied chicken
1 large fennel bulb, cleaned and cut into quarters
6 small carrots, peeled and left whole
4 red caps, quartered and de-seeded
6 small onions, peeled and left whole
vine tomatoes, left on the vine
Cajun Seasoning
2 tsp salt
2 tsp ground coriander
1 tsp paprika
½ tsp chilli powder
1 tsp garlic powder
1 tbsp onion powder
1 tsp oregano
1 tsp thyme leaves
zest of 2 limes
Cover the chicken in olive oil and then the dry rub. Massage the rub in. Be generous and rub the top and underside.
Put the massaged chicken into a large roasting dish and place the carrots and onions around it. Cook for 20 minutes at 180°C.
Add the remaining vegetables and cook for another 25 minutes until the chicken is golden and cooked through, the vegetables are tender and carrots sticky.
Serve with a handful of watercress or rocket and a big splash of balsamic drizzle.
Note: I am a big fan of Al Brown's infused olive oils and use the oregano and thyme one to get a bit more flavour into the chicken. The lemon and fennel olive oil for the vegetables is also great!