Words Denise Irvine, Images
Whether you are one of the first at Cambridge's Victoria Square, with your market bag at the ready, or one to lie in on a Sunday and roll on into the Hamilton Market for a coffee and peruse it can be easy to take for granted the work of the Waikato Farmers Markets stallholders – growing, harvesting, making, baking and then packing it all up to bring fresh to the market. We thought we would take a look at what you don't see at the market to truly understand the love, passion and work that goes into the goods you buy each weekend.
While the bakers at Volare are busy making fresh sourdough and those delicious treats in the wee small hours of the night, the Jersey Girl team are right behind, rising with the sun to milk their girls.
For over 100 years, the Vosper family have worked the land at Cleavedale Farm in Matamata and it's this history that plays an important role in defining how they operate. Committed to achieving circular sustainability, they are leaders in organic, sustainable dairy farming, something you can taste in the milk.
Pirongia Mountain Vegetables
For some, like Tony at Pirongia Mountain Vegetables, it's the weather that keeps him up all night, and this year's been a doozy, with floods and frosts keeping him on his toes.
With summer here so too is the new harvest of garlic to add to the array of fresh produce.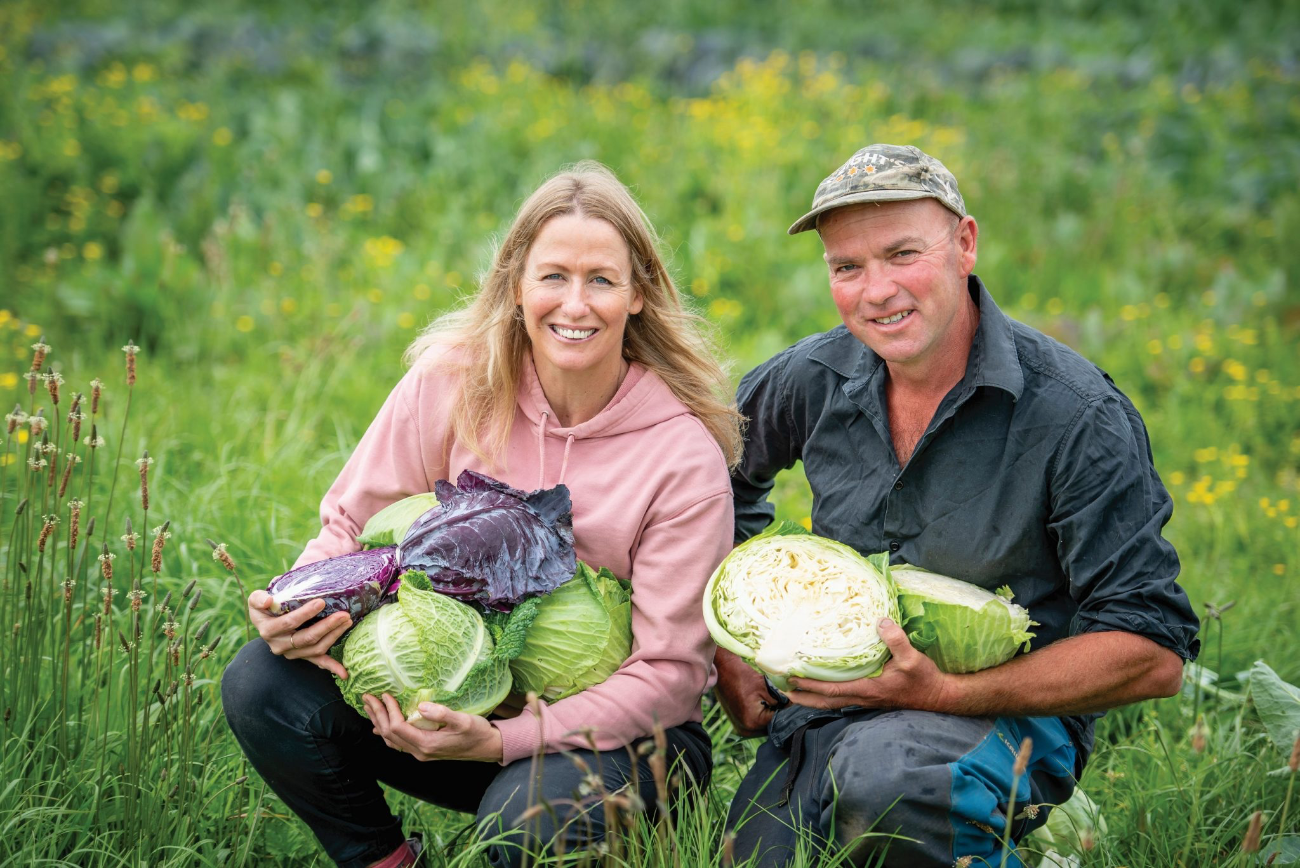 Good Bugs
Did you know many of Tony's spray free cabbages find their way into Good Bugs' award winning fermented goods?
Good Bugs sauerkraut, kimchi and pestos are all lovingly made by hand by Marea and her team using locally grown, sometimes even home-grown produce.

Greenfern
As Christmas approaches so too does the end of the asparagus seasons and Bill and Irene Cummings from Greenfern can put their feet up for a bit.
Kaimai Free Range Eggs
Karlene and Jim are the faces that greet you at the Waikato Farmers Markets each weekend and serve you up eggs with a side of banter.
They are second generation on the family farm and are getting involved and hands on in the family business – eggs! Kaimai Free Range Eggs start with one day old chicks which are reared on farm ensuring their control of raising happy healthy birds and caring for them their entire life.
Manuka Brothers (photo by Lottie Healey)
Before you've even thought of your morning coffee, 'Black Betty', the beautifully engineered machine at Manuka Brothers, has been batch roasting coffee over the glowing embers of manuka wood, giving their beans a distinctive warm, sweet and complex flavour.
Bringing your beans to market, be it to take home to enjoy or drink there, is a true artisan process of chopping wood, batch roasting, hand stamping and packing bags, ensuring each bag of coffee is created with quality control and care.
Sweetree Honey
You can't get much more local than honey. The hard-working honeybee flies a maximum radius of 12km from its hive. So when you enjoy local honey, it is just that! Sweetree were one of the first beekeepers to highlight the provenance of their bees over the florals the bees were feasting on.  Check out their Kirikiriroa honey from bees kept at the Hamilton Gardens and Zoo.
Over The Moon
The cheesemakers at Over the Moon also like to keep it local. The dairy milk for some of their cheeses comes from the farm Sue used to own and still lives next door to. Plus, those hands that lovingly hand make the cheeses are all Putaruru locals.
New at the Markets
Mama Kali's Farm – Convenient, fresh and delicious micro greens.
Dr Bucha kombucha – Hand crafted kombucha, bursting with gut-loving probiotic goodness.
Mon's Flavors – Add a little spice to your life with Mon's Flavors. Handmade spice blends made from high quality ingredients.
Annelies Bakes – Traditional Kiwi baking made from scratch just like your grandmother did.
Hello Mushrooms – Beautiful mushrooms grown in Matangi.
Small Batch – Locally-made peanut butter and nut butter that is roasted to perfection in small batches to ensure the best flavour and quality.
Foraged in Raglan – Bea makes preserves with a difference using homegrown produce like carrot and passion jam.
Waikato Farmers Markets
Cambridge – Victoria Square, opposite the town hall, corner of Victoria & Alpha Streets
Saturday 8am – noon
Hamilton – The Barn, Claudelands Event Centre, Gate 3, Brooklyn Road
Sunday 8am – noon
https://www.waikatofarmersmarkets.co.nz/