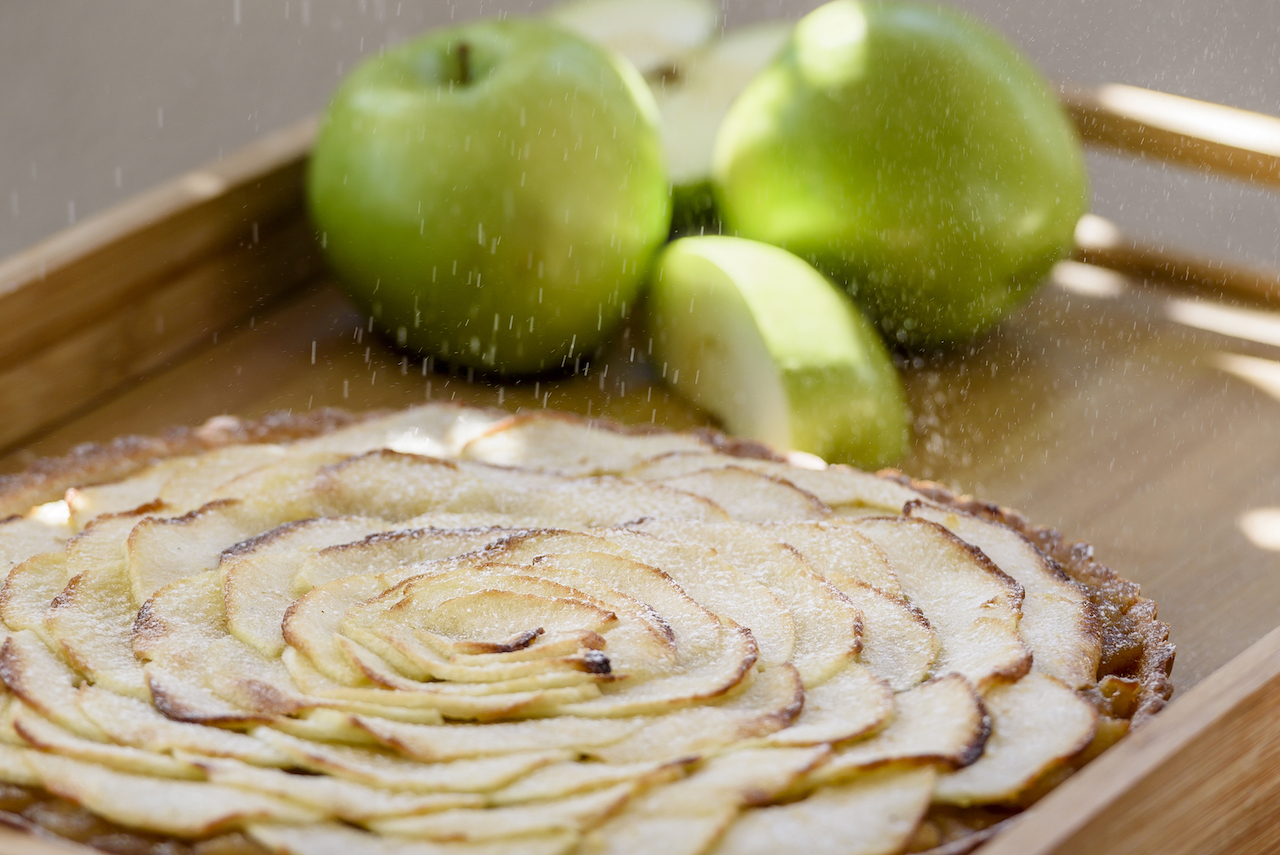 Recipe: from the kitchen at Elizabeth Cafe | Photography: Brydie Thompson
This stunning looking apple tart is a beautiful way to end a meal or a fabulous afternoon treat. Make it from scratch like Bex does or cheat by using bought pastry and custard. No one will know!
Sweet pastry
If you want you can use pre rolled ready-made sweet short pastry.
1½ cups flour
¼ cup sugar
125g butter
zest of half a lemon
1 small egg
1 tbsp vanilla extract
Cream together the butter and sugar. Add the lemon zest and then gradually add the eggs and vanilla essence.
Sift flour and salt together then add to the butter and mix until you form a dough. Wrap and chill for 1–2 hours (or overnight for best results).
Roll the pastry out and line a 26cm tart shell. Cover with baking paper and weight this down with pastry weights, dry beans or rice and blind bake 180°C for 15–20 minutes. Remove the paper and weights and allow to cool.
Apple Compote
6 apples, peeled and cored
½ cup sugar
50g butter
½ vanilla pod
Zest of ½ lemon
1 tbsp cinnamon

Evenly dice the apples. Melt butter in a medium pot, add sugar, vanilla, cinnamon, lemon zest and apples and cook till soft.  Strain the mixture if too wet, this will depend on the type of apples but it's essential the compote is not too wet.
Decoration
4–6 apples, peeled and cored
50g butter, melted
⅓ cup sugar
Slice the apples very thinly.
Fill the cooked tart case with compote and then arrange the sliced apples artfully on top. Brush apples with butter and sprinkle with sugar.
Bake at 200°C for 10–15 minutes, or until golden brown. Allow the tart to rest for 5 minutes before cutting and serving with crème anglaise.
Crème Anglaise
1 cup milk
½ vanilla pod
⅓ cup sugar
4 egg yolks

In a small pot bring the milk and vanilla to a simmer.
In a separate bowl, whisk egg yolks and sugar together. Slowly whisk half the warmed milk into the yolk mixture. Return the yolk mixture to the pot with remaining milk. Stirring constantly, cook over a low heat until the custard coats the back of a spoon. Take off the heat and pour into a jug to serve over your apple tart.