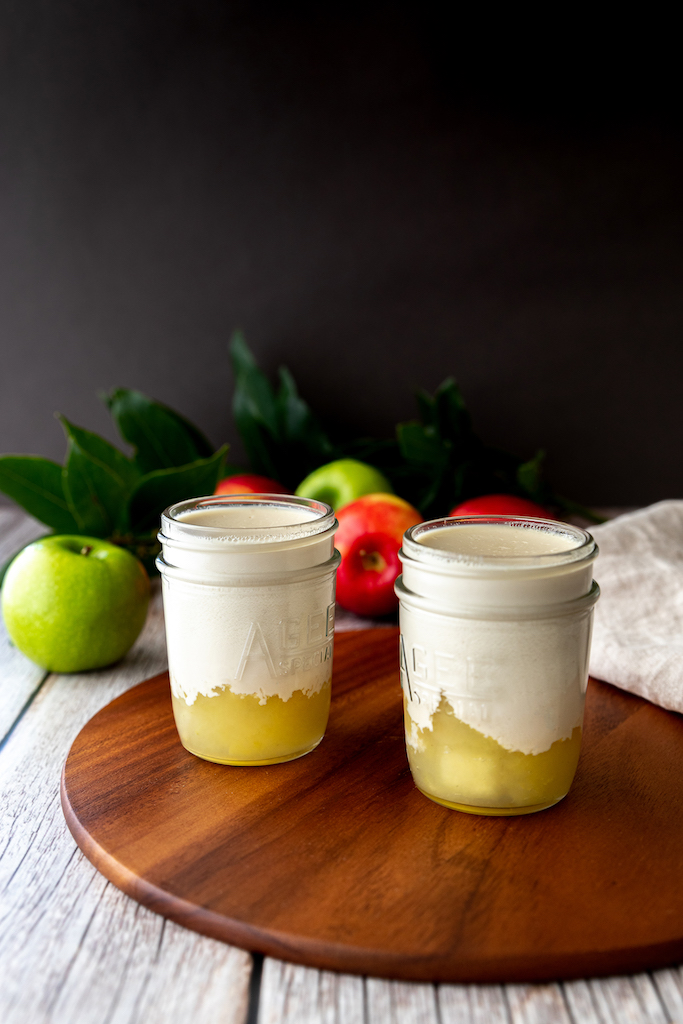 Recipes and Images By Amber Bremner
These layered desserts are fragrant with the heady scent of bay leaves, typically used in savoury dishes for their subtle peppery warmth. They also pair beautifully with apple and lemon, adding a little complexity to this otherwise quite simple recipe. Get your hands on some fresh bay leaves, if you can, for the best flavour. Agar-agar powder (available from Asian supermarkets) is a flavourless, plant-based alternative to gelatin, used to set the dessert.
APPLE LAYER
2 Granny Smith apples
½ cup water
2 tbsp sugar
1 tbsp lemon juice
1 bay leaf
CREAM LAYER
1 can coconut milk (400ml)
½ cup apple juice
3 tbsp sugar
2 bay leaves
1 strip of lemon zest
1 tsp vanilla extract
½ tsp agar-agar powder (I use Telephone brand)
Peel, core and dice apples. Add to a saucepan with water, sugar, lemon juice and a bay leaf. Cook over medium-low heat for 10–15 minutes, stirring occasionally, until tender, but still with some texture. Discard the bay leaf and spoon the apple mixture evenly into four small jars or ramekins.
For the cream layer, add everything to a saucepan and stir to combine over medium-low heat. Simmer for five minutes, stirring often, to activate the agar-agar. Discard the bay leaves and lemon zest, then pour evenly over the apple layer in your jars or ramekins. Pop in the fridge for an hour to set, or make them ahead of time. These desserts will keep, covered, for up to three days in the fridge