Words Liz French, Images Brydie Thompson
The work of Katikati artist Yana Meech strikes a chord with the many who meet her and her paintings at her studio, in galleries, or at art shows where she is regarded as a Top Ten Artist due to consistently high sales.
The first time Yana exhibited at an art show she sold out before the end of the Wellington event, rushed out and bought more supplies, then painted all night in her hotel room so she'd have some work to sell on the last day. She hasn't made that mistake again!
When Nourish visited Yana, she had just returned from the Christchurch Art Show where she sold pieces from her cityscape series and some atmospheric works, paintings that merge the boundaries between earth, sea and sky.
Easy to see where her inspiration for these comes from. It's all atmosphere up in the hills where Yana lives with her partner, a blended family of teenagers, two faithful dogs and a menagerie grazing the hillsides under the bush line. While she exhibits her work in a gallery at the gate, it's far more fun to navigate the winding gravel drive, fording a typical Kaimai Ranges stream before arriving at the magical place they call home. On a clear day the coastline of the Bay of Plenty spreads out below like a giant landscape canvas. Other days they live in the clouds, exult in the everchanging weather and nights brightened by urban lights and stars.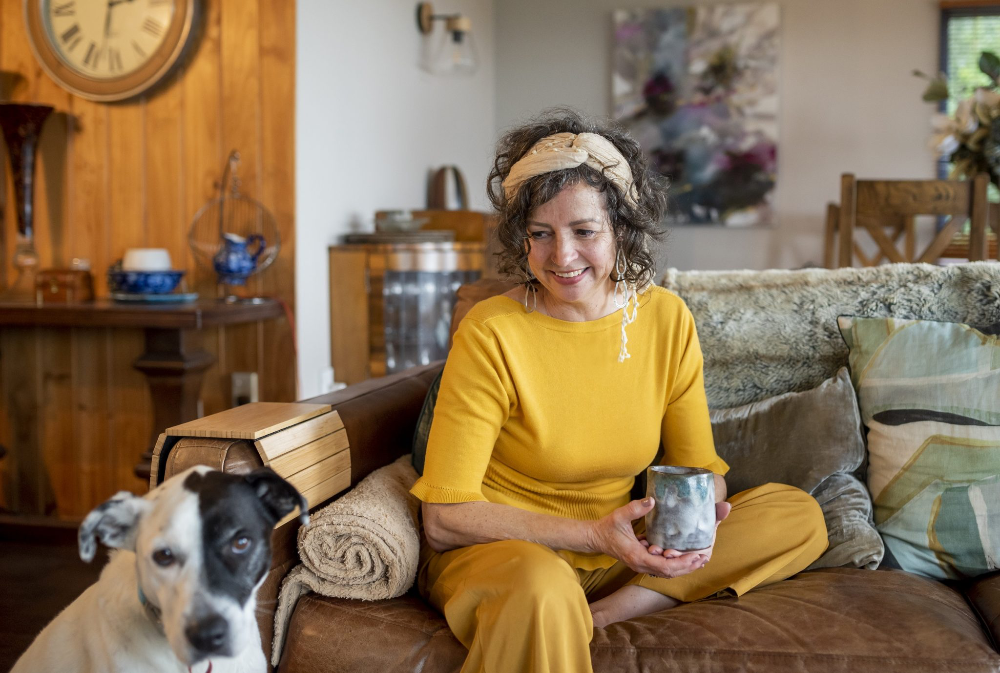 Yana paints in a shed at the rear of the house, large doors behind her work table wide open when the westerly's not raging. Once she's done the school run and fed the animals, "I disappear into the studio, put on some music and become totally oblivious to time. Without an alarm, I'd forget to pick up the kids! It's just me and the dogs," she says. Olde English Bulldogge, Dexter, and rescue terrier, PJ are her constant company.
It's obvious Yana is in her element and her sales prove it's the right one. Yet she did not start painting fulltime until 16 years ago. She now regrets allowing a high school art teacher to discourage her. "I see now it was because I went off on my creative tangent instead of painting to his prescription."
Yana is a self-taught artist, with grounding in the basics in third form art and from instruction in the technical aspects as a member of the Papakura Art Group, where she later became a tutor.
Her signature abstract style is expressed mainly in moody atmospheric landscapes and bold cityscapes on canvas, her medium a merging of acrylic and ink. It is unusual to blend the two, a method Yana has evolved. She applies the inks, their intensity dictated by the level of dilution with isopropyl alcohol, lets them dry or hurries them up with a heat gun and then paints the acrylic; the opaque and the dense creating a mesmeric mix.
Before she commences a series of works, Yana will have mulled it over, considered colours, and thought through themes, often triggered by something she has noticed; so, by the time she primes her canvas, the works are semi formed in her head.
It's lucky she loves it, as Yana always has art shows pending: Art in the Park in Eden Park in September, Queenstown in October. Over a full on few days, she meets a myriad of art enthusiasts. She couldn't manage without her biggest supporter, her mother, Annie, who attends every show with her and helps man her stand.
Yana paints commissions and will also visit your home with examples of the style you've expressed interest in. She delights in the way people find a genuine connection with her work, whether they buy it purely for love or also because they love the way it enhances their home.
While painting is a solitary occupation, Yana thrives on social interaction and feels her pieces have more meaning to people who have met her. She often holds the fort at Gallery Te Puna, which shows her work and where there will be a Yana Meech exhibition this spring.  
yanameech.com
gallerytepuna.com
Gallery Te Puna, 15E Minden Road