By Vicki Ravlich-Horan
For me, one of the best things about travel is what you learn. This was very evident on a recent trip to Mexico, where I was also reminded about how little I know about this part of the world. It's a destination that has long been on my wish list, but when asked why this was, I couldn't really say. I can now! Warm and friendly people, a long a rich history, gorgeous colours and architecture, stunning beaches and amazing nature, not to mention the food, all come to mind.
My education on Mexico began before we departed as I started planning our trip. Armed with a list of places I wanted to visit, I soon discovered how vast this country is. If you're a numbers person, it is just under 2 million square kilometres, with a coastline stretching nearly 10,000 kms. It's bigger than Texas – 190% bigger, in fact! The thirteenth largest country in the world, it has a population of 126 million people.
With just two weeks and such a lot of ground to cover, we had to narrow this visit down to some key spots. We started near the middle but what is definitely the heart of Mexico – Mexico City. Here our history lesson of the region really began as we walked on the streets, which was once an island, ruled by the Aztecs before the Spanish conquest in 1521.
Between tacos we marvelled at the architecture and tried to take in as many of the tales as we could from the brutal indiscriminate human sacrifices of the Aztecs to the Mexican version of the Virgin Mary.
Mexico City is so big it is literally sinking under its own weight!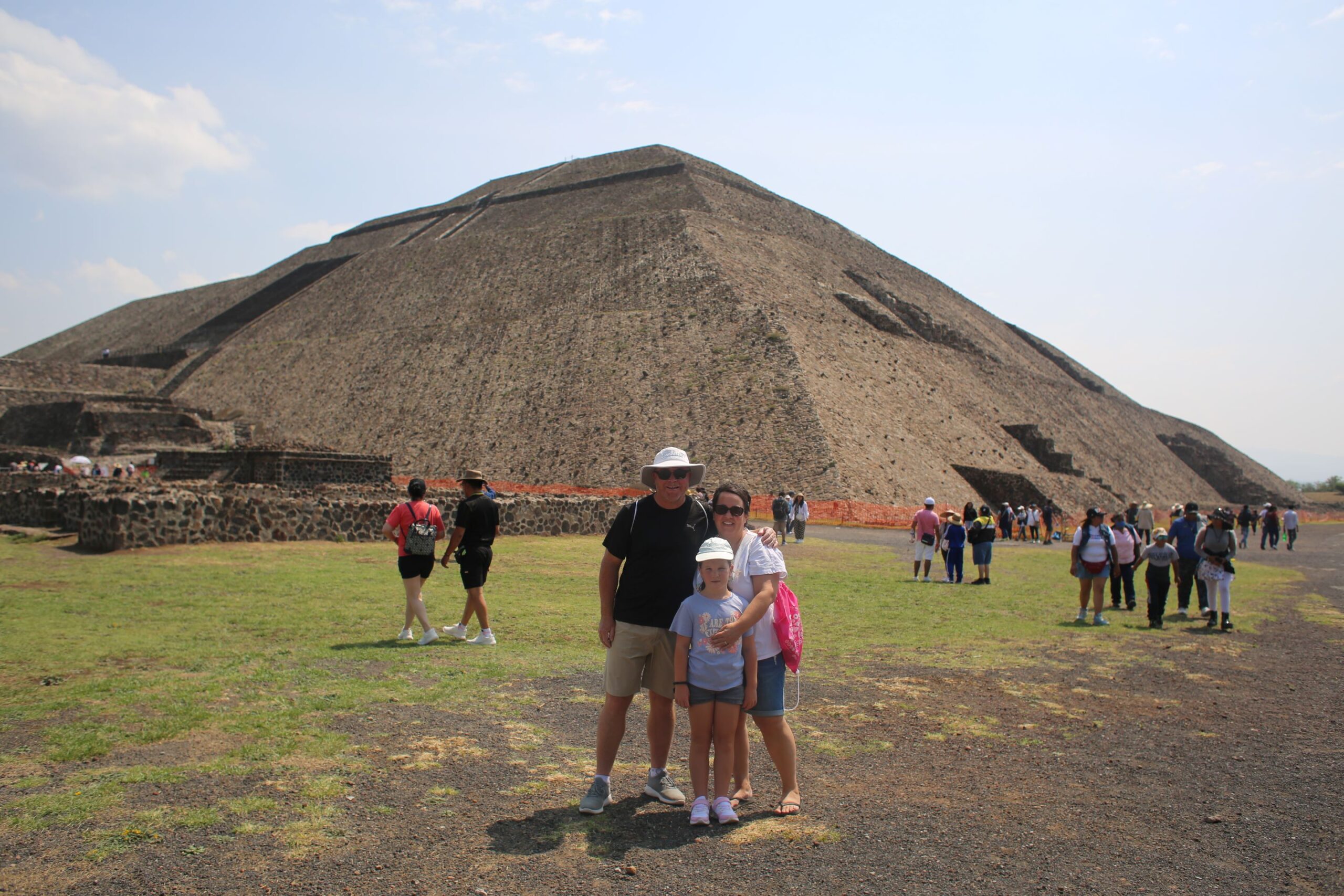 Teotihuacan
Leaving the metropolis of Mexico City, we were heading to Puebla, but on the way took a detour to take in the wonder that is Teotihuacan. Predating the Aztecs, Teotihuacan was, at its height (between 1–500AD), the largest city in the Americas. Much of this ancient city is still being discovered, including intricate frescos. The giant pyramids dominate the archaeological site, but unlike those of Giza, the Teotihuacan pyramids are not tombs but temples and thought to be solid – or let's just say no one has found a way inside yet.
Puebla
This gorgeous baroque style city is famous for its mole and pottery. We had just three nights here but could have easily spent over a week. Mexico's fifth largest city felt more like a town after the capital.
In the capable hands of our local guide, Aleyn, we went exploring the quaint cobbled streets, venturing off the tourist track. Here we visited a traditional pottery factory, where clay is hand worked and then fired in woodfired kilns to make the distinct terracotta plates and pots you will see being used everywhere.
With a few local plates weighing down our bags, we stop by a local mole shop, bakery and tortilleria as we head to the market. Is there are better place to learn about the local food?  Yellow chickens caught our attention for more than one reason. For the youngest it was their colour (they are fed on corn) and perhaps the first time she had seen a whole chicken, head and all. For the adults it was more the lack of refrigeration – imagine their food safety plan!  Past the chickens we found chillies, dried and fresh, and discovered the fresh chilli has a different number when dried. There were piles of mole paste, an abundance of fresh produce and at the heart of the market our lunch spot. On the menu is cemita, a sandwich originating in Puebla. At this family-owned stall, we perch on stools with the locals to watch our sandwich being made with a beautifully crumbed chicken (or pork) schnitzel which is then loaded with shredded Oaxacan cheese, avocado, chipotles or pickled jalapeños, and papalo, a fragrant Mexican herb.
Our second day in Puebla and we headed to the nearby town of Cholula. Perched on top of what is the world's largest pyramid is Iglesia de los Remedios, a 16th-century church built by the Spanish to commemorate the conversion of the Aztecs to Christianity.
Having taken in the views and worked up an appetite, we headed to a restaurant in town dedicated to corn, the most important crop in Mexico. After we learned more about this precious crop from a family that has been growing corn for generations, we tried our hand at grinding it to make fresh tortillas before sitting down to enjoy a well-deserved meal.
Our last stop in Puebla was a visit to the amazing Talavera factory. Here, pottery is elevated to an artform, and we got a firsthand glimpse of the painstaking attention to detail that goes into each piece before having a go ourselves.
Oaxaca
Oaxaca (pronounced wuh-haa-kuh) is considered the culinary capital of Mexico. Oaxaca is the most culturally diverse state in Mexico, making its culture and history as well as its food all reasons to visit.
After exploring the beautiful city and its vibrant town square, which comes alive at night, we headed out into the countryside to spend a day with Dalia, a local cook. After a visit to the local market, where we saw many local women in traditional clothing selling their fresh produce, it was back to Dalia's house to get cooking before sitting down to one of the best meals of our trip. Our menu included a simple guacamole, fresh tortillas, a beautiful soup made from squash flowers and a deliciously simple dessert made from fried plantains and cheese.
As we headed home, we stopped at a family run workshop in Teotitlan Del Valle, where traditional rugs have been weaved by the Zapotec people for centuries. A handful of families continue the tradition of weaving these intricate rugs from wool that is dyed from natural ingredients, like the cochinilla bug that can be used to make 6–7 different colours.
The next day we are back on the road heading out of town. First up, a visit to Mitla to marvel at more ancient ruins, then on to Hierve el Agua, nature's own version of an infinity pool.  On our way home we stopped to learn how the endless fields of agave we had been driving past are turned into the famous Oaxacan spirit Mezcal before reluctantly detouring to see the Tule Tree. Tired and wanting a rest, I was "who wants to see a tree?" But trust me, it was impressive. More than 2,000 years old, it dwarfs the adjacent church. With a circumference of 54 meters, the Tule Tree has the largest girth of any tree on the planet and well worth a detour.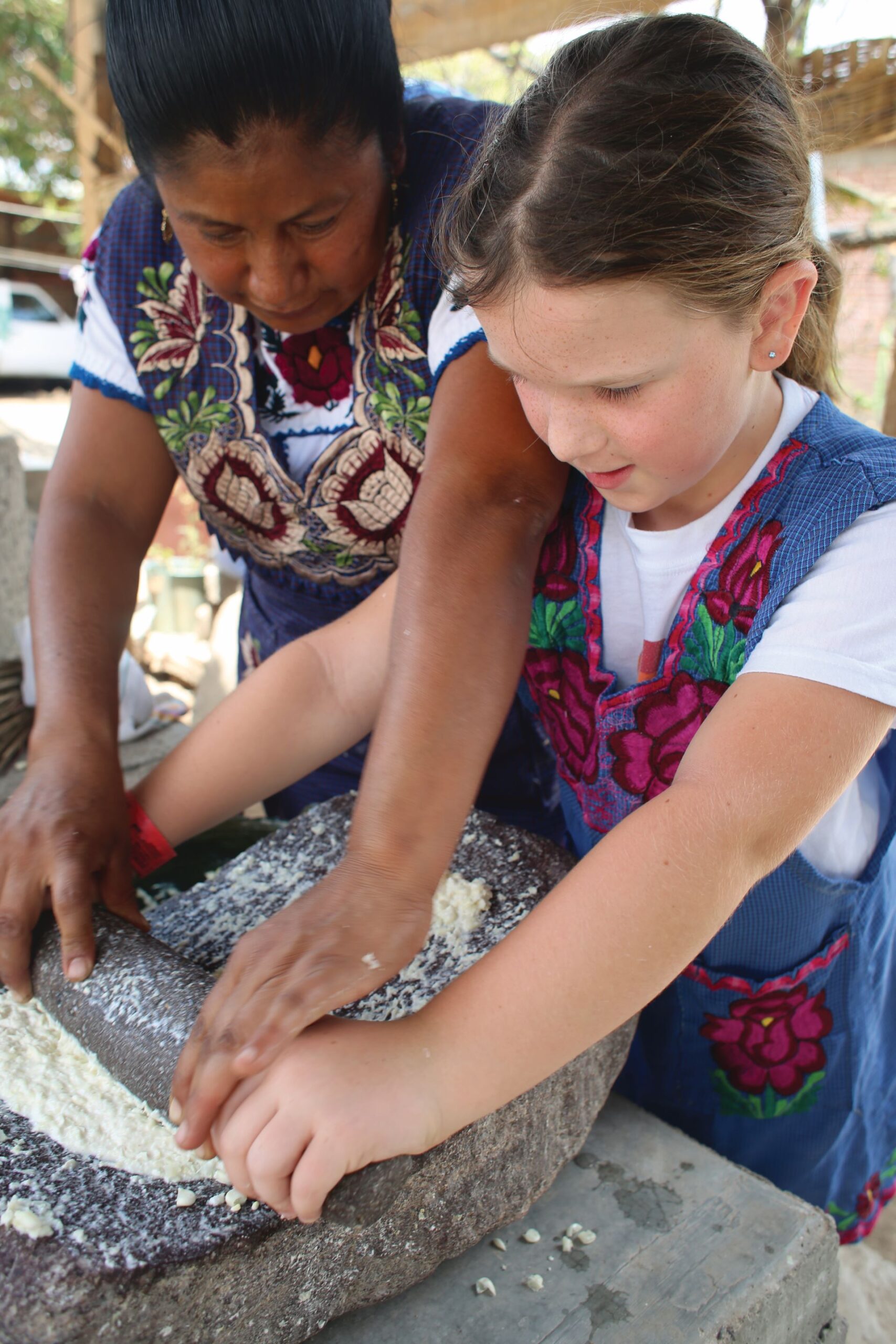 Yucatan
After a hectic week or so taking in as much as we could, we were ready for some R&R beside the beach so headed south to the Yucatan Peninsula. We skipped the much talked about Chichén Itzá in favour of a day in Celestún looking for flamingos in the wild and a morning at Akmuel beach swimming with turtles in between enjoying a cocktail poolside.
And this sums up Mexico for me. In two packed weeks we experienced new tastes, walked through ancient streets, took in wonders of nature and so much more. You can't help but love a country that offers so much, and I can't wait to go back!