Words LIZ FRENCH
Nicola Bennett paints food. Literally and figuratively. If the subject matter includes aubergine, she mixes her water-based oil paints and tests the colour on an eggplant till she gets it right, doing this with every ingredient in the work. This suggests she might paint still life. Anything but!
Nicola's works are an exuberant abstract expression of her themes, predominantly food in all its glory and the happy associations it evokes. To paint food with such passion one must love it.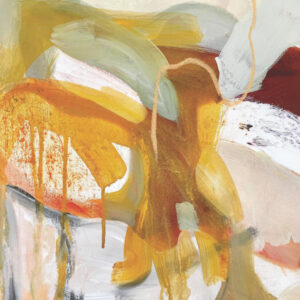 "I devour recipe books," Nicola laughs, pointing out the obvious parallels between food and art in the way they appeal to the senses. Paintings with titles like, 'Just Bring Dessert', 'A Little Honey', or 'Morning Ritual' which expresses (confesses!) her avocado on toast obsession, display the way she connects colour and flavour in works to be savoured with the eyes.
"I'm happiest when all my senses are fired up. Cooking and painting do this. When I cook, I'm paying attention. I'm listening to the sizzle of onion, observing the droplets of water on the saucepan, inhaling all the flavours. In the studio I'm doing a similar thing; preparing, then applying paint with a variety of tools. I let the painting tell me what it needs, while my experience and knowledge of good design instinctively guide me too. I relish the smell of my favourite paint; it feels exactly like butter between my fingers. My senses are fired up and I'm taking that excitement from my kitchen experiences into the studio."
Nicola has been painting professionally for several years. It could have been much longer. Despite attending art school in England, she wasn't encouraged to make a living from it. She completed her masters with honours 15 years ago in New Zealand. She has lived here for 20 years, after a chance meeting in London with the Kiwi bloke she would marry changed the course of her life.
Nicola taught secondary school art in Rotorua before taking the leap of faith. She has since been gaining recognition and commissions, her work further validated in March with a Merit in the prestigious Molly Morpeth Canaday Award in Whakatane. She has exhibited in galleries though prefers to sell privately for a real connection with the owners of her paintings. Food may be her focus but her talent is much broader—like her commission for the red Mueller Hut painting for a 20th wedding anniversary.
Nicola is no artist in a garret. She is warm and outgoing, relishes entertaining and appreciates that her work has to be exposed. She credits her Montreal based artist mentor for helping her to believe in herself and think like an entrepreneur and appreciates that Kiwis currently spending their money at home has contributed to her prolific sales this year.
The Art of Food
What better way to forge the link between art and food than an innovative collaboration with a chef? Nicola recently teamed up with Timo Dicker, the chef at The Terrace Kitchen in Rotorua. He created a menu of delectable food combinations. She responded with a smorgasbord of small paintings (the size of a cookbook) which lined the restaurant walls for several weeks. "Timo is a forager so I had ingredients like artichoke, wild garlic and fennel to express. He also created black and white dishes which inspired me to paint in monochrome." Two nights of floor talks introduced this art and food pairing to an appreciative audience.
Nicola is open to more restaurant collabs and to combining her love of cuisine and art in a similar way in private homes where she will prepare a three-course meal for a group and show her paintings. Contact Nicola if you are interested as this takes a little planning and a lot of painting.
Winter promises to be a busy season. Not only is Nicola exhibiting in the Wellington Art Show in June but the family are embarking on a new way of living. Her husband Stefan runs The Little Big Tiny House Co. and they plan to walk the talk by moving out of their Okere Falls home into a tiny house near Lake Okareka. Three tiny houses actually; one as their main home, one as sleeping quarters for their two children, and a third for Nicola's studio where she will continue to paint her mouth-watering odes to food.
(Instagram) nicolabennettart 
021 446 316