My Grandmother always warned me to "be careful what I wished for."
So, when I got the call I nearly choked on my tea – award winning locally grown organic tea that is.  But before I got in a Pickle, I reminded myself we have a great Palate and our offering is far from Common here in the Waikato.
Some of New Zealand's finest culinary content creators were descending on the Waikato for their annual conference.  It was a chance to show off my hometown, dismiss stereotypes and highlight the energy, passion and innovation in the mighty Waikato.  We got to work putting together a menu that would get their quills quivering and their taste buds dancing.
The day arrived along with the sunshine and while the picturesque green vistas of the Zealong Tea Estate are not the typical view of rural Waikato it was an apt setting to illustrate there is more to this region than big dairy. After the meetings, workshops and expert panels, just before the first day wrapped up, we heard first-hand that this is a region with a rich history and an array of innovative producers.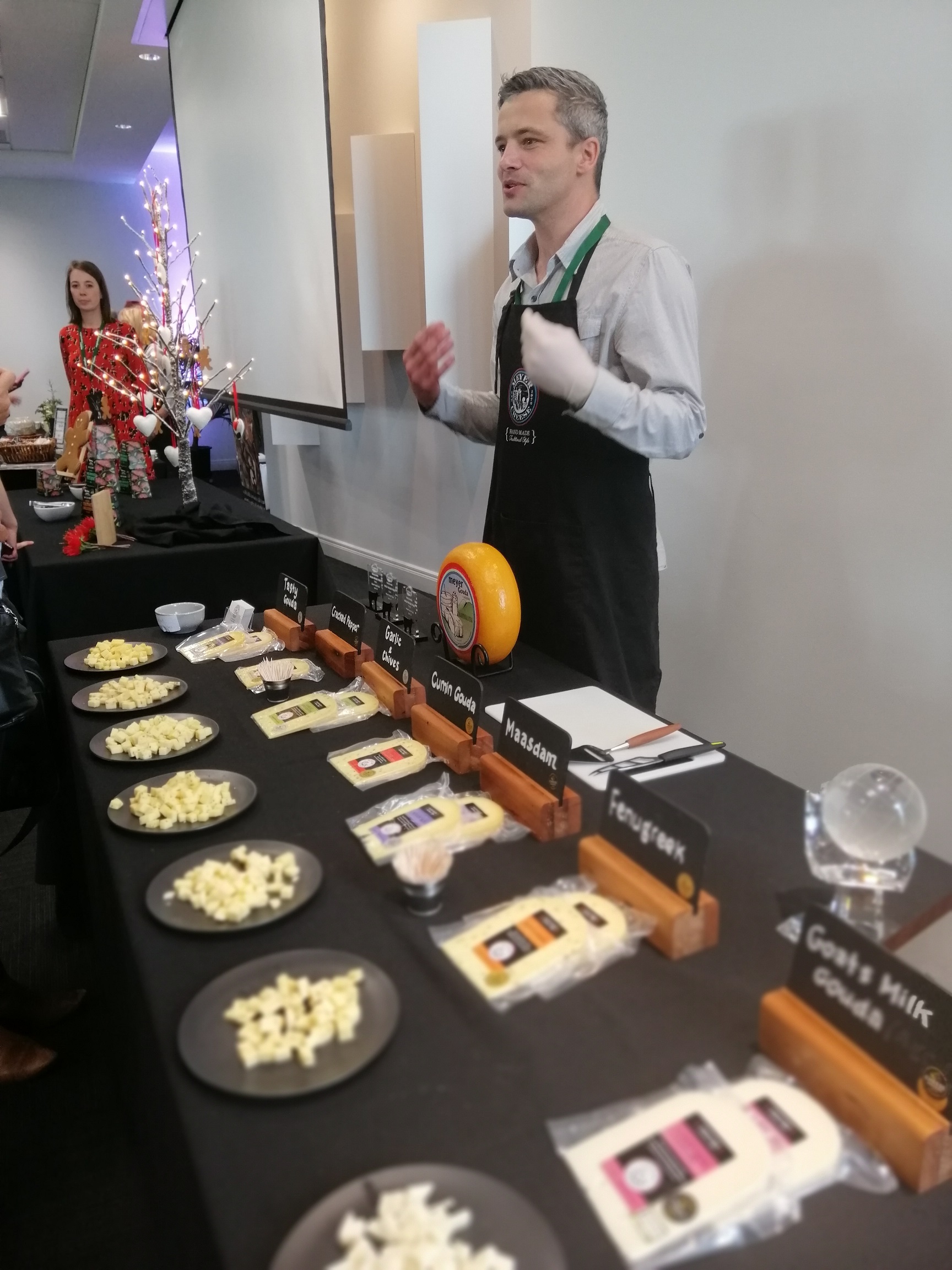 The always entertaining Jacob Nooyen regaled the room with stories of his families five generations of wine making.   As well as showing off his latest creation; an apple cider made from local Pink Lady apples destined for the scrap heap.  With tiny Champagne like bubbles this crisp cider with a zesty dry finish is proving popular among locals and an example of taking what you know and creating something new.
The Vosper's are another family who have roots in the Waikato that go back generations who are moving with the times.  For 100 years the family have had a dairy farm in Matamata, but their milk is no longer carted off each morning on a Fonterra tanker.  Their award-winning organic Jersey Girls milk is pasteurised and bottled on the farm before being dispatched the same day to local stores, farmers markets and supermarkets.
A family who recently made the Waikato home because of its the reputation for producing the world's best dairy are the Meyers from Meyer Cheese.  Meyer Cheese is one of New Zealand's most award-winning cheese companies.  Miel Meyer, told of his parents' foresight and hard work to create a life in the Waikato making Dutch styled cheeses.
The Waikato is not short of award-winning cheesemakers and Sue Arthur from Over the Moon was up next with what makes them different.  Could it be they make cheeses with four different types of milk?  Not always at the same time, except with their unique Southern Cross cheese made from cow, goat, sheep and buffalo milk.
Ok, it appears dairy is big in the Waikato and we had one more business to prove this.  Jan and Steve Dolan from Bellfield Butter are recent imports to town but have been buttering up locals with their cultured butters. You'll be so pleased once you have tried their award-winning Miso butter!  They recently released their Ghee and clotted cream picking up a few awards for these too at the local Cuisine Artisan Food Producers Awards.
If dairy wasn't the theme, family was, and this is how both Donovan's Chocolates and Prolife Foods began.  Now one company Prolife Foods is behind brands such as Mother Earth and Alison's Pantry as well as Donovan's Chocolates and they are all proudly made in the Waikato.
With the talks at an end it was time to taste!  Volare breads were there to tempt us with their custard square while Bidfresh had our five plus a day in hand.   The day was at an end and we had given these foodies a taste of the Waikato.  Yet there was more to be had, more to be learnt, discovered, drank, more to see, digest and of course eat.
Those staying on would be treated to wonderful meals at Palate, Mr Pickles and Hayes Common.  Then the next day we tripped around Raglan meeting local producers, from dairy farmers to brewers, beekeepers to composters, chocolatiers to potters.  We ate whitebait fritter on the wharf, Argentinian steak sammies in the Arts centre and ended at The Shack with a meal that brought it all together.
What was I worried about?  We'd only scratch the surface highlighting the foodie delights this amazing region has to offer.   Let's do it again next year!
Want to learn more about great food businesses in the Waikato?  Check out Waikato Food Inc and the good work they are doing.