Words Denise Irvine, Images Ashlee DeCaires
One of the pleasures of the job for Urban Homes co-founder Daniel Klinkenberg is attending handovers, the occasions when clients accept the keys to their new masterpiece. There's typically a bottle of bubbly and smiles all round.
Says Daniel: "I love to see a project completed; a good result and the look on the faces of the clients."
It's likely that there will also be Urban staff present at such events who haven't been actively involved in the build. Daniel considers it good practice for his wider team to understand the client's pathway, from go to whoa. He says when they attend a handover, the end point, they get a much better feel for how it all comes together.
Daniel and wife Bronwyn started design-and-build company Urban Homes in Hamilton in 2004, and developing a talented team has been as important to them as the houses they've signed off in the past 18 years. They say their aim, always, is to get the right people in the right roles, so they can do their best work.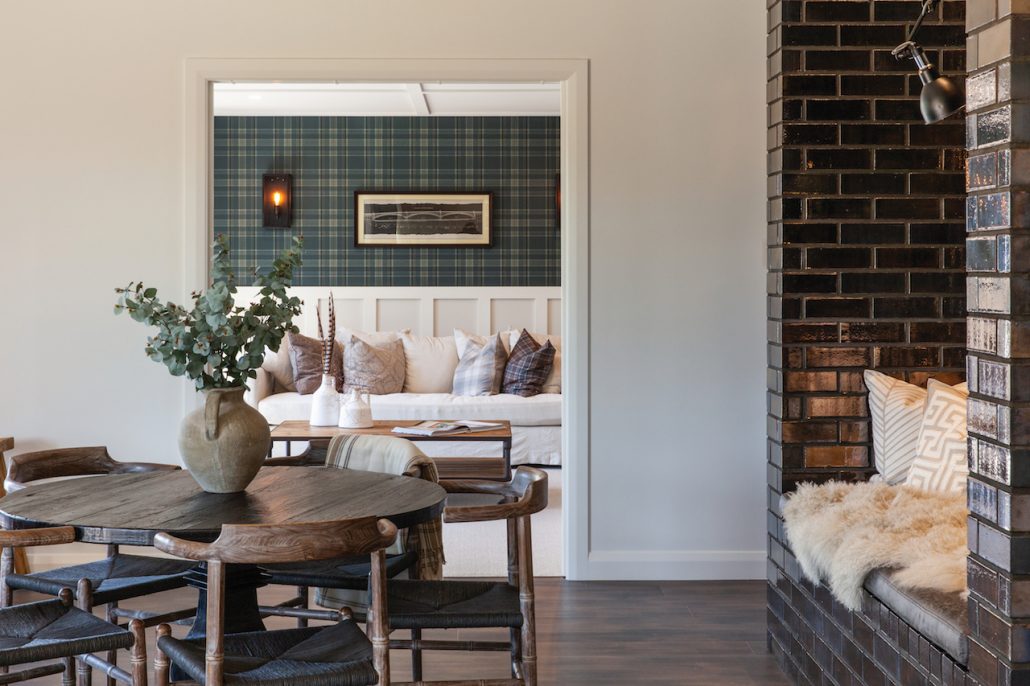 The Klinkenbergs are talking about their business at their latest Urban show home at Pukekura, on the outskirts of Cambridge. This build won the 2021 National Show Home of the Year at the Registered Master Builders Awards, and was also the regional gold medal winner. The titles add to an abundance of top awards earned by Urban since its inception; it is currently Waikato's most awarded master builder.
The Pukekura property is a mix of rustic character and uber-cool charm, and it has many of the features that Daniel and Bronwyn value in a home. Their personal must-haves include a stylish and practical open-plan space (kitchen, dining, living, the heart of the home); a covered outdoor living space; a fireplace for cosy winter nights; over-height stud or raked ceilings to give a feeling of space; and large windows and doors to let in plenty of natural light.
They also like the spacious entrance foyer of the Pukekura home, the day bed and window seat in the open-plan area, and a handsome glazed brick interior wall. "We're constantly looking for inspiration and points of difference for our show homes and our clients," says Bronwyn.
Daniel and Bronwyn, and sons Jordan, 10, and Isaac, 7, have lived in Urban homes (of course) in the past. In more recent times they've moved to Tauranga to focus on the business's future expansion and growth.
The couple started Urban from scratch, following a dream from the early days of their relationship. They married in 2004, the same year they started the business. Daniel was a trade-qualified builder, Bronwyn a primary school teacher; Daniel (a self-confessed perfectionist) was on the tools, Bronwyn was in total support.
As a boy growing up in Waikanae, near Wellington, Daniel had had the bright idea of building flying foxes so he could get to his mates' houses quicker than going by road. While he never did the flying foxes, at Urban he began incorporating his ideas and his eye for detail into houses for his clients.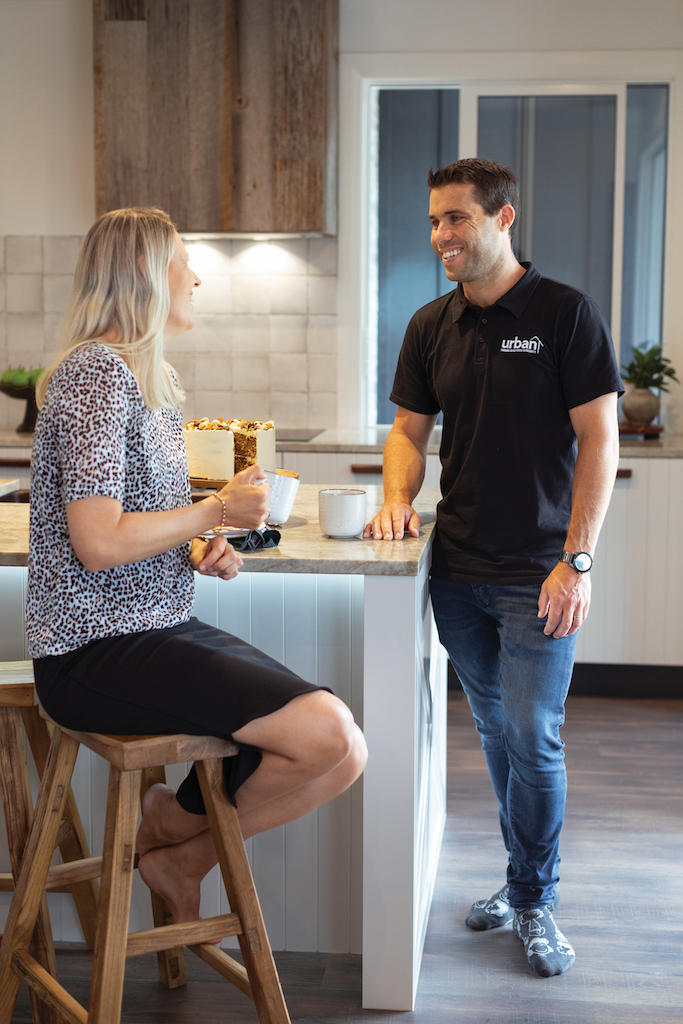 There have been some bumpy patches: the Klinkenbergs especially recall the difficult times of the Global Financial Crisis (GFC, 2007–2008) when they only had a few days work ahead of them. "We don't forget where we came from," says Bronwyn.
Nowadays, Urban Homes has 120 staff and there are currently more than 120 houses under construction across the Waikato, Coromandel and South Auckland.
The company's landmark headquarters on Hamilton's London Street was designed by Hamilton architects Edwards White. It is also home to Urban's state-of-the-art design centre, StudioU, a space where clients can touch and feel all the products that go into the houses. "It is an amazing experience for them," says Daniel.
General manager Andrew South runs day to day operations and Daniel is managing director, currently working on an Urban franchise system, as well as land acquisition for Urban's land and house packages. Daniel and Andrew also head the company's strategic leadership team.
Bronwyn is a director and works on high level strategy. "She's my sounding board," says Daniel. "We have a lot of conversations through the day."
He says at Urban they've taken the quality of an independent building company and combined it with the systems, services and processes of a volume group builder. "There aren't many volume builders in the middle to upper market where we are."
Clients can build from existing Urban plans or go for bespoke. "But every one of our homes is different," says Daniel. "We never build the same two houses; they are always a partnership between us and our clients. We want them to enjoy the process of designing and building a home. The service we offer is just as important as the homes we build."
And each house must also meet the rigorous Urban Quality Standard (UQS), a 197-point checklist developed by the company.
While much has changed at Urban, the values have stayed the same. Daniel and Bronwyn say that from founding day they were committed to building with integrity. "It [integrity] is across everything we do," says Daniel. "We're doing the right thing when no one is watching. Our work is always around the quality of the home, achieving a balance of quality and services. It's a tough industry, and if we make mistakes we own them."
A family trip to Texas in 2019 brought fresh inspiration for strengthening Urban's staff culture after Daniel and Bronwyn visited successful building companies in the state where there was a strong focus on valuing and nurturing staff.
Similarly, Daniel says he and Bronwyn want their staff to flourish and step into new opportunities. "We have learnt that culture and values are not just a plaque on the wall. We want to build a culture of excellence and trust; it is a real point of difference."
Says Bronwyn: "It's cool for us to see young staff coming through, starting from scratch and moving into more senior and manager-type roles. It's so rewarding. We love that."
Just like they love handover day, and the reward of seeing happy clients in a new (Urban) home.