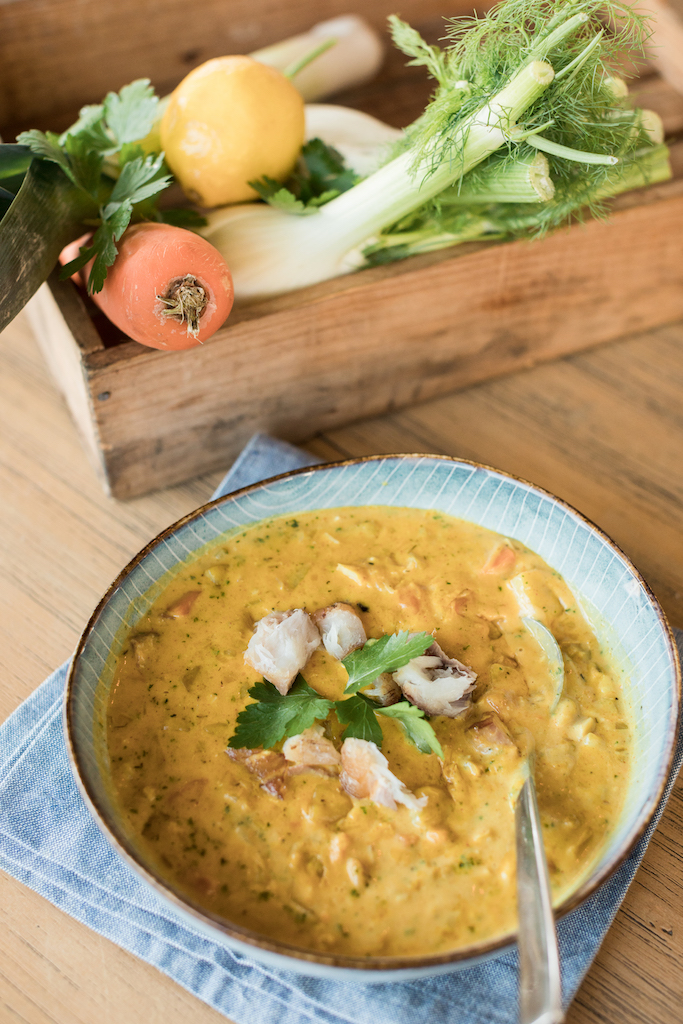 Recipe: from the kitchen at Cucina | Photography: Ashlee deCaires
Serves 8
If seafood chowder is your thing you need to try Paula's version, either by following her instructions below or popping into Cucina this winter for a bowl.
Note: While chefs work in large numbers and accurate measurements, we have given you approximates for some of the veg to save you having to weigh them all.
100g butter
⅔ cup flour
100g (approx. ½ an) onion, finely diced
160g (approx. ½ a) leeks, finely sliced
170g fennel bulb, finely sliced
1 tsp crushed garlic
160g (approx. 1) carrots, finely diced
500g red kumara, diced into 1cm cubes
500g potatoes, diced into 1cm cubes
500g smoked fish
1 tsp dry dill tips
1 tbsp paprika
1 tbsp smoked paprika
1 tsp curry powder
1 tsp turmeric
1 tsp cayenne pepper
200ml white wine
1 litre fish stock
lemon juice to taste
200ml cream
Heat the fish stock in a small pot. While it is heating melt the butter in a large pot and sauté the onions, leeks, fennel and garlic.
Add the herbs and spices and cook for a few more minutes until fragrant. Stir in the flour and cook for a further minute or two before slowly stirring in the wine and hot fish stock. Continue to cook and stir until the soup thickens.
Add the remaining vegetables and continue to cook on low until the vegetables are tender. Finally add the smoked fish and cream. Check and adjust the seasoning with a squeeze of lemon, salt and pepper.